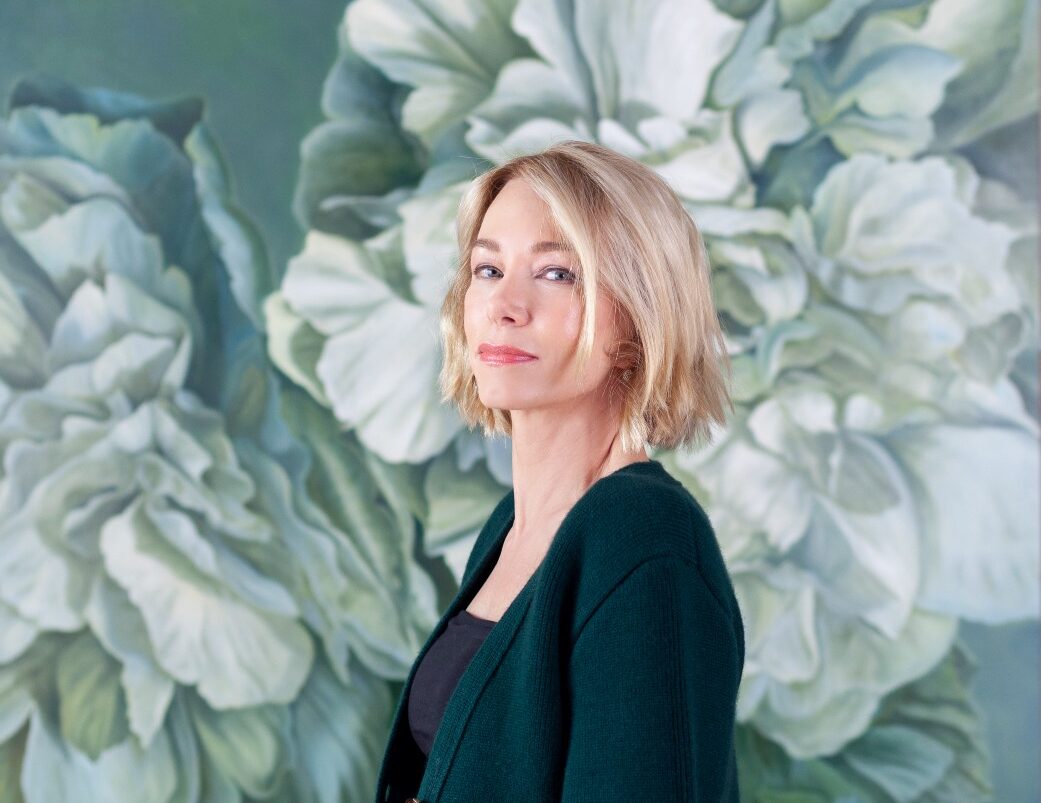 Carin Gerard | Classical Realism Painter talks about New Works, NFTs, Taking over the Fine Art World, and Tips for Success with Marco Derhy
As part of my Series about "Inspiring Fine Art," I had the pleasure of interviewing Carin Gerard. Renowned fine artist and classical realism painter Carin Gerard creates beautiful nature-inspired artwork. Gerard's paintings are owned by Dolly Parton, Sherri Crichton, Angela Ahrendts, Patricia Gucci, and Simon Sinek. Gerard is currently working on a new exhibit and is soon launching an NFT collection.
MD: Thank you for joining me today! Can you briefly outline for our readers your life's backstory?
Carin: Thank you so much, Marco. I am truly honored. I was born in Santa Monica, California, and raised in Ohio during my formative years. Then I moved to Florence, Italy, for my academic art training.
Life is a journey for sure, and I had a few bumps on my road. I am from a divorced family and was raised solely by my mother until she sadly passed away when I was eleven. My sister, brother, and I were separated and placed into foster care at that young age. Luckily, I was placed with a Pastor and his family until I went to college. I graduated Magna Cum Laude with a BFA degree from Bowling Green State University. For my postgraduate work, I moved to Florence, Italy, where my life took shape. Italy was, and is, the most inspirational place for me.
MD: Please share with us a story that exemplifies the unique work you are doing?
Carin: I work from life and rely on nature to inspire me. My goal is not to ask what you see but how my art makes you feel? I hope my work will inspire you and bring a sense of calm to your world.
Relying on the gifts of Mother Nature to bring me the form, then I trust my imagination to create fantastical colors. This is the fun part because I do not strive to create a photo representational piece but rather an ethereal piece full of wonder and a little magic—a unique interpretation, not expected like viridian green or manganese peonies lavender tulips.
I never make anything up, so I source all my references. Finding the right peonies, gardenias, and tulips in season can be challenging. I'm always looking for magical florals that I call my "stars" because I will exaggerate their beauty on the canvas for three months. I also paint butterflies, and they are so delicate and unique in their shapes and colors, so I need to source those.
MD: What brought you to this specific career path?
Carin: I believe my mother was my main source of inspiration. She was a fine artist and encouraged me to draw and create art as a young girl. It was probably one of the better things I could do at a young age, so I grabbed that passion early on.
MD: Are there any exciting projects you're currently working on? Perhaps your current and upcoming exhibitions?
Carin: Yes, I am painting a body of work for an exhibition titled "Natural Awakening." It will include large-scale florals in imaginative colors, butterflies, and ethereal skies.
I am also working on a collection of butterfly paintings for an NFT project that will include a physical piece of art to go along with the NFT. I am still working on my roadmap for this project, so it is ever-evolving, and I will keep you posted. I hope to drop this collection in the Fall.
MD: Wow! You're Dolly Parton's favorite artist. This indeed would make anyone feel quite proud. Please tell us about your commissioned paintings for other celebrities.
Carin: I am not sure if I am Dolly's favorite artist, but I am honored that she commissioned a piece from me many years ago. She is one of the kindest persons I have met and remembers everyone she meets. Dolly is a powerful force for sure, and I am super honored that she has one of my paintings. More recent commissions have been for Patricia Gucci, Angela Ahrendts, Simon Sinek, Sherri Crichton, and Cheryl Ladd.
MD: What can you tell us about the series "Inner Beauty" that you're currently exhibiting with Southern California Arts Projects & Exhibitions (SCAPE) in Corona Del Mar, California?
Carin: Inner Beauty is a reoccurring theme in my work, and I am calling this new body of work "Natural Awakening." Post-Covid life is one we all need to navigate and find our path. We all have a journey, and I find painting butterflies and ethereal florals inspiring and giving me hope of a new beginning and a restart both metaphorically and in life.
MD: How does it feel to be thriving in the art space — a traditionally male-dominated space? Were there challenges you had to overcome?
Carin: I was blessed to find representation early in my career — a wonderful gallerist by the name of John Pence. The John Pence Gallery in San Francisco at that time had a 90% male roster of artists, so I felt pretty special to be in that stable of artists. It was a wonderful experience.
Now my gallerist is Jeannie Denholm. She is a breath of fresh air to work with — very sensitive in her approach to me, and I value that.
MD: You're presently working on an NFT collection of animated butterflies that will drop in Fall 2022. What are your expectations for when they drop?
Carin: I am still in the nascent stage of my NFT project, yet I know I would love to create a collection that will include animation. A physical piece or two will go with some of the rarer NFTs in the collection.
MD: Like many, you (and your industry) were also hit hard due to the COVID-19 pandemic. What vital lessons did you learn?
Carin: Patience, for one. Life was so different and challenging for all of us. Everyone had to navigate this new life, and I found this very helpful in giving ourselves grace and space. We were living an isolated life, and our physical connection to one another was severed. When the lockdown happened in California, I decided to start a new painting, and my goal was to paint a butterfly a day. I titled it "Wings of Change."
MD: How do you hope to change lives with your influence, especially in this post-pandemic era?
Carin: I hope my voice will encourage others who feel creative to follow their dreams and stay on a path that brings them a sense of fulfillment. I try to show what is possible if you stay focused and true to your inner voice. With all the pressure of social media these days, it can feel like a constant chase to keep up and stay on target with what is trending, but that can make life frenetic. You don't have to keep up with others. Be yourself and go at your own pace. I would suggest not to compare or contrast yourself to others. Just be true to yourself and what feels right.
MD: What is your artistic process? How do you make everything come together?
Carin: Once I decide on a theme for a new piece, I source my reference. If it is a floral, I need to find them when they're in season. I need to have the reference in my studio to make lots of sketches and take many photographs. Sometimes, I'll photograph many flowers before I find my one, two, or three "stars" because I will spend three months on a painting, and it needs to be worthy enough to exaggerate on a large scale.
I do full-scale sketches before I transfer them to my canvas.
I paint in a classical technique called wipe-out underpainting. This layer provides a generalized map of light, mid-tone, and shadow that will guide you through the rest of your painting. As the name implies, the method is subtractive: you literally wipe away paint to reveal the final image, then I paint thin layers of glazes over that to create my final look. I depart from the classical approach and step into the contemporary by exaggerating my form or interpreting the colors from my modern sensibilities.
MD: Which tips would you recommend to colleagues in your industry, especially upcoming painters and NFT enthusiasts, to help them thrive and not "burn out"?
Carin: Be patient. There are many cases of overnight success, but success is earned over time. Stay the course, stay true and find out what resonates with you. Don't be discouraged by rejection. Art is subjective, and we don't all like the same thing. You will find your niche and your audience. Try to learn something new. Be curious. Talk to others, expand your mind.
MD: Do you have a favorite "life lesson" or quote that profoundly impacted your life?
Carin: "Hope is a waking dream" — Aristotle. I love this because what we can dream, we can create.
My favorite Maya Angelou quote has always been: "I've learned that people will forget what you said, people will forget what you did, but people will never forget how you made them feel."
MD: If you could travel back in time, would you do anything differently? If yes, what would that be?
Carin: If I could go back in time, I would go directly to Florence, Italy, and enroll in the Florence Academy of Art's accredited 4-year program created by Daniel Graves. This is one of the most comprehensive and impressive art schools, much like the French academies. Then I would go on to reinterpret what I learned and create my style with a modern twist.
MD: Based on your experience, can you please share your secrets and or best tips for success with our readers?
Carin: Indeed, and here are my tips for success for a working artist:
Keep a journal to record thoughts and sketches.
Keep notes on technical issues like mediums, color mixing, and inspirational ideas.
Get plenty of sleep and work in your studio on a consistent timeline.
Use the best materials that you can. It will really make a difference in the outcome.
Expand your mind, listen to great music and podcasts in your studio and try new techniques.
MD: Understanding that none of us can achieve success without a bit of help. Is there a particular person who you are grateful, someone who helped get you to where you are?
Carin: My mentors are Jeannie Denholm from SCAPE, John Nava, Martha Mayer Erlebacher, Robert Mazur, who inspired me at BGSU, Graydon Parrish, and John T. Spike, the world-renowned author and art critic, and John Pence.
MD: Some of the biggest businesses, VC funding, Sports, and Entertainment read this column. Is there a person in the world you'd ask for advice or inspiration, alive or dead?
Carin: With my interest in the NFT Space, I would love to connect with Reese Witherspoon. I love her World of Woman, WOW, NFT Project. She has become so powerful in this new space, and I would love to have a cappuccino with her. I would also love to get her advice on how to navigate this space, find a fantastic DEV, and who is the best to create a website on Web3.
Georgia O'Keeffe also inspires me. I would love to spend time in her studio and hear her thoughts about the sensual nature of flowers and how she ushered in American Modernism.
MD: Is there a person in the world with whom you would love to have a private breakfast or lunch? If so, why? (He, or she, might see this)
Carin: Wow, that is a tough one. There are so many.
I would love to chat with Justin Aversano and Noah Davis at this moment.
Justin Aversano created "Twin Flames" and was presented at Christie's as the first NFT lot to be offered in a Photographs auction.
Noah Davis, AVP Specialist and Head of Digital Sales at Christie's, is the NFT expert.
I think it would be enlightening to have a conversation with them about IRL (In Real Life) and Digital Art together in the NFT space.
MD: How can our readers perhaps follow you on social media or a website?
Carin: My Instagram shows all my current work in progress. My website goes more in-depth on my process.
Thank you so much for joining me today. This was indeed inspirational!
Marco Derhy
❖ Marco is the CEO of Derhy Enterprises, a boutique advisory firm. Derhy Enterprises aids with the management and growth of businesses, particularly for public figures. ❖ Marco is known as an Entrepreneur at heart, building a Los Angeles-based private-label fashion company (in his early 20's shortly after his Military Service) into a dominant industry force with numerous employees and $50M+ annual sales. This success fueled his launch and investments into multiple Sectors, including Film production, Charity gala events, Humanitarian aid, Cryptocurrency, Real Estate, Helth Tech, Content creator, Interviews, Articles, Book Series, and worldwide profiling, inspiring people. ❖ A "Positive" Influencer. Marco has over 19 years of experience in the publishing sector. He has created ample unique series that highlight the empowering lessons learned from the experiences of high-profile entrepreneurs. ❖ Marco has worked with legends like Nelson Mandela, Arnold Schwarzenegger, Mark Wahlberg, Carlos Slim Jr., The Jackson Family, Mr. Sumner Redstone, chairman of Viacom, and Robert Evans," The Godfather, "to name a few. ❖ Marco is Known as a Philanthropist who produced quite a few lucrative fundraising charity events. Working with Dr. Juan Montero II MD for medical supplies for children, including the champ Manny Pacquiao, UNICEF—established a partnership with the Jackson's Family Foundation. He produced a 2-Day mega-event - 1st Day was a Black-Tie @ a Beverly Hills Mansion, and the next day was @ the famous "Neverland," at Michael Jackson's home, with~2,000 global VIP guests. Marco also Produced Michael Jackson's (RIP) First Black-Tie Annual Memorial event at the Beverly Hilton Hotel with 1K Special Guests, along with the Jackson family. He also produced a series of charity events during the Cannes film festivals. ❖ At CityGala, Marco produced their first significant Black-Tie Gala event at the Beverly Hills Vineyard. He also helped raise funds to support A-listers Celeb foundations, The Charlize Theron Africa Outreach Project (CTAOP), LA Youth, Health & Medicine, Domestic Violence support programs, U.S. and Veterans, to name a few. ❖ Marco is an Author and helped coach and create and inspire a mini-movement among writers, with scores of writers worldwide profiling inspiring people to share their positive, empowering, and actionable, inspiring true stories on prominent Platforms. ❖ A regular contributor to Arianna Huffington's, Medium, Buzzfeed, Thrive Global, to name a few. ❖ Marco is producing TV Series programs, Documentaries, and Feature Films. http://www.imdb.com/name/nm0220357/ ❖ Marco published his best selling series #1 Book "Heroes of The Opioid Crisis," and working on new book series. When Not working, he's enjoying ; Family, Friends, Philanthropy (Giving back to the less fortunate), Martial arts, Swimming, Tennis, Meditation, "Torah study," Nature, Hiking, Tennis...... Praying for global peace, Prosperity, love, and Happiness for our global society. Be Good & Do Good ®️ (We are all passengers)