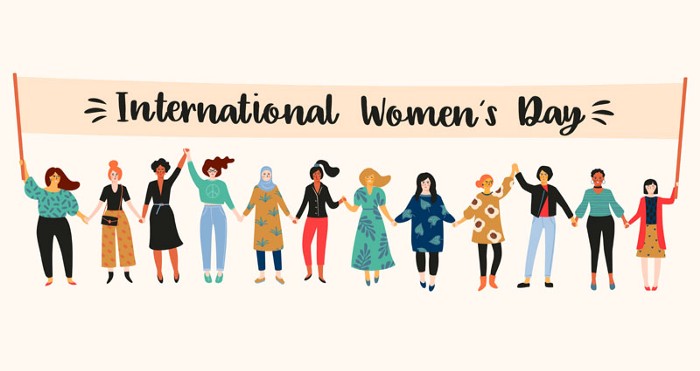 Celebrating International Women's Day: Breaking the Bias with Marco Derhy
Today, we celebrate International Women's Day, a world free of discrimination, bias, and stereotypes. No matter the long way still ahead of us, every single day presents us with a new opportunity to take action and work collectively towards a gender-equal world.
Derhy Enterprises want to shine some light on many remarkable female members and their achievements to be shared with our global readers how they've managed to face obstacles and break down barriers throughout their personal lives and careers.

Our members come from across the globe with different skills and backgrounds, but for all their differences, they share one trait: our international members each work ceaselessly in their own ways to achieve success.
What is International Women's Day 2022?
Taking place on Tuesday, March 8th, 2022, International Women's Day is a celebration of the achievements made by women throughout history. Today, Derhy Enterprises appreciates past heroines' work across social, economic, cultural, and political sectors. The day also represents the continued fight for equality to eliminate discrimination and bias between genders.
For International Women's Day 2022, the theme is #BreakTheBias, a global call to arms to tackle discrimination, celebrate our differences and forge an equal future.
When was it first celebrated?
The battle for gender equality was raging in the early 1900s, with women campaigning for the right to better pay, shorter working hours, and suffrage. The earliest form of International Women's Day was celebrated in 1909, linked with the Socialist Party of America, and called National Women's Day.
Observed across the United States, the day was celebrated by places such as Austria, Denmark, Switzerland, and Germany in 1911 before being celebrated by the United Nations in 1975. The day was also formerly celebrated on the last Sunday of February, before it was moved to its permanent date of March 8th.
Katie Melissa
Katie Melissa Ryan is one of our "Inspiring Success stories." She challenges investors to acquire specific skills. Katie shared with us how to create and build a thriving business. Katie Melissa Ryan is an internet entrepreneur who has created e-commerce stores generating up to six figures per month. She began her journey in entrepreneurship modeling for local brands, then discovered and studied online business. Her first successful venture was selling on her Amazon store two years ago at 22. Read more about her here.
Julia Yudina
Julia is an actress and one of Pop culture's Rising Stars. She epitomizes the benefits of leaving your comfort zone and listening to your heart to achieve anything you want in life. "Listen to your heart, don't lie to yourself, don't show up — usually, lack of talent and self-esteem. Rely on yourself! Try to get as many skills as you can. Believe !!!" Read more about her here.
Liz Carmouche
Liz presents an "Inspiring Success story" on why discipline is key to success. Liz is an American MMA fighter who competed in the first-ever women's UFC fight. She is a U.S. Marine Corp Veteran, the UFC's most decorated ex-military athlete, and the first openly gay UFC fighter. She didn't always find it easy to achieve success. You can find out more about her here.
Christine Peters
Christine is one of our "Exceptional women Leaders." Christine Peters has worked for several Motion Picture Studios. Including Warner Bros., Paramount, and Sony, to name a few. Writing and Consulting are a priority in Christine's ongoing achievements.
She produced one of the biggest Rom-Coms, "How to Lose a Guy in 10 days," still streaming on all networks. Her newest interests include Crypto "NFTs" for finance. In 2013, she got a recommendation from Sumner M. Redstone, the founder and chairman of Viacom. Christine talks exhaustively about why you should never lose your focus in her Interview.
Raina Kumra
Raina is one of our exceptional women in technology and movement builders. She is concurrently an early-stage technology investor with The Fund, the founder of Spicewell, a functional foods company, and CEO of Juggernaut, a digital and organizational transformation bureau helping organizations be more human. As a technology ethics advocate, she created the EthicalOS framework (which has been taught in universities the world over and downloaded over 750,00 times) and an accompanying course on LinkedIn Learning to help makers, investors, and consumers get up to speed on data ethics and mitigate unintended consequences of new technologies. She currently serves as an Advisor to Google X, Alphabet's Moonshot Factory. She also helps a select group of climate and technology funds with their fundraiser, holding both her Series 63 and 82 licenses. She talks more about her journey into tech in her Interview.
*Happy International Women's Day * Join us and get inspired!
(You can find more inspiring stories here)
Marco Derhy
❖ Marco is the CEO of Derhy Enterprises, a boutique advisory firm. Derhy Enterprises aids with the management and growth of businesses, particularly for public figures. ❖ Marco is known as an Entrepreneur at heart, building a Los Angeles-based private-label fashion company (in his early 20's shortly after his Military Service) into a dominant industry force with numerous employees and $50M+ annual sales. This success fueled his launch and investments into multiple Sectors, including Film production, Charity gala events, Humanitarian aid, Cryptocurrency, Real Estate, Helth Tech, Content creator, Interviews, Articles, Book Series, and worldwide profiling, inspiring people. ❖ A "Positive" Influencer. Marco has over 19 years of experience in the publishing sector. He has created ample unique series that highlight the empowering lessons learned from the experiences of high-profile entrepreneurs. ❖ Marco has worked with legends like Nelson Mandela, Arnold Schwarzenegger, Mark Wahlberg, Carlos Slim Jr., The Jackson Family, Mr. Sumner Redstone, chairman of Viacom, and Robert Evans," The Godfather, "to name a few. ❖ Marco is Known as a Philanthropist who produced quite a few lucrative fundraising charity events. Working with Dr. Juan Montero II MD for medical supplies for children, including the champ Manny Pacquiao, UNICEF—established a partnership with the Jackson's Family Foundation. He produced a 2-Day mega-event - 1st Day was a Black-Tie @ a Beverly Hills Mansion, and the next day was @ the famous "Neverland," at Michael Jackson's home, with~2,000 global VIP guests. Marco also Produced Michael Jackson's (RIP) First Black-Tie Annual Memorial event at the Beverly Hilton Hotel with 1K Special Guests, along with the Jackson family. He also produced a series of charity events during the Cannes film festivals. ❖ At CityGala, Marco produced their first significant Black-Tie Gala event at the Beverly Hills Vineyard. He also helped raise funds to support A-listers Celeb foundations, The Charlize Theron Africa Outreach Project (CTAOP), LA Youth, Health & Medicine, Domestic Violence support programs, U.S. and Veterans, to name a few. ❖ Marco is an Author and helped coach and create and inspire a mini-movement among writers, with scores of writers worldwide profiling inspiring people to share their positive, empowering, and actionable, inspiring true stories on prominent Platforms. ❖ A regular contributor to Arianna Huffington's, Medium, Buzzfeed, Thrive Global, to name a few. ❖ Marco is producing TV Series programs, Documentaries, and Feature Films. http://www.imdb.com/name/nm0220357/ ❖ Marco published his best selling series #1 Book "Heroes of The Opioid Crisis," and working on new book series. When Not working, he's enjoying ; Family, Friends, Philanthropy (Giving back to the less fortunate), Martial arts, Swimming, Tennis, Meditation, "Torah study," Nature, Hiking, Tennis...... Praying for global peace, Prosperity, love, and Happiness for our global society. Be Good & Do Good ®️ (We are all passengers)