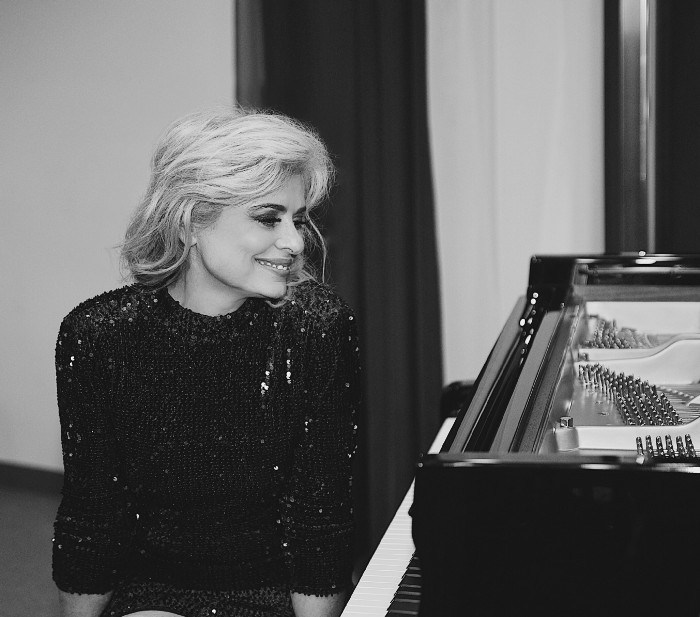 Elena Klionsky | Classical Musician | Concert Pianist talks about what it takes to succeed and her new CD due for release on April 19th, 2022 | Exclusive with Marco Derhy
As part of my Series about "Inspiring Musicians," I had the pleasure of interviewing Elena Klionsky. Elena is a Russian-born American pianist who studied at the famed High School for the Performing Arts and 13 years at the world-renowned Juilliard School. Her performances as a soloist with orchestras, solo recitals, and chamber music concerts brought her throughout the United States, Canada, Mexico, Europe, and Asia. Her proudest moment was a 2-hour concert at The White House. Ms. Klionsky holds the coveted title of Steinway Artist and has performed to help numerous charities worldwide. She is a fighter for animal rights and lives with her family in New York and Florida. Her new CD, FORMAS DEL TIEMPO will be released on April 19th, 2022.
MD: Thank you for joining me today! Can you briefly outline for our readers your life's backstory?
Elena: I was born in Russia and came to the United States as a young child. I fell in love with the piano at the age of 5 and started imagining my life only through music. I went to the best conservatory in the world and was very lucky to study with great teachers. When I perform, I love that I take my audience out of their everyday lives and bring them into the world of beautiful music. I am also a lover of all animals, and rescuing them from painful situations is very important to me. I believe in miracles. I believe in God. Growing up during our emigration to America, my parents taught me that life should be filled with hard work (with little time for fun).
MD: Tell us about your family's emigration to the United States.
Elena: I was ten years old. The most difficult for me was to leave my Grandparents, my beloved Great-Grandmother, and my piano teacher without knowing if I would ever see them again. I remember getting up very early on the day we left the Soviet Union, looking out the window, and trying to retain as much as I could because I thought I would never see this place again. Our beginnings in the United States were tough with no knowledge of English, no money, no family, and no friends.
I sometimes wonder how my parents risked everything, left so much behind, and decided to come to America, where they did not know a soul. My parents told me that I had to work extra hard because I could not attend Juilliard without a scholarship; getting a scholarship, you had to be the best. We learned that the American people are generous, kind, and genuinely supportive. We had help and made great friends. It took time, but I think my family achieved their American dream.
MD: What brought you to this specific career path? Did you always know you wanted to be a concert pianist?
Elena: When I was five years old, we had a guest at our house who was a student of the Conservatory in Leningrad (St. Petersburg). We had an upright piano at home, and she practiced long hours for her exams. I sat by the piano mesmerized and fell in love with the sound of the piano and the beautiful melodies. I wanted to be just like that young woman, so I begged her to teach me. Later, I took lessons with a fantastic teacher, but a turning point came when we were about to leave the Soviet Union.
My father had an adult conversation with me. He explained that we were leaving everything behind to emigrate, and only if I were to tell him that I would definitely become a pianist would we take our upright piano with us. If I were not sure that this was the future I wanted, we would leave the piano behind. I spent the whole night thinking and decided that I would be a concert pianist. I was ten, and to this day do not regret my decision.
MD: When would you say was the moment or accomplishment that you knew meant you had made it as a musician?
Elena: My orchestral debut. I performed as a soloist with the Chattanooga Symphony Orchestra in front of 15,000 people. It was scary and exhilarating at the same time. At that moment, I felt like I "made it," but in reality, I am constantly very hard on myself and always strive and dream of more. I know that I AM a musician, but I'll never be sure if I MADE IT.
MD: You once performed at the White House as part of the National Treasures holiday events. What was that like for you?
Elena: As an immigrant, I could not keep my eyes away from my surroundings during the 2-hour concert and kept looking around. It was challenging to focus on the keyboard because I felt the grandeur and history all around me. I knew that my Father was looking down from Heaven and smiling. Even the piano felt extravagant with carved eagles instead of the regular piano legs. I imagined the great musicians who played on this beautiful piano before me. It was a very special day for me, especially as an immigrant, and I was trying to remember every detail so I could relive it repeatedly.
MD: Who has been your greatest inspiration and/or mentor in the music world?
Elena: My Father. Even though he was an artist and never played piano, he had an incredible work ethic and respect for his craft. Since I lived at home with my parents while I was at The Juilliard School (undergraduate and graduate programs), I saw him work, and he inspired me to strive always to be the best that I can be. Only he understood my struggles, and only he taught me never to give up. Along the way, I had many musicians encourage me, stand by me, help me with concerts, teach me, guide me, and betray me as I got better. Nonetheless, all these people taught me life-long lessons.
MD: What has been your favorite country to perform in and why? Are there any funny stories from your performances that you would like to share?
Elena: Funny stories happen on stage all the time: a time when the heel of my shoe got stuck in the parquet floor of the stage, and I had to step out of it and leave it, with the audience bursting into loud laughter; or a time during a chamber music concert when my page-turner was not careful enough, and my huge book of music fell on the keyboard making a horrible noise; or a time when I walked out on stage and the person working the lights in the back by accident turned off the lights on stage and turned them up in the audience.
I love to perform for all people, but performing in Mexico came with a few perks. My concert, scheduled for 7 pm instead, started around 11:30 pm. The intermission lasted over an hour, and the concert did not end until 3 in the morning. While this timing found me at a loss of patience, I was shocked by people's kindness after the concert- one woman took off a gold necklace and gave it to me backstage. A famous Mexican artist who attended the concert brought me one of his paintings the next day as a gift. Those stories always leave incredible feelings of warmth in my heart and will stay with me for the rest of my life.
MD: You attended Juilliard, one of the most, if not the most, prestigious music schools in the world. Tell us about your time there.
Elena: I came to the United States at the age of ten, and within ten months, I took my entrance exams to The Juilliard School's Pre-College Division (for children up to 18 years old). To my shock, I was accepted and began my studies there with an incredible pianist and human being, the late Robert Harris. As I was an outsider and did not speak much English, he told me that he, too, felt like an outsider in his day as he was the first African-American to study at Juilliard and the first to teach there.
Juilliard was very competitive, and I am glad I got there so young because as I started college there, many students were shocked by the cut-throat competitiveness that they were thrown into. I loved every day there and made life-long friendships with great musicians. I strongly believe that if someone can survive at The Juilliard, they are mentally and professionally prepared for the harsh world that awaits each one of us.
MD: Like many, you (and your industry) were also hit hard due to the COVID-19 pandemic. What vital lessons did you learn?
Elena: Most essential lessons of the pandemic for me were patience, wise utilization of time, and looking at every day as if it could be your last. I am used to isolation as musicians' lives are long practicing hours alone- so not much changed for me during the pandemic. As the shock wore off, I decided that this was a perfect time to learn a new repertoire, to sharpen my technique, and during sad or difficult times, I just played for myself to make myself feel better. Beautiful music really helps in difficult situations.
MD: How do you hope to change lives with your influence, especially in this post-pandemic era?
Elena: I think that this pandemic, in a way, changed the purpose of music in our lives. In the last two years, music evolved from being an entertainment (luxury) to a necessity as now, more than ever, music can heal our hearts. We need more live concerts, whether in large concert halls or our living rooms, and they are much more needed. Young musicians should start focusing on actual music rather than promotion, competition, or fame. We should concentrate on falling in love with the music we are performing — only then will our audiences be swept away. Also, this surreal time has taught me to be brutally honest with myself. I hope to encourage this honesty in my students and young musicians.
MD: Do you have a favorite "life lesson" or quote that profoundly impacted your life?
Elena: Yes, I often tell myself the motto of Winston Churchill: "When you are going through hell, keep going."
MD: You've spoken openly about an injury you sustained in 2002. Could you describe it briefly for our audience? Have you faced any other setbacks since then?
Elena: It is difficult to talk about my injuries "briefly." I had three major accidents that impacted my hands: in 2002, I tore the cartilage of my right wrist, which required two surgeries to fix. At the time, I looked at it as a disaster and thought my professional life was over. Overcoming those first injuries was challenging, but in 2017, I had another accident at home with my elderly Father when he fell, and I helped him up. As a result, I tore bicep tendons in both shoulders, right rotator cuff, and the cartilage in my left wrist, left elbow, and right ring finger. To fix all these problems took nine surgeries, much time away from the piano, and much anxiety.
In January of 2021, I was in a terrible car accident where a piece of my shoulder bone chipped off, cutting tendons, ligaments, and all tissues around. Overall, I had 12 surgeries on my hands/arms/and shoulders. I cried a lot, I worried a lot, but I also learned a lot. My life was a vicious cycle of surgery, physical therapy, learning to play, perform, and back into surgery 12 times. I used my time healing away from the piano. I wrote a book of piano exercises on how to return to the stage after injuries. The book is almost finished!
MD: Do you have any words of wisdom for anybody dealing with an injury or setback of some kind?
Elena: Be kind to yourself, be patient, listen to doctors, work very hard, and believe that your body is a miracle machine that can recover from almost anything. It just takes time, and you should try to use it wisely.
MD: Congratulations! You have a new CD coming out on April 19th. What can we look forward to in this upcoming release, and where can people purchase your new CD?
Elena: I am incredibly proud of my new CD, FORMAS DEL TIEMPO. This CD involved many performers; my two surgeons who listened to me understood my professional needs and thought "outside the box" to give me the best possible care; my unbelievable family who walked this difficult road with me; and total mental discipline. The record label, MSR CLASSICS, was the most creative group of people I ever worked with and allowed me to be involved in every aspect of design and production. I am also thrilled that my Father's painting is on the cover. We all put our hearts and souls into this CD. The actual CD will be on sale on the MSR website and Amazon. People can also buy it on every digital platform such as Itunes, Spotify, etc.
MD: You are performing the music of Martin Matalon, please tell us about his music.
Elena: Martin Matalon is one of my life-long friends from The Juilliard. He introduced me to contemporary music, which I knew nothing about. Juilliard trained us mainly in the standard repertoire of Bach, Beethoven, Mozart, Chopin, etc. Contemporary music is entirely different — you are usually playing music performed for the first time, so you have no comparisons, and there are no precedents. You use your education and imagination to bring music to life for the first time. It is a big responsibility but is also very liberating.
Martin Matalon studied with one of the leading composers of the 20th century — Vincent Persichetti, and he also introduced me to many other composers. I had the privilege of playing for them, and they all opened my eyes to a totally new musical style. Mr. Matalon's music is built on contrasts on polarities and has many trills and cascading notes. His music is not melodic but has incredible resonances. He was born in Argentina and lives in Paris, so his music is rhythmically Latin but has European class and style characteristics. I find his music to be exciting and thought-provoking. I am honored that one of the pieces on this CD, ARTIFICIOS, was written especially for me.
MD: What would you say are five simple rules or "secrets for success" for those out there hoping to take a similar career path to yours and see as much success as you have?
Elena: Hard work. Hard work. Hard work. Hard work. And again, hard work. You will need 10 percent talent and 90 percent hard work. Prepare yourself for loneliness, long hours of practicing, and loss of friends because while everyone goes out, you have to stay home and practice jealously and make many, many sacrifices. Art is challenging but very rewarding — 5 minutes on stage are worth all those lonely hours of practicing!
MD: Understanding that none of us can achieve success without a bit of help. Is there a particular person who you are grateful, someone who helped get you to where you are?
Elena: You have to understand that it really "takes a village" to achieve your best. Besides the basic technique of playing the piano, I owe everything that I have achieved to my parents and later to my own family. My Father taught me the true meaning of art, to be focused, diligent, and work hard. My Mom was always there for me with emotional support and logistical support, and until I got married, she even traveled everywhere with me. My husband and children are there for anything I possibly need, and they are most proud of my performances.
MD: Some of the biggest businesses, VC funding, Sports, and Entertainment read this column. Is there a person you'd ask for advice or inspiration in the world?
Elena: I would love to meet the great tennis player Raphael Nadal one day. Watching his focus on every point, I am reminded that every moment counts, never looking back on a missed opportunity and playing each point like your life depended on it. Like me, he went through many injuries, so I often watched his matches on TV and looked to him for inspiration in overcoming many health obstacles. I thought that if he could come back and play the way he does, so could I. I would like to one day sit in the front row and watch him from up close. He is a huge inspiration to me, and one day I hope to tell him this in person.
MD: Is there a person He, or She, whom you would love to have a private breakfast or lunch? If so, why?
Elena: I would have loved to have a meal with The Beatles (although I think I would be too star-struck to be able to eat anything). They became so popular in the 1960s because their personalities, their talents, and their music uplifted an entire generation during the difficult years of the Vietnam War, the killing of JFK, and the killing of Martin Luther King, Jr. I wish they could tell me how to musically uplift our generation during the uncertain and challenging time of the pandemic, economic woes, war, and social unrest. Music can bring out the best in people and give them hope for the future.
MD: Is there anything else you would like to share today?
Elena: This pandemic has been difficult for every person on this planet. It made us worried, lonely and lost. Music can make us feel better. I hope that my new CD will bring positive energy, excitement, and joy to people. If I can make one person feel better, I will feel like I accomplished a lot!
MD: How can our readers keep up with you on social media or a website, perhaps?
Elena: My website and Facebook page!
Thank you so much for joining me today. This was indeed inspirational!
Marco Derhy
❖ Marco is the CEO of Derhy Enterprises, a boutique advisory firm. Derhy Enterprises aids with the management and growth of businesses, particularly for public figures. ❖ Marco is known as an Entrepreneur at heart, building a Los Angeles-based private-label fashion company (in his early 20's shortly after his Military Service) into a dominant industry force with numerous employees and $50M+ annual sales. This success fueled his launch and investments into multiple Sectors, including Film production, Charity gala events, Humanitarian aid, Cryptocurrency, Real Estate, Helth Tech, Content creator, Interviews, Articles, Book Series, and worldwide profiling, inspiring people. ❖ A "Positive" Influencer. Marco has over 19 years of experience in the publishing sector. He has created ample unique series that highlight the empowering lessons learned from the experiences of high-profile entrepreneurs. ❖ Marco has worked with legends like Nelson Mandela, Arnold Schwarzenegger, Mark Wahlberg, Carlos Slim Jr., The Jackson Family, Mr. Sumner Redstone, chairman of Viacom, and Robert Evans," The Godfather, "to name a few. ❖ Marco is Known as a Philanthropist who produced quite a few lucrative fundraising charity events. Working with Dr. Juan Montero II MD for medical supplies for children, including the champ Manny Pacquiao, UNICEF—established a partnership with the Jackson's Family Foundation. He produced a 2-Day mega-event - 1st Day was a Black-Tie @ a Beverly Hills Mansion, and the next day was @ the famous "Neverland," at Michael Jackson's home, with~2,000 global VIP guests. Marco also Produced Michael Jackson's (RIP) First Black-Tie Annual Memorial event at the Beverly Hilton Hotel with 1K Special Guests, along with the Jackson family. He also produced a series of charity events during the Cannes film festivals. ❖ At CityGala, Marco produced their first significant Black-Tie Gala event at the Beverly Hills Vineyard. He also helped raise funds to support A-listers Celeb foundations, The Charlize Theron Africa Outreach Project (CTAOP), LA Youth, Health & Medicine, Domestic Violence support programs, U.S. and Veterans, to name a few. ❖ Marco is an Author and helped coach and create and inspire a mini-movement among writers, with scores of writers worldwide profiling inspiring people to share their positive, empowering, and actionable, inspiring true stories on prominent Platforms. ❖ A regular contributor to Arianna Huffington's, Medium, Buzzfeed, Thrive Global, to name a few. ❖ Marco is producing TV Series programs, Documentaries, and Feature Films. http://www.imdb.com/name/nm0220357/ ❖ Marco published his best selling series #1 Book "Heroes of The Opioid Crisis," and working on new book series. When Not working, he's enjoying ; Family, Friends, Philanthropy (Giving back to the less fortunate), Martial arts, Swimming, Tennis, Meditation, "Torah study," Nature, Hiking, Tennis...... Praying for global peace, Prosperity, love, and Happiness for our global society. Be Good & Do Good ®️ (We are all passengers)