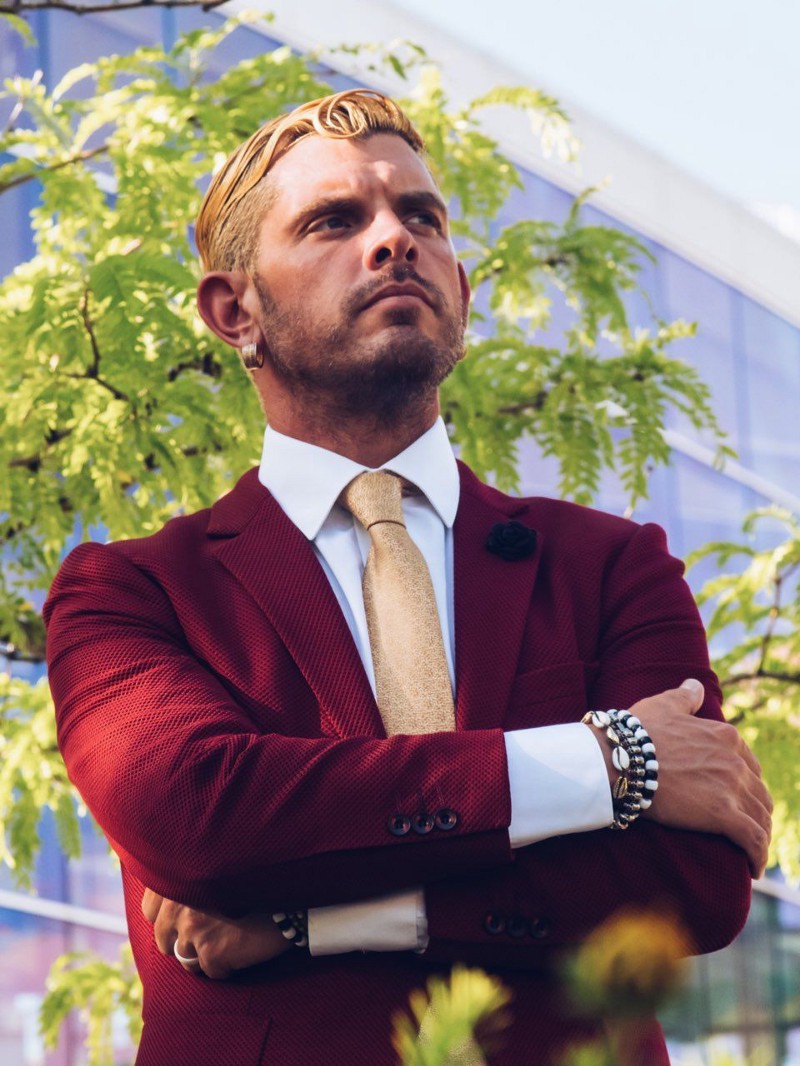 "Just Show Up and Try Your Best" with Christopher Blake Newhart
Follow your heart because it could end up ten times better than you could have ever imagined.
As part of my series about "Inspirational Success Stories", I had the pleasure of interviewing Christopher Blake Newhart. He is an Entertainment Influencer, a Serial Utah Cultural Entrepreneur, a Global Cause Champion, and a Social / Culture Journalist based in Salt Lake City, Utah but born and raised in Casselberry, Florida. Mr Newhart is Chief Marketing Officer of Gorilla Mafia Entertainment and Irie's Place. Mr Newhart is also a Social Media Ambassador for a crypto token named Universal Floki.
---
MD: Thank you so much for joining us again! Since we last spoke in April of 2020, the world has changed so much due to Covid 19. Can you let our readers know what you have been up to since we last spoke?
CBN: Sure, Marco, and good to speak with you again as always!
On January 24, 2020, I got to host my first event at Sundance Park City. It was a Superhero Luncheon Event at the Music Lodge for a Company I was made Chief Marketing Officer that made comic books and movies. It had a great turnout, and some big celebs showed up, including Two Actors from the Marvel Universe, Black Panther Winston Duke and Doctor Strange Benedict Wong, Two Actresses from the DC Universe, The Joker Zazie Beetz, and Batman The Dark Knight Rises Ann Hathaway, Disney's Bianca and Chiara D'Ambrosio, and so many more in attendance!
CBN: On January 31, I covered Mark Zuckerberg, founder, and CEO of Facebook, at the 2020 Silicon Slopes Tech Summit by Senator Mike Lee. Zuckerberg answered questions in an informal setting about both his personal life and his career. Zuckerberg discussed Facebook's organizational behavior, social media controversies, and personal life to a Salt Lake City audience.
CBN: My next adventure didn't happen until February 8, 2021, the day before my birthday. I was praying that I just wanted to cover good people trying to do good things and a Voice in my head said to go to the Utah State Capital Building. So as I pulled up and was trying to park and do my usual walk around and take pictures and enjoy the scenery, I noticed there was a lot of press and security. Once I parked and stood in front of the Utah State Capital, I saw Paris Hilton was coming out in her vehicle and was whisked away down the street and out of sight. I found out that the reason she was there was that Paris testified about abuse she says she suffered years ago at a boarding school in Utah, as she lobbied Monday, February 8, for a bill seeking to regulate the state's troubled teen industry. Hilton favors Senate Bill 127, which would put the treatment centers that deal with youth facing addiction, behavioral and other issues under more government oversight, including regular reports to the state on how they utilize restraints.
---
CBN: In emotional testimony on Monday before the Senate Judiciary and Law Enforcement Committee, Hilton described being taken from her home in the middle of the night and sent to youth treatment facilities, where she was abused and sometimes kept in solitary confinement. "That small room covered in scratch marks and smeared blood with no bathroom is one of the most vivid and traumatizing memories I've ever experienced in my entire life," she said. "Children were restrained, hit, thrown into walls, strangled, and sexually abused regularly at Provo."
CBN: The Legislature approved SB127 in early March, less than a month after Hilton came to Utah's Capitol Hill to give emotional and graphic testimony in front of a panel of state senators. Cox signed the bill on March 22, but Tuesday, he held a ceremonial signing with Hilton to highlight the new law. It seeks to put more government oversight on Utah's youth residential treatment centers by requiring instances of physical restraints and involuntary confinement to be documented and submit monthly reports to the Utah Office of Licensing. It also bans chemical sedation and mechanical restraints unless authorized, and requires at least four annual inspections, announced and unannounced.
CBN: Between April 7 to April 10, I was blessed to have the opportunity to have our Family Owned Production Company Gorilla Mafia Entertainment not only sponsor a Music Video with Caskey of Cash Money Records but also got to film behind the scenes of the making of the music video, got to be in another Caskey Music Video and recorded the behind the scenes, covered Caskey's First Concert since not performing in a year due to the Covid Pandemic, and I interviewed Caskey in front of the Utah State Capital to top it all off!
CBN: April 16, 2021, I got to also Interview the Utah State Attorney General Sean D Reyes in his Office at The Utah State Capital. It was such an Honor to Interview Sean as I have followed his career and his great works for over four years. He was indeed grateful to be interviewed for my network, and he did a shout out like months before our interview. In our interview, I had the privilege to ask him several important questions.
CBN: August 25, I got one of my GME Music Artists, William Blue, aka Lunacy, to Open for Caskey of Cash Money Records at The Clubhouse Downtown SLC Utah. Lunacy rocked the crowd along with some other local talent, and Caskey not only had a fantastic performance, but he met with everyone after the show, and I got to Interview him as always.
MD: Wow, it sounds like your production company has been busy during the Covid Pandemic! How is the music side of things going with Gorrilla Mafia Entertainement LLC?
CBN: Well, actually really well! This last year GME hosted our first Rap Edition of "The Battle of The Salt Flats" through our production company and our sponsors, where several musicians from the community battled in a rap freestyle to have local celebrity guest judges determine who moved on to the next round so the winner could perform on stage at a local music festival called Incandescent. This year we will continue this show to have the winner of the previous event Daniel Koen Battle for the Title. We will also be doing another set of shows this year called "Welcome to the Jungle" where our artist BIG2x, MGE_DaGoatest, StillUndefeated, Sno Whyte, $loth23, Deleriq, XxLunacyxX, MISS SUNN, Dre Suazo, Foreign Pablo, Jay Flo, NOCONNECT, CFShun, and DJ Dizz will be performing at Liquid Joe's twice a month rotating sets with other local artists so pull up and have a fun time with us and check out our social media for future dates and artists. One last thing that is really neat that we at GME can offer now is not just management for our artists but can get them and anyone press in low tier, medium tier, and high tier magazines and be on the cover! We also offer services on getting you Verified on Instagram, Facebook, Twitter, and Tik Tok! If you need help with promotions, advertising, content creation, just contact us! We at Gorrilla Mafia Entertainement LLC help teach our Artists how to mix, master, and record their music and how to own the rights to their music and image, as well as branding and social media management.
MD: Who are some of the most interesting people you have interacted with? What was that like?
CBN: My Mom and My Wife but as far as Famous People that would be, Jackie Chan, Caskey, Nicki Minaj, Lil Wayne, Kanye West, Mark Zuckerberg, Jason Momoa, Kevin Eastman, Sean Reyes, to name a few. You also asking what it was like ? Well ,This was like a Dream Come True! I tell people all the time to follow their hearts because it could end up ten times better than they could have ever imagined! Whenever I try and interview A-List Celebrities, it seems like this type of tasks might be too hard to get get it done or they simply may be too busy for an interview etc., but regardless I just show up and do my best, in the end of the day, I usually not only get a nice picture with them but also end up with a fantastic interview as well. So you never know unless you try! It is also pretty trippy when I watch Movies, TV Shows, or Music Videos, and I am like, "Hey, I interviewed that person!"
MD: None of us can achieve success without some help along the way. Is there a particular person who you are grateful towards who helped get you to where you are? Can you share a story about that?
CBN: I am always grateful for my Mother and my beautiful wife, who always believes in me and help me achieve my dreams. We are going to celebrate her birthday on February 3, and honestly, I don't know where I would be without their continued support, love, advice, help, and so much more! My father passed last year, so it has been rough without him, but I know he Loves Me and is Proud of me. Also, I want to Thank My Personal Photographer, Jacob Sørensen, Our Artist Recruiter Marcelino Cowlishaw, Our Secretary Tanya Thornton, Our Production Manager Andy Bell, and one of my best friends Jason Ballif!
---
MD: What are some of the most interesting or exciting projects you are working on now?
CBN: A cool project I am a part of currently is a tradable token called Universal Floki! Austin Godsey reached out to me on November 16, 2021, and said he spoke with the team, and they would be willing to pay me in UFloki to promote the coin on my Social Media and be one of the First Social Media Ambassadors of the Coin! UFloki is already on Coin Market Cap, Coin Gecko, and a profile on Coinbase! This project is inspired by Elon Musk's tweet of the Viking ship that crashed on the moon.
The mission is to become the first meme coin that builds on REAL utilities to make the project more than a meme coin pump. Staking and Play to Earn Game is coming out soon! Instagram influencers with over 40M combined followers have retweeted Universal Floki already.
CBN: My Family's Restaurant is my favorite current project! At this point, we have been open for over seven years now! Over that time, we have hosted so many events from ShowCase Your CausePlay, Paint Nights, Toys for Tots Events, to be the Official Drink Sponsor for Hinckley Dermatology Golf Scramble for Operation Underground Railroad, where we helped raise $75,000 a year for three years in a row until Covid. This year was slow with Events since Covid 19. We were lucky that the Government, State, and City didn't close us down with all the new Covid procedures in place. For instance, we could not have more than ten people in our Restaurant at a time and had to take tables and chairs out, and people had to wait in their cars, and we would take the food and drinks to them. We were even featured on local Fox13 News for being one of the small businesses that stayed open during the Pandemic and didn't get shut down. We just said it was due to our local fan base of repeat customers who love our excellent service and products that you can see on our Google reviews to following us on our Instagram Page @IriesPlace, where we currently have over 15,600 followers! We were also named Number 1 Boba Shop on YELP! On November 12, 2020, Chris Newhart's The YoSun Show Interviewed Caskey of Cash Money Records. My wife Gwendolyn and I talked to Caskey about Baby Williams, aka Birdman signing Caskey to Cash Money, talked about Caskey Working with YelaWolf, Caskey's Clothing Line, and more! Come on down to Iries and ask for "The Caskey Boba" it is Peanut Butter, Banana, Jelly, Caramel, and Chocolate!
CBN: One cool Charity Event we got to participate in in 2020 was the Kilts For Kids Ronald McDonald House out of Salt Lake City, where we helped raise funds and awareness through our Social Media Pages. Me and my wife wore a Kilt to participate, and it was an Amazing Experience to be a part of! We are also excited to announce this on one of your platforms officially. We are scheduled to Open our 2nd Location on Holloman Air Force Base in Alamogordo, New Mexico, in February of 2022! My Family's Black Owned Small Business is so happy to be Government Contractors and accepted on base to serve those who serve us! We are the first Boba Business on a Military base and can't wait to bring the joy of Boba to our Military Men and Women!
MD: Some of the biggest names in Business, VC funding, Sports, and Entertainment read this column. Is there a person in the world or the US with whom you would love to have a private breakfast or lunch, and why? They might see this. 🙂
CBN: The same thing I said last time we spoke, I would love the pleasure of being able to do that with either Lil Wayne for his mad scientist lyrics, Nicki Minaj for being a beautiful and strong female role model, or Gal Gadot for being a robust female role model and all the Charity work she does. They have inspired me a lot through their art!
---
MD: How can our readers follow you on all your social media?
CBN: Readers can follow me on Instagram, Facebook, Tik Tok, and Youtube
This was inspiring. Thank you so much for joining us!
Marco Derhy
❖ Marco is the CEO of Derhy Enterprises, a boutique advisory firm. Derhy Enterprises aids with the management and growth of businesses, particularly for public figures. ❖ Marco is known as an Entrepreneur at heart, building a Los Angeles-based private-label fashion company (in his early 20's shortly after his Military Service) into a dominant industry force with numerous employees and $50M+ annual sales. This success fueled his launch and investments into multiple Sectors, including Film production, Charity gala events, Humanitarian aid, Cryptocurrency, Real Estate, Helth Tech, Content creator, Interviews, Articles, Book Series, and worldwide profiling, inspiring people. ❖ A "Positive" Influencer. Marco has over 19 years of experience in the publishing sector. He has created ample unique series that highlight the empowering lessons learned from the experiences of high-profile entrepreneurs. ❖ Marco has worked with legends like Nelson Mandela, Arnold Schwarzenegger, Mark Wahlberg, Carlos Slim Jr., The Jackson Family, Mr. Sumner Redstone, chairman of Viacom, and Robert Evans," The Godfather, "to name a few. ❖ Marco is Known as a Philanthropist who produced quite a few lucrative fundraising charity events. Working with Dr. Juan Montero II MD for medical supplies for children, including the champ Manny Pacquiao, UNICEF—established a partnership with the Jackson's Family Foundation. He produced a 2-Day mega-event - 1st Day was a Black-Tie @ a Beverly Hills Mansion, and the next day was @ the famous "Neverland," at Michael Jackson's home, with~2,000 global VIP guests. Marco also Produced Michael Jackson's (RIP) First Black-Tie Annual Memorial event at the Beverly Hilton Hotel with 1K Special Guests, along with the Jackson family. He also produced a series of charity events during the Cannes film festivals. ❖ At CityGala, Marco produced their first significant Black-Tie Gala event at the Beverly Hills Vineyard. He also helped raise funds to support A-listers Celeb foundations, The Charlize Theron Africa Outreach Project (CTAOP), LA Youth, Health & Medicine, Domestic Violence support programs, U.S. and Veterans, to name a few. ❖ Marco is an Author and helped coach and create and inspire a mini-movement among writers, with scores of writers worldwide profiling inspiring people to share their positive, empowering, and actionable, inspiring true stories on prominent Platforms. ❖ A regular contributor to Arianna Huffington's, Medium, Buzzfeed, Thrive Global, to name a few. ❖ Marco is producing TV Series programs, Documentaries, and Feature Films. http://www.imdb.com/name/nm0220357/ ❖ Marco published his best selling series #1 Book "Heroes of The Opioid Crisis," and working on new book series. When Not working, he's enjoying ; Family, Friends, Philanthropy (Giving back to the less fortunate), Martial arts, Swimming, Tennis, Meditation, "Torah study," Nature, Hiking, Tennis...... Praying for global peace, Prosperity, love, and Happiness for our global society. Be Good & Do Good ®️ (We are all passengers)