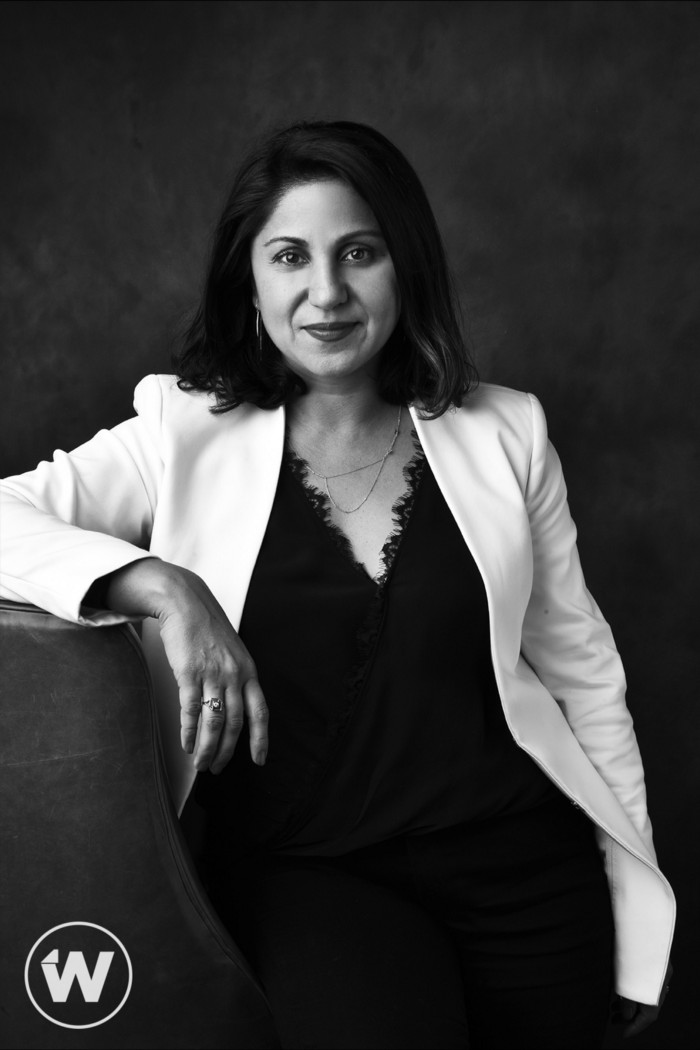 Movement Builder, Tech Ethics Advocate | Founder, Spicewell | CEO, Juggernaut RAINA KUMRA with Marco Derhy
"Whatever you do, do not forget that this isn't life or death… Perspective is everything!"
As part of my series about women in technology and movement builders, I had the pleasure of interviewing Raina Kumra. Raina is concurrently an early-stage technology investor with The Fund, the founder of Spicewell, a functional foods company, and CEO of Juggernaut, a digital and organizational transformation bureau helping organizations be more human. As a technology ethics advocate, she created the EthicalOS framework (which has been taught in universities the world over and downloaded over 750,00 times) and an accompanying course on LinkedIn Learning to help makers, investors, and consumers get up to speed on data ethics and mitigate unintended consequences of new technologies. She currently serves as an Advisor to Google X, Alphabet's Moonshot Factory. She also helps a select group of climate and technology funds with their fundraiser, holding both her Series 63 and 82 licenses.
MD: Thank you for joining us! Can you briefly outline for our readers your life's backstory?
Raina: Thank you so much for having me, Marco! The first chapter was film, editing, and media: I made documentaries and edited them! The second was digital, design, and advertising, the cherry on top of that career chapter was leading Wieden+Kennedy's digital studio in New York. The next chapter was the government, policy, and innovation, which I was lucky enough to do as part of the leadership of a federal bureau under the Obama administration. The fourth chapter was technology, running a venture-funded startup and then moving to the other side of the table to fund companies as an investor. And now, I'm on my 5th chapter, going back to my entrepreneur roots but applying everything I know to the world of food and nutrition.
MD: Can you share a story that exemplifies the unique work that you are doing?
Raina: I like to think of my career as a swiss army knife, so I bring every new skill set and tool that I acquire in one field to the next. That's how it worked when I came from advertising to government — I brought a whole bunch of tools that they didn't have in the building! And now, with Spicewell, I'm so excited to bring everything I know about brand building, startups, venture funding, policy, movement building, and nutrition and health. When my family was all down with multiple overlapping health challenges (surgeries, broken bones, PTSD), I went into the kitchen determined to heal them. And that's how I fell into creating Spicewell. If I could heal my family, why not everyone else?
MD: With the COVID-19 pandemic, Do you see an increase in the importance of nutrition and the connection between food and health?
Raina: Everyone is thinking about immunity in a different way now. It is no longer a nice-to-have; it's something that we have incorporated much more into our daily living than pre-pandemic. It is a search term that peaked during the pandemic but has a long tail that is still happening. And I think we are all learning more about the link between what we eat and how healthy we are. It seems obvious, but we have never been forced to pay more attention to it than we are now.
MD: How did it feel when you were named the Most Creative Person in Business by Fast Company and also to have your work featured in the MoMA permanent collection? Can you also share with our readers how you achieved that?
Raina: I felt really great when I heard the news because it meant that I was finally in the same celebrated boat as so many people I admire, and also, the word creative has so much meaning to me in my career. It is the thing that I would say fuels me the most, and my other startups and this new venture with Spicewell are truly all about creativity: thinking of an idea and bringing it to the world.
With the MoMA work, I was lucky to be in the right class at Harvard at the right time taught by the most amazing design professor the world has, which is Paola Antonelli, who was also the design curator at the MoMA.
MD: Like many other sectors, the pandemic also hit your technology hard. From your perspective during our uncertain global times, are there any hopes for Americans who have lost jobs or those looking to change their careers?
Raina: There is so much growth coming out of the pandemic, not just in healthcare or in the traditional industries but new industries like web3 and crypto and climate. The demand for good knowledge workers in climate is so high right now — and that isn't going to change. I would put regenerative agriculture in that mix — we are learning more that the way we grow things contributes to chronic disease.
MD: As a technology ethics advocate, you created the EthicalOS Framework, taught worldwide, and it has been downloaded tens of thousands of times. Can you share with us what drove you to this invention?
Raina: When I was running my startup in Palo Alto, we had customers in India and so much customer data. We had a very popular app marketplace that would pay users in mobile data credits, and in exchange, we received a lot of their personal information. We had a data breach, and our customer data was leaked. For me, this was a huge wake-up moment — this was not ok, and why wasn't this part of how we build products? Why weren't ethics part of the norms of silicon valley startups?
I have a course on Linkedin that covers this topic in great depth, and I just found out that it has been taken over 8000 times! I'm glad to have made a dent in this world, steered the conversation, and helped share something that will improve our foresight around ethical issues.
MD: Which tips would you recommend to young aspiring people looking to venture into the tech industry to help them thrive and not "burn out"?
Raina: Whatever you do, do not forget that this isn't life or death. We're not doctors, saving lives in an ER; we're investors and creators trying to bring something new in the world that makes it a little bit better. Perspective is everything!
MD: Do you have a favorite 'life lesson' quote that made a profound impact on your life? Can you share a story?
Raina: My dad gave me excellent advice: If you don't know what you want to do, make sure you try many things while you're figuring it out. It's the fastest way to learn what you love and don't. He didn't realize his big business success until he was well into his 40s, and I am giving myself that same timeline.
MD: Is there a person in the world or the US with whom you would love to have a private breakfast or lunch, and why? They might see this. 🙂
Raina: I would love to break bread with Mellody Hobson. I am such a fangirl of everything she has done, and she's just such a leader of women in venture. I feel the same way about Gywneth Paltrow for how she switched things up and dominated everything she did. And finally, I'd do anything to sit and have Indian snacks with Padma Lakshmi.
MD: How can our readers follow you on social media or a website?
Raina: Please follow us here @thespicewell, Twitter, and Instagram.
Marco: Thank you so much for joining us. This was indeed inspirational!
Marco Derhy
❖ Marco is the CEO of Derhy Enterprises, a boutique advisory firm. Derhy Enterprises aids with the management and growth of businesses, particularly for public figures. ❖ Marco is known as an Entrepreneur at heart, building a Los Angeles-based private-label fashion company (in his early 20's shortly after his Military Service) into a dominant industry force with numerous employees and $50M+ annual sales. This success fueled his launch and investments into multiple Sectors, including Film production, Charity gala events, Humanitarian aid, Cryptocurrency, Real Estate, Helth Tech, Content creator, Interviews, Articles, Book Series, and worldwide profiling, inspiring people. ❖ A "Positive" Influencer. Marco has over 19 years of experience in the publishing sector. He has created ample unique series that highlight the empowering lessons learned from the experiences of high-profile entrepreneurs. ❖ Marco has worked with legends like Nelson Mandela, Arnold Schwarzenegger, Mark Wahlberg, Carlos Slim Jr., The Jackson Family, Mr. Sumner Redstone, chairman of Viacom, and Robert Evans," The Godfather, "to name a few. ❖ Marco is Known as a Philanthropist who produced quite a few lucrative fundraising charity events. Working with Dr. Juan Montero II MD for medical supplies for children, including the champ Manny Pacquiao, UNICEF—established a partnership with the Jackson's Family Foundation. He produced a 2-Day mega-event - 1st Day was a Black-Tie @ a Beverly Hills Mansion, and the next day was @ the famous "Neverland," at Michael Jackson's home, with~2,000 global VIP guests. Marco also Produced Michael Jackson's (RIP) First Black-Tie Annual Memorial event at the Beverly Hilton Hotel with 1K Special Guests, along with the Jackson family. He also produced a series of charity events during the Cannes film festivals. ❖ At CityGala, Marco produced their first significant Black-Tie Gala event at the Beverly Hills Vineyard. He also helped raise funds to support A-listers Celeb foundations, The Charlize Theron Africa Outreach Project (CTAOP), LA Youth, Health & Medicine, Domestic Violence support programs, U.S. and Veterans, to name a few. ❖ Marco is an Author and helped coach and create and inspire a mini-movement among writers, with scores of writers worldwide profiling inspiring people to share their positive, empowering, and actionable, inspiring true stories on prominent Platforms. ❖ A regular contributor to Arianna Huffington's, Medium, Buzzfeed, Thrive Global, to name a few. ❖ Marco is producing TV Series programs, Documentaries, and Feature Films. http://www.imdb.com/name/nm0220357/ ❖ Marco published his best selling series #1 Book "Heroes of The Opioid Crisis," and working on new book series. When Not working, he's enjoying ; Family, Friends, Philanthropy (Giving back to the less fortunate), Martial arts, Swimming, Tennis, Meditation, "Torah study," Nature, Hiking, Tennis...... Praying for global peace, Prosperity, love, and Happiness for our global society. Be Good & Do Good ®️ (We are all passengers)