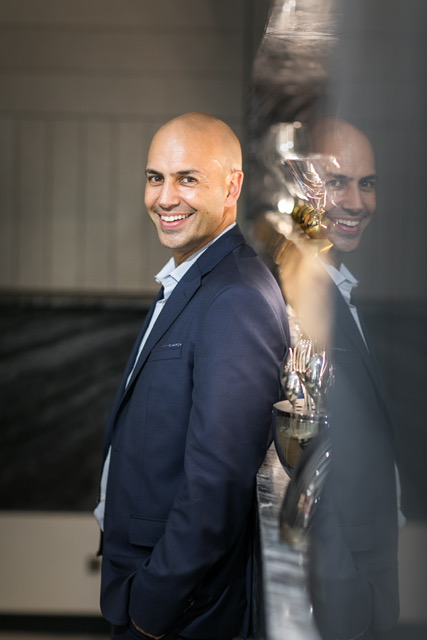 "I have a true desire to help the world…" | Mayan Metzler discusses how OYA is transforming lives with Marco Derhy
---
As part of our Series about "Inspiring success stories," We had the pleasure of interviewing Mayan Metzler. Mayan, alongside his wife, Michala, is the founder of OYA. He is a successful Entrepreneur, Founder of a conglomerate, The 5D Group. Mayan is the CEO of Mycobriah, a cancer & covid biomedical research firm, and a philanthropist, leading the MyPlanetweb.com organization and supporting good causes throughout the spectrum of health, sustainability & construction.
Thank you for joining us today, Mayan! Can you briefly outline for our readers your life's backstory?
I came to New York in 98 after my military service in Israel. From 2000 to 2010, I was a partner in a firm that attempted to become a national remodeling firm and then started my own national kitchen showroom chain which we are running today, German Kitchen Center. I started MyPlanet, a non-profit organization in 2006, our goal was always to do what we can to help the world. Today, the 5D Group owns and operates entities in a variety of industries including Oya, German Kitchen Center, MyCobriah (bio medical research group) and more.
Along with your wife, you founded OYA. Can you share with our readers what OYA is all about?
Oya locations are physical places where guests can enjoy the world's best well-being, longevity, and transformation. In today's intense world where burnout and stress levels are at an all-time high, Oya locations will provide an escape allowing guests to choose from a wide variety of services from East to West and from cutting-edge technology to old-world wisdom of indigenous tribes.
We are launching the Transformation Concierge, allowing people to benefit from the various services, products, and methodologies available at Oya virtually without physically visiting an Oya location. Our network of practitioners will support individuals based on their specific needs.
---
What inspired this creation?
A true desire to help the world and a love of nature. Each Oya location is located on lands with great nature allowing visitors to spend time and connect with nature.
Can you share with us your biggest OYA success stories so far?
I believe that our most tremendous success is the team. I'm in awe of how the universe connected us with such great people and still connects us daily.
What brought you to this career path? Or you've always known from a young age that you'll pursue a career in spiritual healing?
It's funny you ask 🙂 Because I actually did. Perhaps not specifically spiritual healing, but from a young age, around 15, I felt that it is a calling for me to find a way to help the world. I didn't know precisely how, and I tried different ways, starting MyPlanet back in 2006, but now with Oya, I feel it's all coming together.
What has been your biggest challenge so far since you founded OYA? Is there a story on that?
The biggest challenge is always execution, but we've been very blessed with great people around us who are enabling our progress. The current financial situation has been making it more challenging to raise money from investors and more expensive to borrow. Still, we have continued progressing with our backing from the 5D Group.
They say, "behind every successful man, there is a very successful woman," please share with us how important and supportive your wife has been in all these.
I'm sure this statement is true, but it's beyond just support in our case. Basically, without Michala, this project would not exist. Our relationship is extraordinary because beyond being a fantastic wife and mother, we are partners and are not only financial partners, but we are working at OYA full time and moving things along 24/7. We are working together on content, strategy, marketing, etc., but some things are 100% Michala's role, like the design of the OYA locations. OYA is about joining forces, working together as a team, and leading the transformation. Michala and I must live it for this project to succeed, which means that our love and for us to work in unity as partners are perhaps the most crucial first step because, without it, the rest would never work.
I understand that OYA is partnering with Rigan Machado, BJJ #1 Celebrity and Brazilian Jiu-Jitsu Master. He also is known as a Hollywood Stunt Coordinator from The Academy — Beverly Hills. Do you want to tell us more about this partnership?
Haha! Yes, you are right, Marco. Thank you. This is an exciting period for us. But I'm afraid the readers and fans would have to wait to read more about this in our subsequent press release.
---
Are there any other special projects you're currently working on?
Yes. There are several interesting projects, but the most exciting is MyCobriah, our bio-medical research group. We're currently completing our human trials in Rwanda, which has proved quite successful. Our lozenge reduces the viral load of COVID, which means that consuming it would minimize transmission.
Do you have a favorite "life lesson" or quote that profoundly impacted your life? Please share with us.
One that I often repeat is that "guaranteed that what we know for sure is that we don't know :)."
Some of our Global readers are eager to be a part of OYA. What do they need to do to be a member?
Right now, it's quite an excellent opportunity to sign up for the white list at Oya.io because those purchasing the digital membership through the white list would enjoy a substantial discount.
Is there anything else you would like to share today?
Some good news for everyone. Although it may seem like our world is falling apart with so much geopolitical and financial trouble. Actually, things are good. This is a time of transformation for humanity, and many good people are coming together to do good. OYA is proof of that.
How can our readers keep up with you on social media or a website?
Visit our website. You can also follow Oya New Earth on Twitter, Instagram, TikTok and Press Release
Thank you for joining us today. This was indeed inspirational, and wishing you continued success!
Marco Derhy
❖ Marco is the CEO of Derhy Enterprises, a boutique advisory firm. Derhy Enterprises aids with the management and growth of businesses, particularly for public figures. ❖ Marco is known as an Entrepreneur at heart, building a Los Angeles-based private-label fashion company (in his early 20's, shortly after his Military Service) into a dominant industry force with numerous employees and $50M+ annual sales. This success fueled his launch and investments into multiple Sectors, including Film production, Charity gala events, Humanitarian aid, Real Estate, Health Tech, Creating content, True stories, Articles, Book Series, and worldwide profiling, inspiring people. ❖ A "Positive" Influencer. Marco has over 19 years of experience in the publishing sector. He has created ample unique series highlighting the empowering lessons learned from the experiences of high-profile entrepreneurs. ❖ Marco has worked with legends like Nelson Mandela, Arnold Schwarzenegger, Mark Wahlberg, Carlos Slim Jr., The Jackson Family, Mr. Sumner Redstone, chairman of Viacom, and Robert Evans," The Godfather, "to name a few. ❖ Marco is Known as a Philanthropist who produced quite a few lucrative fundraising charity events. Working with Dr. Juan Montero II MD for medical supplies for children, including the champ Manny Pacquiao, UNICEF—established a partnership with the Jackson Family Foundation. He produced a 2-Day mega-event - 1st Day was a Black-Tie @ a Beverly Hills Mansion, and the next day was @ the famous "Neverland," at Michael Jackson's home, with~2,000 global VIP guests. Marco also Produced Michael Jackson's (RIP) First Black-Tie Annual Memorial event at the Beverly Hilton Hotel with ~1K Special global Guests, along with the Jackson family. He also produced a series of charity events during the Cannes film festivals. ❖ At CityGala, Marco produced their best and most significant Black-Tie Gala event at the Beverly Hills Vineyard. He also helped raise funds to support A-listers Celeb foundations, The Charlize Theron Africa Outreach Project (CTAOP), LA Youth, Health & Medicine, Domestic Violence support programs, and U.S. Veterans, to name a few. ❖ Marco is the Bestselling Author and helped coach, create and inspire a mini-movement among writers, with scores of writers worldwide profiling inspiring people to share their positive, empowering, and actionable, inspiring true stories on prominent Platforms. ❖ A Contributor to Arianna Huffington's, Medium, Buzzfeed, and Thrive Global, to name a few. ❖ Marco is producing TV Series programs, Documentaries, and Feature Films. http://www.imdb.com/name/nm0220357/ ❖ Marco published his best-selling series #1 Book "Heroes of The Opioid Crisis," and working on new book series. When Not working, he's enjoying; Family, Friends, Philanthropy (Giving back to the less fortunate), Martial arts, Swimming, Tennis, Meditation, "Torah study," Nature, Hiking, and Tennis...... Praying for global peace, Health, Prosperity, love, and Happiness for our global society. "While on earth", Do Good & Be Good®️ (as we're all passengers) M.D.