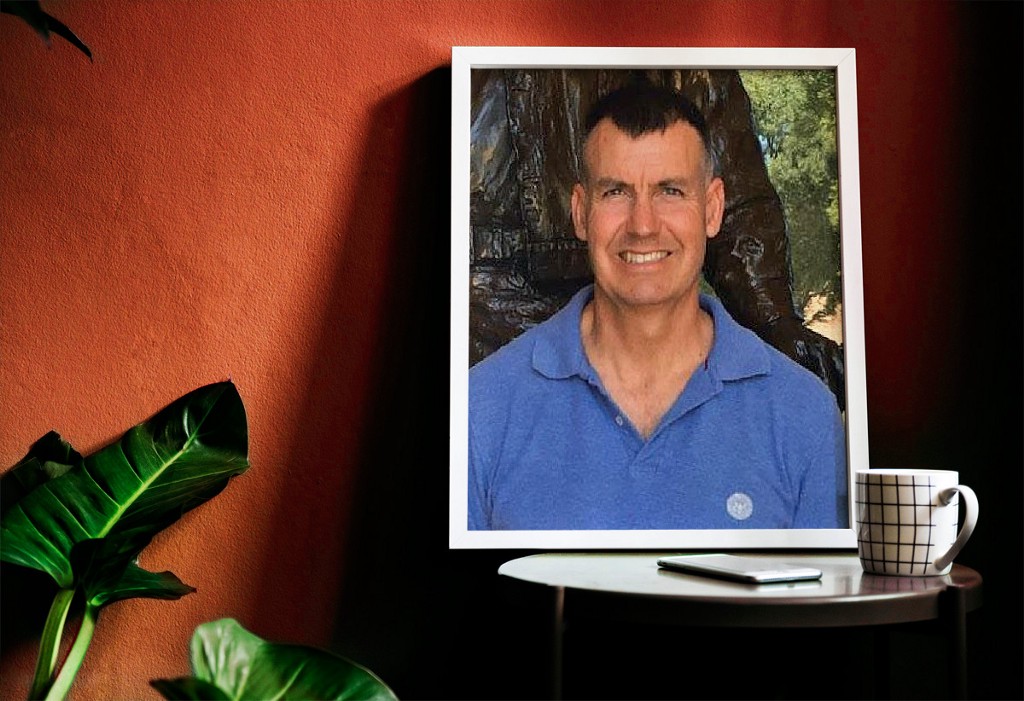 Life and Leadership Lessons I Learned In The Military: "Adopt an "abundance" rather than a…
Life and Leadership Lessons I Learned In The Military: "Adopt an "abundance" rather than a "scarcity" mentality." with Daniel Klender and Marco Dehry
Adopt an "abundance" rather than a "scarcity" mentality. Be a team player. Refuse petty rivalries while applauding the legitimate successes of others. Remind yourself every day that it is not about you, but about God, and the people you serve.
As a part of my series about "Life and Leadership Lessons Learned In The Military", I had the pleasure of interviewing Daniel Klender. Daniel recently published his book, "The Uzziah Syndrome," where he draws on 30 years of ministry work in civilian and military context to provide readers with valuable lessons in leadership. This book serves as a guide to help readers fulfill their leadership duties. Klender discusses the Uzziah Syndrome — which is the increasing danger of moral and ethical failure in leadership roles. In his book, Klender provides readers with insight into how they overcome these dangers and be the best versions of themselves. Klender currently serves as a Navy chaplain at Camp Pendleton, California. His ministry has led him to other countries such as Asia, Iraq, the Middle East and Europe.
Thank you so much for doing this with us! Can you tell us a bit about your childhood "backstory"?
I was raised in rural Mid-Michigan, where I grew up working on a farm. My high school years were occupied by participating in my church youth group, running track and cross-country, and working on the farm. I was raised by loving parents who modeled a great work ethic. At the age of 12, I felt a call to full-time pastoral ministry — a call that I began to pursue in earnest at the age of 17.
And what are you doing today? Can you share a story that exemplifies the unique work that you are doing?
Currently, I am the BRIG in MIRAMAR, CA. At MIRAMAR. I have served as a chaplain for prisoners, some high profile, whose cases are still pending. In this environment, I have the opportunity to minister to those who have served their country very honorably and question why God permits evil to exist. At the MIRAMAR BRIG there are those who feel a call into fulltime ministry whom I have had the privilege of mentoring.
Can you tell us a bit about your military background?
As a Navy chaplain I am a non-combatant. I have served in the Navy for 17 years, 5 as a reservist. My role as a chaplain resembles that of a spiritual fitness coach and a pastor to Marines and Sailors. As part of my collateral duties I serve as a trainer and 1st responder for those at risk of suicide.
Can you share the most interesting story that you experienced during your military career? What "take away" did you learn from that story?
While serving in Western Iraq on a moonlit night, I had to use the head (restroom) in the middle of the night. Much to my chagrin the porta-john had been moved a day or two prior, so I had to walk some distance. While walking back to my hooch, I heard the impact of insurgent rockets, one of which landed approximately 100 meters from me. I surmised if the heads had not been moved a day or two earlier, myself and others would have been in the kill zone at the moment of impact. God truly is alive and chooses to protect many by His grace and power!
I'm interested in fleshing out what a hero is. Did you experience or hear about a story of heroism, during your military experience? Can you share that story with us? Feel free to be as elaborate as you'd like.
The definition of a hero is multi-faceted. A hero is like Corporal Jason Dunham, who selflessly thrust his body on a grenade to save his platoon. A hero is a fearlessly courageous person who possesses inside-out integrity while always doing the right thing in spite of the outcome.
Based on that story, how would you define what a "hero" is? Can you explain?
A hero is someone committed to a moral cause bigger than themselves. A hero is willing to sacrifice their lives for the good of others. Jesus defined both friendship and heroism when He wrote, "Greater love has no man than this, that a man lay down his life for his friends," (John 15:13).
Does a person need to be facing a life and death situation to do something heroic or to be called a hero?
No. Today there is a brand of hero being marketed that is long overdue. It is the hero that prevents a crisis from happening. These are our law-enforcement officers, detectives, whistleblowers, and obscure citizens who go to work every day, and lead decent, honorable lives. People who have been habituated to do whatever is right regardless of the consequences. Their lifestyles are exemplary and worthy of emulation.
Based on your military experience, can you share with our readers 5 Leadership or Life Lessons that you learned from your experience"? (Please share a story or example for each.)
1) Integrity is the highest form of loyalty.
During the course of my military career I have witnessed those who play political games devoid of integrity being reprimanded.
2) Work hard.
The adage goes, "You can pay now and play later, or play now and pay later. But either way, you will eventually have to pay."
3) Be the vanguard of courage.
In your life and service, be the most courageous person in the room who is willing to sacrifice everything for the common good.
4) Acknowledge the evil within.
There are no blowouts in life, only slow leaks. Acknowledge what Russian novelist, Alexander famously wrote, "Evil does not pass through the state, but through every human heart." Those who acknowledge their propensity toward evil and wrongdoing are more apt to succeed in the long run.
5) Adopt an "abundance" rather than a "scarcity" mentality.
Be a team player. Refuse petty rivalries while applauding the legitimate successes of others. Remind yourself every day that it is not about you, but about God, and the people you serve.
Do you think your experience in the military helped prepare you for business? Can you explain?
I am still in the Navy and my military experience has increased my competence, confidence, and compassion. My military experience has firmed up the sinews of my life and ministry making me a better chaplain and pastor. My experiences have made me a much more empathic listener and better counselor/life coach as a result of having witnessed both the best and worst humanity has to offer.
As you know, some people are scarred for life by their experience in the military. Did you struggle after your deployment was over? What have you done to adjust and thrive in civilian life that others may want to emulate?
Not really. For several years Independence Day was marginally traumatic as the sound of fireworks reminded me of the sound of mortars and rockets. These minor traumas have since subsided.
Are you working on any exciting new projects now? How do you think that will help people?
Currently, I am writing another book entitled, "Living with the End in View: Escaping the Tyranny of the Here and Now." Also, I have begun a book entitled, "I Took an Oath." In these books I hope to integrate my military experiences with practical life skills that enable others to be the best version of themselves.
What advice would you give to other leaders to help their team to thrive?
Be bold. Be transparent. Always do the right thing. Be a SME (Subject Matter Expert) so you can mentor your team. And adopt a "leaders eat last" mindset while always striving to lead by example.
What advice would you give to other leaders about the best way to manage a large team?
There is no "I" in "team," therefore, put the team ahead of your personal interests. Ferret out any personal agendas that don't contribute to the mission of the team.
None of us are able to achieve success without some help along the way. Is there a particular person who you are grateful towards who helped get you to where you are? Can you share a story about that?
My friend and mentor Reverend James Andrews. Jim was a great leader and a selfless servant. After inviting me over for Christmas dinner, I called him to give me a ride home after I had gotten my car stuck in the snow. Jim "walked the talk" in every way imaginable.
How have you used your success to bring goodness to the world?
I try to give back daily, by placing an imaginary "10" on the head of every person. While recognizing everyone I lock eyes with is precious in the sight of God, I make a concerted daily effort to sacrifice time, talent, and treasure in an effort to love God and my neighbor.
You are a person of great influence. If you could inspire a movement that would bring the most amount of good to the most amount of people, what would that be? You never know what your idea can trigger. 🙂
As a chaplain and Bible teacher, I would like to inspire through my writing and teaching, a second Protestant Reformation. By doing this I would like to motivate others to make positive ethical choices today that will live eternally.
Can you please give us your favorite "Life Lesson Quote"? Can you share how that was relevant to you in your life?
"It is not the will to win that matters, but the will to prepare." — Bob Knight.
This Hall of Fame coach knows what he is talking about! My book, "The Uzziah Syndrome," was a compendium of all the lessons learned in my life and ministry. When I am faced with a challenge like attempting to convince a suicidal service-member to embrace life rather than death, all of my life experiences conspire to help at that moment.
Some of the biggest names in Business, VC funding, Sports, and Entertainment read this column. Is there a person in the world, or in the US with whom you would love to have a private breakfast or lunch with, and why? He or she might just see this if we tag them 🙂
Phil Robertson — he is a fascinating businessman!
Thank you so much for these amazing insights. This was truly uplifting.
---
Life and Leadership Lessons I Learned In The Military: "Adopt an "abundance" rather than a… was originally published in Authority Magazine on Medium, where people are continuing the conversation by highlighting and responding to this story.