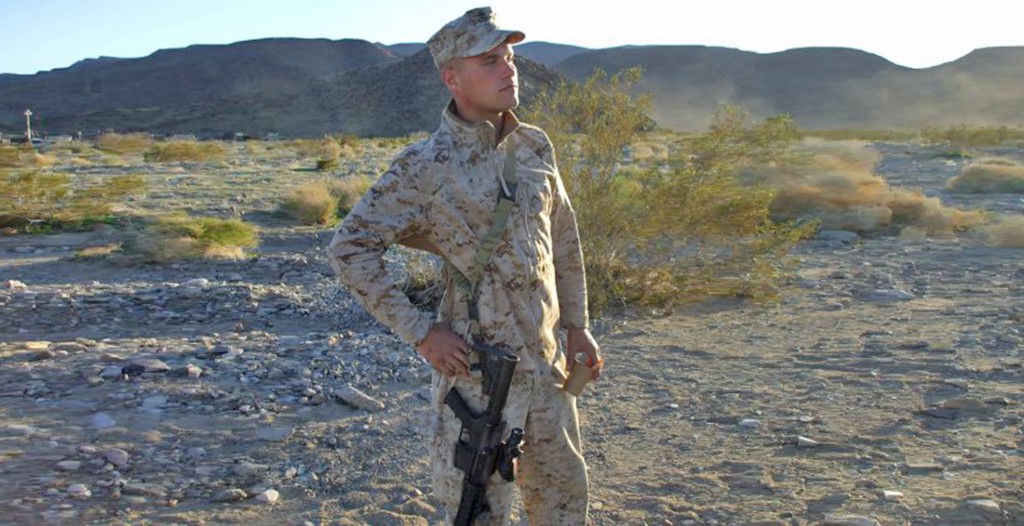 Heroes Among Us: "Establish a routine" With Steven Pfister Jr.
Establish a routine. One thing I learned from the military is that consistency has major benefits for those who crave order. I've found that having a routine has helped improve my personal wellness, from sleep patterns to work/life balance and more.
As a part of my series about "Life and Leadership Lessons Learned In The Military", I had the pleasure of interviewing Steven Pfister Jr.. Today, Steven Pfister Jr. is an Investigator of the Medicaid Fraud Division at the Massachusetts Attorney General's Office (AGO), and has been dedicated to the commonwealth since 2011. Prior to joining the AGO, Steven served four years in the United States Marine Corps as a Lead Machine Gunner, including two deployments as part of Operation Iraqi Freedom. Steven graduated Summa Cum Laude from Suffolk University with a Bachelor's of Arts in Applied Legal Studies.
Thank you so much for doing this with us! Can you tell us a bit about your childhood "backstory"?
It's my pleasure, thank you for the opportunity to share. I grew up in Alexandria, Virginia as the oldest of three children, with a wonderful mother and father who have always supported me in the pursuit of my dreams, which early on was a passion for hockey and military history.
As a teenager, I was above and beyond the stereotypical headache, getting into trouble on a regular basis and had lost my sense of self altogether, despite my family's numerous attempts to guide me on the right path forward. I eventually got my G.E.D. and thankfully decided to enlist in the United States Marine Corps at age 19, which had been a longtime goal of mine from the beginning.
And what are you doing today? Can you share a story that exemplifies the unique work that you are doing?
Today, I am an Investigator of the Medicaid Fraud Division at the Massachusetts Attorney General's Office (AGO), with a focus on battling the local opioid epidemic. While most of my work is confidential, the end goal is ultimately to help prevent and combat the abuse of Medicaid recipients, and prosecute those who are breaking the law accordingly.
Can you tell us a bit about your military background?
From 2006 to 2010, I served in the United States Marine Corps [3rd Battalion, 3rd Marine, 3rd Marine Division] as a Machine Gunner. I served two deployments in Iraq in support of Operation Iraqi Freedom, as a Lead Machine Gunner for the Battalion Commander's personal security detachment. When not deployed, I was stationed in Kaneohe Bay, Hawaii, and after honorably discharging, I moved to Massachusetts to pursue my bachelor's degree.
Can you share the most interesting story that you experienced during your military career? What "take away" did you learn from that story?
During my first deployment and patrol, I have a vivid memory of seeing people outside of what we called the wire, quickly scattering away from our Humvee. We had no understanding of where they were heading, and what was in store for us as we travelled onward. I will never forget that moment, as I had experienced what fear of the unknown really meant, and had to overcome that and move into the darkness with confidence that I was capable of doing my job.
I'm interested in fleshing out what a hero is. Did you experience or hear about a story of heroism, during your military experience? Can you share that story with us? Feel free to be as elaborate as you'd like.
During my military experience, every single person who enlisted during a time of war to serve their country in my eyes exhibited heroism. Naturally, there are those who have gone above and beyond the call of duty, and are deservedly honored. From where I stood, looking to my left, right, in front of, and behind me, were people who didn't always get along, but all banded together with one common purpose — to risk their lives and accomplish a mission. I believe each and every one of them should be recognized as a hero.
Based on that story, how would you define what a "hero" is? Does a person need to be facing a life and death situation to do something heroic, or be called a hero?
Not necessarily. I believe a hero is any person, with a military background or not, who deliberately chooses to put others first, purely for the sake of the common good — without agenda, simply because their choices are the right thing to do.
Based on your military experience, can you share with our readers 5 Leadership or Life Lessons that you learned from your experience".
Establish a routine. One thing I learned from the military is that consistency has major benefits for those who crave order. I've found that having a routine has helped improve my personal wellness, from sleep patterns to work/life balance and more.
Make exercise a priority. Gifting our bodies with regular movement as we all know has many physical benefits, but also can be attributed to work-related positives like productivity, confidence, and more.
Take Good Advice. As someone who was always been hard-headed, and quick to dismiss constructive criticism, the military taught me that the only way to grow is to learn. And the only way to learn is to listen.
Adapt and Overcome. Change is inevitable, and the military gave me the skills needed to adapt to any situation, despite unexpected challenges. Learn to be agile, and think outside of the box accordingly.
Lead By Example. Actions will always speak louder than words, and it's important to demonstrate the qualities of the type of leader that you would want to follow in order to gain the respect of your colleagues and of your community.
Do you think your time in the military helped prepare you for business? Can you explain?
The military helped me prepare for my career in numerous ways. Without being redundant, the military instilled in me a work ethic that I never believed I could possess. It gave me the confidence to pursue my career and not give up. Ultimately, I believe the military helped me to transform from an immature, high school dropout to someone with tangible passions and goals that I believe I can and deserve to achieve.
As you know, some people are scarred for life by their experience in the military. Did you struggle after your deployment was over? What have you done to adjust and thrive in civilian life that others may want to emulate?
The transition into civilian life was undoubtedly challenging, but I know there are some who have suffered far more than I have. I believe that I have been able to overcome my own struggles by staying focused on the things that bring me joy — from finding a job that I'm extremely passionate about, to building a family and creating memories with my wife and son, while keeping in touch with my brothers who will always be near regardless of distance.
What advice would you give to other leaders to help their team to thrive?
I believe that leaders are bred in the military because there's a clear hierarchy and path for growth. I feel strongly that in order for a team to thrive, each individual must be fully aware of their own personal growth opportunities. Thus, leaders should work to motivate their teams by helping them navigate their upward mobility accordingly.
None of us are able to achieve success without some help along the way. Is there a particular person who you are grateful towards who helped get you to where you are? Can you share a story about that?
It's difficult to call out just one person, as many people have positively influenced me and my path forward. Firstly, my parents, Steve and Julie, have unconditionally supported me in all stages of my life. My father has an unmatched work ethic, and I like to believe that I'm following in his steps in that sense. My mother has inspired me to be kind to others and to myself, which is one of the most important lessons we can learn as human beings. One of my closest friends, a fellow Marine, Blair was a major inspiration for me to choose the Marine Corps over the others. And lastly, my wife Nina has encouraged me to never settle, and to recognize that I am capable and deserving of being multifaceted, which is an important lesson for all veterans.
If you could inspire a movement that would bring the most amount of good to the most amount of people, what would that be? You never know what your idea can trigger.
I would create a movement that would serve to encourage veterans to maximize the benefits they have earned, from education to home ownership and more. I know too many Marines in my case who have not taken advantage of these opportunities that could help them mentally and physically transition to civilian life.
Can you please give us your favorite "Life Lesson Quote"? Can you share how that was relevant to you in your life?
"You can sleep when you die." I realize this is not meme-worthy, but I've personally grown to have a deep appreciation for my time spent here on earth. My goal is to relish in the big and small moments, and to feel like I've capitalized on my opportunity to be alive.
Some of the biggest names in Business, VC funding, Sports, and Entertainment read this column. Is there a person in the world, or in the US with whom you would love to have a private breakfast or lunch with, and why? He or she might just see this if we tag them 🙂
I would appreciate the opportunity to enjoy a beer and a quick nine with the greatest golf champion of all time, Jack Nicklaus. While stationed in Hawaii, I reignited my love of the game, and would greatly benefit from some expert tips.
Thank you so much for these amazing insights. This was truly uplifting.
---
Heroes Among Us: "Establish a routine" With Steven Pfister Jr. was originally published in Authority Magazine on Medium, where people are continuing the conversation by highlighting and responding to this story.