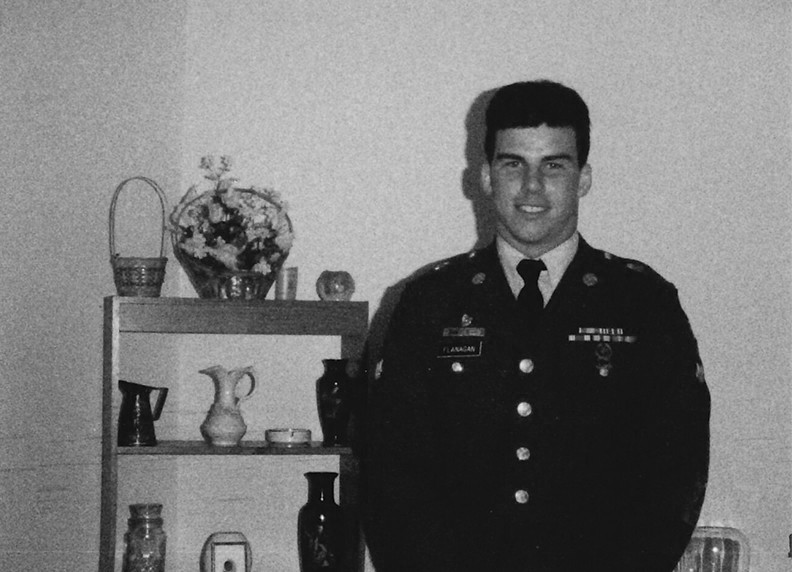 Heroes Among Us: Life and Leadership Lessons I Learned In The Military, with Jerry Flanagan and…
Heroes Among Us: Life and Leadership Lessons I Learned In The Military, with Jerry Flanagan and Marco Derhy
Purpose — Find what makes you tick. In my case with JDog, we're giving Veterans business ownership opportunities, and we're cleaning customer's homes and businesses in an eco-friendly and safe manner. That's what makes me excited to get up every day.
I had the pleasure of interviewing Jerry Flanagan. Jerry is an Army Veteran and entrepreneur who created a national brand dedicated to empowering Veterans through business ownership. He founded JDog Brands (www.jdogbrands.com) which includes JDog Junk Removal & Hauling, a 200+ franchise system that serves over 40 million Americans, and the new JDog Carpet Cleaning. Rooted in the military values of respect, integrity, and trust, JDog has become a nationwide movement, creating business and employment opportunities for Veterans and military family members nationwide.
Can you tell us a bit about your childhood "backstory"?
I was born in Media, PA as the youngest of three children. My childhood isn't really what made me who I am.
And what are you doing today? Can you share a story that exemplifies the unique work that you are doing?
As a Veteran and entrepreneur, I've found that Veterans are an underestimated and overlooked pool of talent for the economy. From my humble beginnings with JDog Junk Removal & Hauling, I've made it my mission to create more opportunities for Veterans to put their military training, values, work ethic, and professionalism to work as business owners and employees in the civilian world.
I'm constantly looking for opportunities that can empower other Veterans, which is why I recently launched JDog Brands, and with it, our second service-based franchise, JDog Carpet Cleaning. This Veteran owned and operated business builds on the momentum we created with JDog Junk Removal & Hauling, which currently has more than 200 active franchises nationwide, serving over 40 million Americans. Americans want to support Veterans, and this offering marries the two needs: Veterans can have successful businesses while customers can have professional services done the right way.
I'm looking to connect with other Veteran business leaders that could become part of the JDog Brands model to help accelerate Veteran business ownership and Veteran employment, and welcome the opportunity for conversation. Ultimately through JDog Brands, we want to reduce the Veteran unemployment rate to less than 1 percent.
Can you tell us a bit about your military background?
I always knew I'd join the military after high school, so in 1987, less than a year after graduating, I enlisted in the Army. I served from 1987 to 1989 as a cable wire runner, also known as a wire dog, which is how I got the nickname JDog.
My job was extremely physical and required tons of work hours, but I loved the intensity. I've always been athletic and I played many sports as a kid, so my job fueled my need to do something physical. The long, hard hours also instilled a strong work ethic. I'm proud to say that I finished at the top of my class in Advanced Physical Training (AIT) and also earned the Army Achievement Medal.
Can you share the most interesting story that you experienced during your military career? What "take away" did you learn from that story?
There was a period during my military training where we went to Mojave Desert and trained for 30 days in a mock-war situation. It was called Desert Sting, which was the precursor to Desert Storm. We hauled equipment around for miles and practiced our skills in a hostile environment. The best way I can describe it is like laser tag, but way more intense.
I'm interested in fleshing out what a hero is. Did you experience or hear about a story of heroism, during your military experience? Can you share that story with us? Feel free to be as elaborate as you'd like.
When you're in the military, you don't talk about heroism. It's something you think about after the fact. When I got out of the Army, only then I could identify heroes as those who served in combat and received the Medal of Honor or a Purple Heart.
Based on that story, how would you define what a "hero" is? Can you explain?
See above.
Does a person need to be facing a life and death situation to do something heroic or to be called a hero?
I believe that a person definitely needs to be in a life or death situation to be considered a hero. And it's not just our military personnel who serve overseas, but also first responders who put their lives on the line every day. They're heroes, too.
Based on your military experience, can you share with our readers 5 Leadership or Life Lessons that you learned from your experience"? (Please share a story or example for each.)
Specifically there are five life lessons I learned that can help with the transition from military life to civilian business. I hope these can support my fellow comrades in their journey:
Be with other Veterans as you transition out of the military. Find where your buddies are, see if there are job opportunities, and work alongside them.
Research every Veteran-owned business in the country and find one that fits what you want to do. Veterans look at you differently than civilian employers do and they understand your challenges, so they're your biggest resources.
Follow the same routine you did in the military, including your physical training. If you continue to work as hard as you did in the service, you'll do well.
Try to leverage your soft skills as much as possible. Most of the time you're not able to translate your military job or MOS to the civilian world. It's like a non-transferrable credit, so finding ways to demonstrate your other skills is imperative to opening up career opportunities.
If you're going to leverage your Veteran status and start a business (which I recommend), focus on these three things:
People — Believe in your customers and the people you work with.
Passion — To get up every day and do the same thing over and over again, you have to love what you do.
Purpose — Find what makes you tick. In my case with JDog, we're giving Veterans business ownership opportunities, and we're cleaning customer's homes and businesses in an eco-friendly and safe manner. That's what makes me excited to get up every day.
Do you think your experience in the military helped prepare you for business? Can you explain?
My military experience absolutely helped prepare me for business. Early on, I realized that my military experience redefined me and it could define a brand, so I decided to promote JDog as a Veteran brand. This means embodying military values and habits every day on every job.
In the early days of JDog Junk Removal & Hauling, I quickly gained a reputation for showing up on time, treating everyone with respect, appearing cleancut, and being a trustworthy neighbor in all of my business activities. Customers not only value these attributes, but they also look for ways to support Veterans. It became obvious early on that being a Veteran boosted my credibility and increased my referrals.
Beyond that, four specific qualities of military service contributed to my success starting and growing this business:
● The first is work ethic. I still typically wake up at 4:30 a.m. and immediately go to the gym before starting work. As a physical person, that's necessary to maintain my clarity and it's a natural part of my day. Once at work, I dedicate all my energy to fulfilling a task and helping my community, just like I did when I was in the military.
● The second is values. JDog serves customers the way we serve our country — with respect, integrity, and trust. Most Veterans still say "Yes, Sir" or "Yes, Ma'am" because it's been ingrained in them as a sign of respect. We extend that respect to the homes we're working in and the items we're hauling. Sure, it might be someone's junk today, but it may hold memories for the customers we're helping. I also believe in good manners, being on time, cleaning up after yourself, and being a productive, helpful member of society.
● The third is camaraderie. In the military, you always have a support system and a superior to go to. When you transition to the civilian world, that structure is suddenly removed, and Veterans can end up feeling lost or purposeless. A franchise, though, has a similar chain of command — it's familiar. JDog allows Veterans to work alongside other Veterans who understand what they're going through and can support each other in both personal and professional matters. It returns that ethos of brotherhood and sisterhood they experienced in the military, and at the same time gives them a sense of purpose.
● And the fourth is connection. Military families are extremely connected, so we felt it was essential to have a support system in place. We created JDog Spouses, which is a group my wife Tracy spearheads. Whether families are involved in the day-to-day operations of the JDog business or not, this program helps spouses understand how to balance work and family life, among many other things.
As you know, some people are scarred for life by their experience in the military. Did you struggle after your deployment was over? What have you done to adjust and thrive in civilian life that others may want to emulate?
I wasn't deployed during my time in the Army, but I did have some challenges once I was a civilian. I tried college, but that didn't work out. I tried a couple businesses, but those went under. What sets me apart is that I never stopped persevering and putting my maximum effort in every day. That's something the military instills in everyone and what ultimately helped me be successful in business.
Are you working on any exciting new projects now? How do you think that will help people?
We're working on an extremely exciting project: We recently launched JDog Brands, which identifies Veteran businesses and accelerates their model to put more Veterans into work. We currently have two services under the umbrella: JDog Junk Removal & Hauling and JDog Carpet Cleaning. Ultimately our goal is to hire at least 10,000 Veterans over the next decade.
What advice would you give to other leaders to help their team to thrive?
If you want to be an effective manager and leader, you can't micromanage your staff. Instead, empower them by sharing your vision, then remain flexible and listen to their ideas. Also, you have to make the workplace fun so your employees don't dread coming in every day.
What advice would you give to other leaders about the best way to manage a large team?
Beyond listening to and implementing your team's feedback, I'd also suggest inspiring them and promoting often for a job well done.
None of us are able to achieve success without some help along the way. Is there a particular person who you are grateful towards who helped get you to where you are? Can you share a story about that?
Two people that helped me get where I am today are Chris Debbas and Jimmy Griffiths from Julip Run Capital. They saw my vision and put out their necks and stepped up to help finance it. It takes a lot of courage to do something like this, and it not only gave us the assets to expand our business, but also opened up new doors and instilled confidence in me. They continue to build me and JDog Brands up and are planning another massive launch.
How have you used your success to bring goodness to the world?
There's nothing better I can think of in this world than creating opportunities for our Veterans and their families. It's not about giving them a hand out, but rather a hand up, which is exactly what JDog offers.
You are a person of great influence. If you could inspire a movement that would bring the most amount of good to the most amount of people, what would that be?
The movement we're inspiring is building a bridge and strengthening relationships between American consumers and military Veteran businesses. We're slowly connecting those dots and showing the benefits to both sides through our actions every day.
Can you please give us your favorite "Life Lesson Quote"? Can you share how that was relevant to you in your life?
My mantra is "Never give up." You're going to run into challenges, but pretend you're in the movie Groundhog Day, and adjust and keep persevering.
Some of the biggest names in Business, VC funding, Sports, and Entertainment read this column. Is there a person in the world, or in the US with whom you would love to have a private breakfast or lunch with, and why?
I would love to meet Fred Smith, the CEO of FedEx. He served two tours in Vietnam with the Marines and was awarded two Purple Heart Awards. When he came back to the U.S. he started his business and went under, but ultimately was able to build it back up after winning a few hands at blackjack.
What I'd like to pick his brain on is how he picked himself up, what he did wrong, and hear all about the failures because that shows why someone didn't quit. He's an American hero and a successful businessman and I would be honored to have the chance to speak with him.
Thank you for joining us!
---
Heroes Among Us: Life and Leadership Lessons I Learned In The Military, with Jerry Flanagan and… was originally published in Authority Magazine on Medium, where people are continuing the conversation by highlighting and responding to this story.