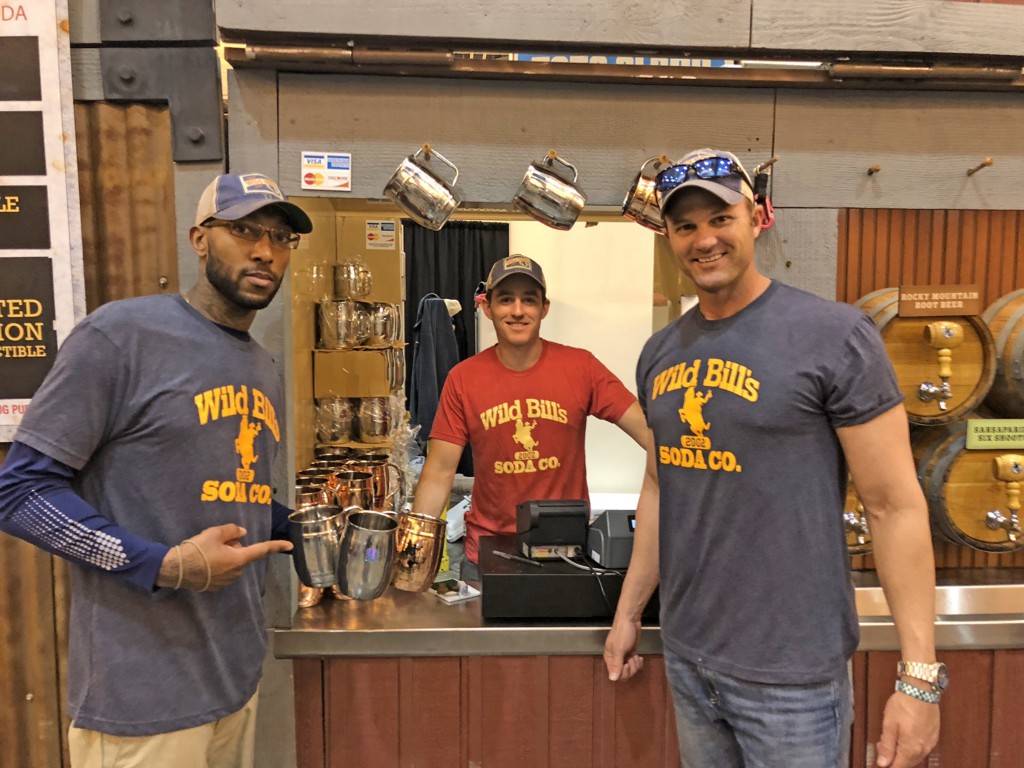 Heroes Among Us: "We need to restore the value of compromise to our country" With James Ferguson…
Heroes Among Us: "We need to restore the value of compromise to our country" With James Ferguson, CEO of Wild Bill's
…It would be to restore the value of compromise to our country. We are in place where those who compromise are viewed as either weak or uncommitted to their cause. The truth is exactly the opposite. It takes strength to work with others who don't necessarily share your beliefs, and to find common ground for the greater good. That's what our country was founded upon, and it's the only way our system of government works. We see it in our business all the time. You can be a really hard negotiator and "win" the battle, but lose the war. We are interested in long-term, trust based relationships with our partners, and that only comes through transparency and compromise.
I had the pleasure of interviewing James Ferguson, CEO of Wild Bill's, a soda company with a conscience — one of their goals is helping to transform veterans' lives after coming home. They hire veterans across the organization (including James and the vast majority of their executive team) and also give back via the Warrior Reunion Foundation, which hosts surprise reunions for veterans that served together. Wild Bill's business model is also unique amongst beverage companies — rather than focusing on distribution, they have honed in on festivals and fairs as their sales grounds (Comic-Con is one of their largest); they're also available through Amazon.com. With 30+ employees, in the last two years they've cracked the seven figure mark and enjoyed 300% year-over-year growth from 2017 to 2018 — when they served nearly 400,000 customers, many of which in their signature stainless steel mugs.
Can you tell us a story about what brought you to this specific career path?
After leaving the military I went through a bit of an identity crisis — you define yourself by the uniform for pretty much your entire adult life — then suddenly it comes off and you feel lost. It took me a while to figure out what my next mission should be. Luckily I had a great mentor who helped guide me through that experience, and he helped me find Wild Bill's. I went from management consulting, to big healthcare companies, to a startup — it was a series of culture shocks! Every good opportunity that has found me in life has been based on personal relationships, and in this case we saw an opportunity to grow a business while creating positive social impact for a community we both care deeply about: veterans. Joining the adventure and leading the team was a no-brainer.
Can you share the most interesting story that happened to you since you began leading your company?
I was raised to value work ethic, and with my first professional experience coming from service in the Marines I tended to default to pressing harder every time I encountered an obstacle. I was blessed to have partners who had been through the unique challenge of scaling a new business before, and they impressed upon me the idea that doing less is sometimes the best option. It took me a while to wrap my head around it, but accepting the fact that business is not an effort contest was a profound realization. Hard work is important, but sometimes you have to step back and let go a bit to find a new way around a tough obstacle. It has had a dramatic impact on my life. It's been much easier to manage the frustration level and to accept roadblocks as a necessary, albeit uncomfortable, part of the equation.
Can you share a story about the funniest mistake you made when you were first starting?
Well I learned pretty quickly that while accountability is important no matter where you are, the way you introduce it has to match the culture of the organization. I was leaving the office late one night and decided to walk through the warehouse to test some locks — inspect what you expect, it's something I learned in the Marines — and I found a lot of our equipment unsecured. So I called the warehouse manager and told him to come back to the office immediately to secure the gear. I could have done it myself and addressed it the next morning, but to me that wasn't the point. When something is your responsibility you need to own it — good, bad and ugly. So after a good deal of debate back and forth he finally made the trip back to the warehouse at about 9PM to secure everything — he couldn't believe I made him do it and he told me as much. I thought I had done a great job of setting the tone and was happy with the outcome. He quit the next time I saw him.
Can you tell us what lesson you learned from that?
It taught me to tailor my approach a little better to the situation: you don't sacrifice accountability, but you also can't treat everyone like they're in the Marines. Different tactics work with different people, and while a particular approach may feel good in the moment, you always have to consider the bigger picture and understand the human element.
Can you describe how your organization is making a significant social impact?
We have a pretty ambitious goal: to hire 100 veterans by 2021. For a company that started with 5 people that's pretty aggressive growth. But what I am most proud of is not just the idea of "hiring veterans" — it's who we are hiring and the opportunities we are offering to them. Most veteran hiring initiatives you see today are focused on junior military officers (JMOs). I was one of those JMOs — I know what it's like to search for a job with that kind of background — and while job searches can always be uncomfortable, if you're a transitioning officer and you can't find a job in this economy, you need to look in the mirror. The ones that are often forgotten in all the corporate hiring initiatives are the Non-Commissioned Officers (NCOs). Corporate America doesn't know what to do with them. NCOs are the backbone of the force, they are the Corporals and Sergeants who are leading at the squad level and doing the real, boots-on-the-ground work of our military. Most of them joined right out of high school, have not completed their degree, and may not have a list of technical skills that are easily translatable to a resume. But what they do have is an unparalleled amount of leadership experience; of team-building experience; and they have a ton of experience developing creative solutions to complex problems. They are executors — they know how to get things done — and especially valuable for us in an entrepreneurial company: they are able to make sound decisions in dynamic environments with limited information. What more could a high-growth company want? We have hired 7 NCOs who are now key leaders across our company, and our success is largely based on their leadership. If we can bring greater awareness to the value that NCOs offer and can inspire other companies to follow a similar track, we will have accomplished our goal.
Can you tell me a story about a particular individual who was impacted this cause?
My Director of Operations is a perfect example of the value NCOs bring to an entrepreneurial organization. Drew and I served together in combat in Afghanistan, and working together again in this business has been a dream come true. I call him a "fire and forget weapon." I know that I can give Drew a picture of the end goal, point him in the right direction and let him loose to execute. I don't need to tell him how to complete each task; I can trust he's going to make it happen and keep me informed of any obstacles or resource requirements along the way. It is extremely liberating to be able to focus outward while knowing that Drew and others like him have the organization functioning at optimal performance, and are always operating with the highest level of commitment and integrity.
Are there three things the community/society/politicians can do help you address the root of the problem you are trying to solve?
First, looking past what's on paper and taking the time to understand someone's experience is really important. One thing I have learned from this adventure is that good people are the indispensable ingredient to success — and they are really hard to find.
The next is investing in the personal and professional growth of veteran team members. If companies took the time to better understand the experience of a 22 year old Sergeant in the Marine Corps, and made the commitment to invest in that individual's growth on the front-end to successfully integrate them into the corporate environment, the return on that investment would astound them. But you have to be willing to look past a piece of paper; maybe overrule the HR department on technical skills requirements; and make a long term investment in an individual who will grow into the most productive and reliable team member you have.
Last, and to me this is the most important, we have the change the conversation about our nation's veterans. The media portrays the extremes, but the overwhelming majority of veterans are neither heroes nor charity cases. It's important for citizens, communities and companies to understand that most of us are normal, patriotic Americans who felt a calling to serve, and are now looking for a new mission to create positive impact in our communities and in the workforce.
How do you define "Leadership"? Can you explain what you mean or give an example?
Distributing credit and consolidating blame. To me the worst leaders are the ones who don't understand that it's not about them. They are the first to claim credit for success and the first to cast blame on others when something goes wrong. They have it backwards. A leader's responsibility is to set the conditions for success, get the right people in the right roles, and then let them execute and support them along the way. When the organization is successful it is the people doing the work who deserve the credit, and when things go wrong a leader must take responsibility. You have to create an environment where people are willing to reach far enough that sometimes they fail. If every time someone fails the leader bangs an iron fist, no one will ever move outside their comfort zone, and the organization will stall.
What are your "5 things I wish someone told me when I first started" and why. Please share a story or example for each.
"Expect it to be harder and take longer than you think." It's easy to get discouraged when things don't work out the way you expected, but the truth is in most start-up businesses there are multiple pivots before you really get traction. We were up late one night reviewing sales projections and things just weren't adding up, one of many such nights, and I could feel the stress building to the point where I really wondered whether or not this was going to work. But struggling through that experience led us to a realization that we needed to tweak our model and diversify our revenue sources. Many of our most important discoveries came from periods of pain.
"Speed matters." In the beginning I was very uncomfortable making snap decisions that weren't first vetted and reviewed against our overarching strategy. I felt like we were rushing into too many areas without understanding how each initiative fit into the bigger picture of what we wanted to accomplish. In some cases it ended up being true, but more often than not in an early-stage company it is following the "detours" that lead to your greatest breakthroughs. Sometimes you just have push the "I believe" button and let the team go off on a tangent.
"Time is your most valuable resource: Protect it!" I spent the first six months in this role trying to do everything and be everywhere. It doesn't work. You have to look at your time as your most valuable resource, and constantly evaluate whether or not you are investing it in the places where you believe you'll get the greatest return in the long term. It's easy to be a slave to email and it feels good in the moment to clean out the inbox, but from a big-picture perspective — is that the most important thing you can do today to move the ball forward? Probably not.
"Good, bad, who knows?" This is something my mentor says often. He borrowed it from a Buddhist monk turned thought leader, and I find it to be a great way to approach the everyday "disappointments" we face. In hindsight, many times something that seems bad in the moment actually turns out to be the best thing that could have happened. It's good to reserve judgment and remain calm when things "go wrong" — good, bad, who knows?
"Know exactly what you want to accomplish, and why." If you don't have a clear picture of the goal, it's easy to fall into the trap of constantly moving the goal-posts or changing strategies. I'm not recommending rigidity, but you have to have a sense of where you are going or you are very unlikely to reach your destination. Early in the business we didn't do a great job of explaining the why — we knew what we were doing but we didn't really have a shared consciousness of why — once we got clear on that, it was much easier to pull together and push through the tough times, because we knew it was worth it for what we were aiming to accomplish.
If you could inspire a movement that would bring the most amount of good to the most amount of people, what would that be?
It would be to restore the value of compromise to our country. We are in place where those who compromise are viewed as either weak or uncommitted to their cause. The truth is exactly the opposite. It takes strength to work with others who don't necessarily share your beliefs, and to find common ground for the greater good. That's what our country was founded upon, and it's the only way our system of government works. We see it in our business all the time. You can be a really hard negotiator and "win" the battle, but lose the war. We are interested in long-term, trust based relationships with our partners, and that only comes through transparency and compromise.
Can you please give us your favorite "Life Lesson Quote"?
"Give me 6 hours to chop down a tree, and I will spend the first four sharpening the axe." — Abraham Lincoln.
Can you share how that was relevant to you in your life?
Someone once told me that luck is the intersection of preparation and opportunity. All the "good luck" we've had as a company has only been possible because we put ourselves in position for luck to find us. The path is rarely clear, but you have to keep moving forward — you have to do something — inaction is the most dangerous choice you can make. Taking the time to deliberately prepare for what's ahead is essential. Too many people and too many companies rush into engagements and decisions without taking the time to prepare. Being busy is not an excuse; we're all busy; you have to make time to prepare for what you believe is most important in your life and in your business. Otherwise when opportunity knocks you will find yourself unprepared, and luck will pass you by. Luck is not patient.
Is there a person in the world, or in the US whom you would love to have a private breakfast or lunch with, and why?
Bill Belichick, and I say that as a lifelong NY Giants fan! The winning culture he has built within the Patriots organization is remarkable. Year after year, no matter who is on the roster or what bad breaks befall them, they find a way to win and they are right there at the end. That kind of consistency is what separates the dominant forces from the pack, and I'd love to learn how he approaches leadership and building a winning culture.
How can our readers follow you on social media?
Our Wild Bill's Soda Facebook page is a great place to see some amazing pictures from the over 300 events we service around the country. We're also on twitter and Instagram @WildBillsSoda — we love new followers and we do a ton of promotions and giveaways there as well!
---
Heroes Among Us: "We need to restore the value of compromise to our country" With James Ferguson… was originally published in Authority Magazine on Medium, where people are continuing the conversation by highlighting and responding to this story.