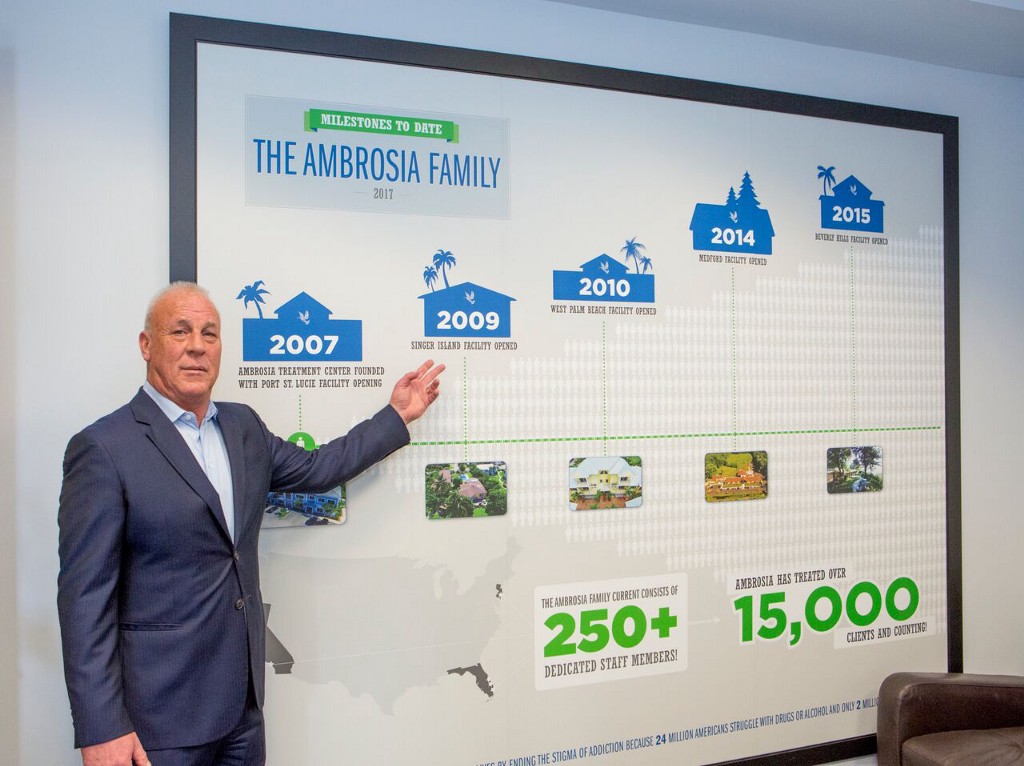 Heroes Of The Opioid Crisis: "We need to be funding scientific research about addiction and…
Heroes Of The Opioid Crisis: "We need to be funding scientific research about addiction and addiction treatment" With Jerry Haffey and Marco Derhy
…We need to be funding scientific research about addiction and addiction treatment. We've come a long way with things like Medication Assisted Treatment, but we need an overwhelming commitment to meaningful research. The more we know about substance abuse, the better we are at helping people recover.
I had the pleasure of interviewing Jerry Haffey. Jerry Haffey founded Ambrosia Treatment Center in 2007. Ten years later, Jerry and the nation's best therapists, physicians and recovery specialists have built Ambrosia into an industry leader in addiction treatment. Ambrosia has facilities across the country and is partnered with leading universities and the NFL.
Thank you so much for doing this with us! Can you tell us a bit of your backstory?

I started my career as a union carpenter in Philadelphia, but I was always fascinated by the medical field. I decided to go back to school to become a Registered Nurse. I was working at the University of Pennsylvania medical center as a cardiothoracic nurse before deciding to tackle addiction treatment eleven years ago.
Is there a particular story or incident that inspired you to get involved in your work with opioid addiction?

While working in the hospital, I saw the same people coming back time and time again for drug or alcohol overdose. They would be revived, leave the hospital and be back the next week. I knew there was a better way to treat addiction, but there simply weren't enough options. I made the decision do something about it.
Can you explain what brought us to this place? Where did this epidemic come from?
The current opioid epidemic is a culmination of many factors. In the early 90s, a movement in the medical community pushed for the use of prescription opioids for pain management. Pharmaceutical companies aggressively marketed opioids to doctors who liberally prescribed them without understanding all the risks.
That led to "pill mills" or medical practices run by unethical doctors that dish out opiates. Recreational use of pain medications soared because they were so common and so powerful. Then, the government cracked down, and the addicted population turned to the black market. Dealers discovered they could maximize profits by adding fentanyl and overdose rates skyrocketed.
You can't point the finger at one factor. You have to look at the whole picture. It's not just the addicts, the doctors, the pharmaceutical companies or the dealers. It's the whole system that caused this problem.
Can you describe how your work is making an impact battling this epidemic?
Most obviously, Ambrosia provides some of the best substance abuse and mental health treatment in the country. We fight this epidemic every single day, one success story at a time.
We also work with policymakers to raise the standards for ethical, effective addiction treatment across the industry. As part of the Palm Beach Sober Home Task Force, I helped Florida adopt laws that are now being modeled in states throughout the country.
Lastly, Ambrosia works with several universities that research our treatment outcomes. This data not only improves the effectiveness of our own treatment methods, but it allows the entire industry to improve care.
Wow! Without sharing real names, can you tell us a story about a particular individual who was impacted by your initiative?
My son fought in Operation Iraqi Freedom. One of his Army friends reached out for help last year. His PTSD had caught up with him, and he was using heroin to mask the pain. He had been to plenty of other treatment centers before. Yet, he's adamant that if he didn't enter Ambrosia's trauma program when he did, he would have taken his own life. It doesn't get more powerful than that. This is a good guy that now gets more time to hug his kids and to help other veterans who fought for our country and are still fighting their demons at home.
Can you share something about your work makes you most proud? Is there a particular story or incident that you found most uplifting?

Behind every person struggling with addiction are parents, siblings and friends whose lives are also destroyed. They live in worry, anger, hurt and resentment, often for years. They don't have drugs or alcohol to numb their pain. I look at my own family, and I know the lengths that I would go to for them. That's why it's my passion to heal the whole family. The research is unanimous that healthy family involvement improves outcome.
Earlier this year, we launched HopeTracker.org. It's an online platform for families to connect and get educated on what they should (and shouldn't) be doing to help. The feedback on the 10-session course is beyond my expectations. It's really changing lives. We kept it free and open to all families, even if they don't come to Ambrosia.
For those that do enter our program, we have a dedicated Family Wellness team that offers e-therapy sessions and text messaging for families to get advice and coaching from family counselors and an interventionist, as well as powerful family therapy weekends.
Can you share three things that the community and society can do help you address the root of this problem? Can you give some examples?
First and foremost, we have to realize that the opioid epidemic, and addiction in general, is a major public health problem that affects everyone. If a virus was killing as many people as opioid overdose, the country would panic. But, stigma gets in the way. People see addiction as a moral problem or something that only exists on the fringes of society, which isn't true. The problem is in our suburbs and our workplaces. This involves everyone.
As a society, we need to have the courage to speak up. I read an article about a mother who lost her 20-year-old son to a heroin overdose. She decided to mention her son's overdose in the obituary and use it as a message for someone else who is struggling, or someone who loves someone who is struggling. The more we talk about it, the more we can empathize and learn.
We need to support those recovering from addiction. Learn as much as you can to understand the disease and dispel harmful ideas like stopping is a matter of willpower. Read and listen to stories of those in addiction and recovery to be able to empathize. People dealing with addiction and their families desperately need us to approach them with support, not judgment.
If you had the power to influence legislation, which three laws would you like to see introduced that might help you in your work?
One of the biggest issues is access. We need to look at what insurance companies are covering and whether it's enough to get effective treatment. We need to look at claim denials and limits. We need a vetting system to allow quality providers to cover the costs of experienced therapists and things like neurofeedback testing. We need to be realistic and set standards on both sides.
Additionally, people shouldn't have to worry about where they send their loved ones to get help. The overwhelming majority of companies are run by passionate people with genuine intentions. But, we need to do more to weed out any bad players. Florida has made big strides with this issue lately. We should look to model the progress we made here at a national level.
Lastly, we need to be funding scientific research about addiction and addiction treatment. We've come a long way with things like Medication Assisted Treatment, but we need an overwhelming commitment to meaningful research. The more we know about substance abuse, the better we are at helping people recover.
I know that this is not easy work. What keeps you going?
It's not easy work, but this the most gratifying and rewarding thing I could be doing. I only have to look around the office to see the power of what we do. More than half of our employees are in recovery, many are alumni of Ambrosia. The disease of addiction doesn't take a day off, so we have to be just as diligent to fight it.
Do you have hope that one day this leading cause of death can be defeated?
Eradicating the disease is unrealistic, but each story matters. We can and are making progress every day to curb the sky rocking overdose numbers. I'm confident we'll be able to cut the statistics in half to get back to where we were as a country just 10 years ago.
How do you define "Leadership"? Can you explain what you mean or give an example?

The majority of my job as a leader is to inspire the people around me to push themselves — and, in turn, the company — to greatness. It blows my mind that in just two seconds, the Red Bull Racing team can change all four tires on a Formula One car. It proves the power of practice, constant improvement and teamwork.
What are your "5 things I wish someone told me when I first started" and why. Please share a story or example for each.
1. Never take a hiring decision lightly. Bad hiring decisions are expensive and demotivating for the team, whereas talent can completely transform an area of the business. I underestimated in the beginning how critical (and hard) it is to find the right fit.
2. Incorporate data into the continuous improvement process as soon as possible. In the case of addiction treatment, quality improvement is literally a life-or-death issue. Putting together an effective data collection and monitoring process is intense but absolutely critical.
3. You will be frustrated. Running a business is hard enough. Adding a maddening disease like addiction into the mix is even worse. You're always going to want things done faster. You are going to have fluctuations in the industry that are out of your control. You're going to deal with clients that refuse treatment or families that refuse advice.
4. Never be the smartest person in the room. Everyone on the team is more knowledgeable in their specific area than I am. The people surrounding you should complement your weaknesses and bring unique expertise to the table.
5. You will constantly be updating technology. The pace of technology can be overwhelming, but if you're not moving forward, you're falling behind. This year alone we changed out our clinical software, plus added new insurance verification and project management softwares.
You are a person of enormous influence. If you could inspire a movement that would bring the most amount of good to the most amount of people, what would that be? You never know what your idea can trigger. 🙂

Research tells us that addiction is a disease with genetic, biological and environmental causes. However, rather than treating it as a disease, society treats addiction as a moral failure. That needs to change. It's hard enough fighting the physical and mental dependencies of addiction. We need to remove the social barrier.
WeDoRecoverMovement.com is about ending the stigma of addiction and addiction treatment. Right now, 24 million Americans are estimated to struggle with drugs or alcohol, yet only 2 million will seek treatment. We should be ashamed of those statistics, not of the people struggling.
Can you please give us your favorite "Life Lesson Quote"? Can you share how that was relevant to you in your life?
"As we express our gratitude, we must never forget that the highest appreciation is not to utter words, but to live by them." — John F. Kennedy
Gratitude is a powerful concept in recovery. It's something everyone should incorporate into all aspects of their lives to be happier and more mentally healthy.
Is there a person in the world, or in the US whom you would love to have a private breakfast or lunch with, and why? He or she might just see this, especially if we tag them. 🙂

Solving problems of this magnitude needs support from the very top. I would like to meet with the President to continue talks I started in several meetings with the VP last year. This issue needs more action. Millions of lives are at stake.
How can our readers follow you on social media?

You can stay up to date on our Facebook at facebook.com/AmbrosiaTC and Twitter, @AmbrosiaTC.
This was very meaningful, thank you so much!
---
Heroes Of The Opioid Crisis: "We need to be funding scientific research about addiction and… was originally published in Authority Magazine on Medium, where people are continuing the conversation by highlighting and responding to this story.