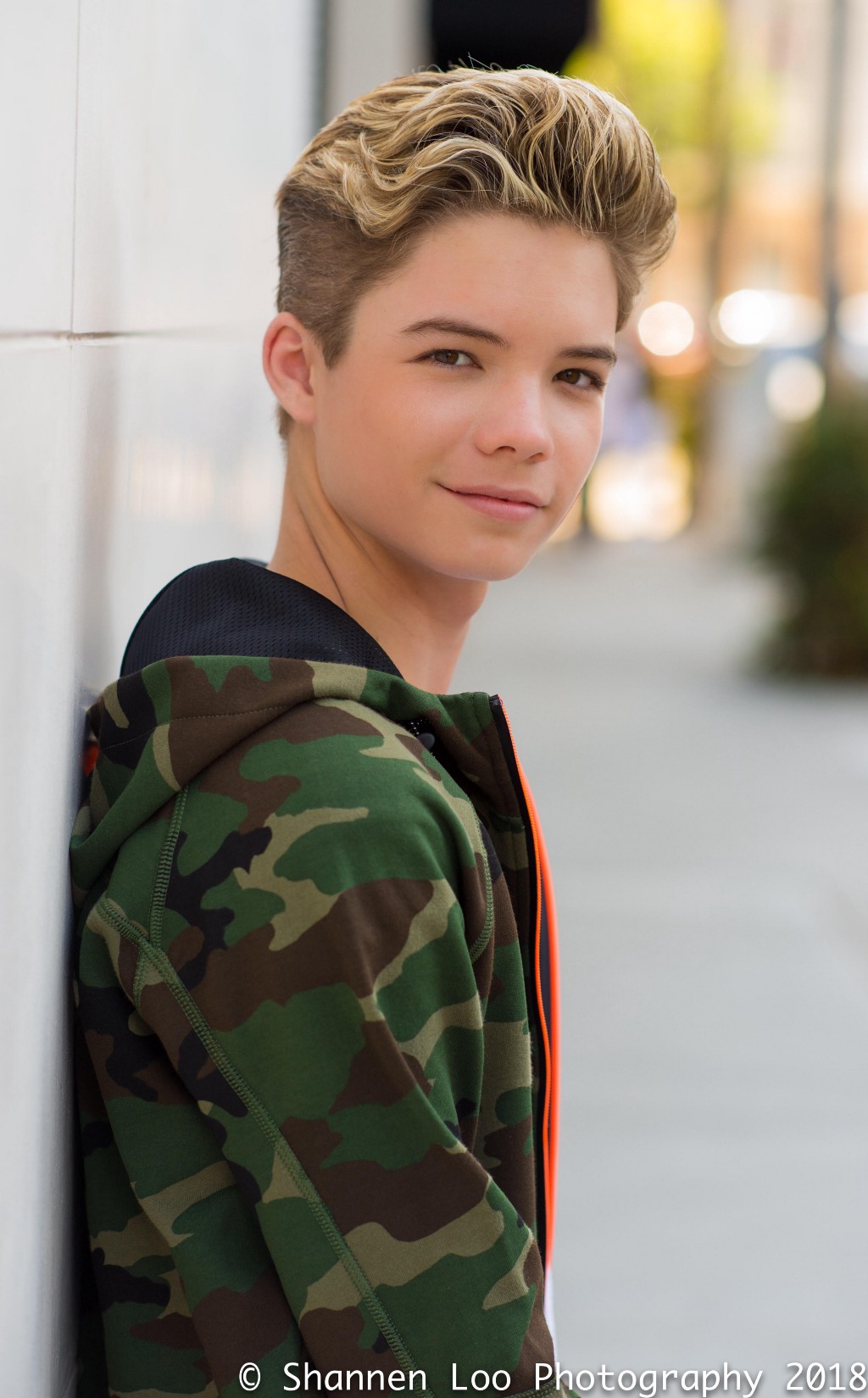 Actor Connor Finnerty on why you should try to "be a threat in as many areas as possible"
Be versatile. Try to be a threat in as many areas as possible. When you come to LA, there are a ton of kids that can sing, act, and dance, or play a musical instrument. The best of the best are here, so add to our skill set either before you leave or as soon as you get here.
I had the pleasure of interviewing Connor Finnerty. Connor is the 15-year old son of Mike and Carol Finnerty, and he has an older brother, Ryan (29), and an older sister, Haylee (25). Since moving to Los Angeles in 2015, Connor has been working as a dancer, actor, singer and model appearing in commercials and music videos, working with the likes of Meghan Trainor, Derek Hough, Zac Efron, Zendaya and Taboo from the Black Eyed Peas. Connor is active on social media with a combined Musical.ly and Instagram following of over 900,000 followers. In December 2017, Connor launched his YouTube vlog titled, "Connorville", and in March of 2018 Connor performed on the DigiTour.
Thank you so much for joining us! Can you tell us a story about what brought you to this specific career path?
Well, back in May, 2015, I was living in Roseville (near Sacramento), where I was born and raised, training hard in dance, when my mom decided to take me to Los Angeles for Bloc Talent Agency's open audition. Bloc is one of the premier dance agencies in LA. We drove down to LA, I audition with several hundred kids, and two weeks later I got an email from Bloc saying they wanted to sign me. I signed in June, spent the summer in LA working, getting a manager, and an acting agent and by August we decided to move to LA. I've been here since.
Can you share the most interesting story that happened to you since you started this career?
I would have to say that the most interesting story would be my experience doing my first live event. I was part of a big cast and crew that danced in the first live commercial on TV, and it was a commercial for "The Greatest Showman". We rehearsed for days leading up to the live shoot. We had dozens of people in the cast, including the stars of the movie which included Zac Efron, Hugh Jackman, and Zendaya. I suppose what made it interesting was how the director and choreographer and all of the crew got so many dancers and performers to perfect this commercial dance/musical scene. It was very detailed. I had no idea what it would be like. Interesting, but incredible experience.
Can you share a story about the funniest mistake you made when you were first starting? Can you tell us what lesson you learned from that?
Probably the funniest mistake came about a year and a half ago when I was singing my new song at the time title, "Power". I was on-stage at an event when I realized I didn't turn my mic on. LOL! I realized it about 30 seconds into the song and I just kept going until I finished, but needless to say it was very embarrassing. It was only my second time singing in front of a crowd. I learned my lesson big time. Actually, ever since, I've just used a hand held mic and not a wireless mic.
What are some of the most interesting or exciting projects you are working on now?
Right now I'm getting ready to shoot the music video for my new song, "A Million Degrees". We don't want to release the song until the video comes out, so hopefully that will be before Thanksgiving. We've had some delays. I also just signed a deal to partner with a big company on merchandise, and I don't mean t-shirts. Lol. That is probably the latest news.
Who are some of the most interesting people you have interacted with? What was that like? Do you have any stories?
Man, so many stories! I worked with Derek Hough on a music video for Michael Buble's song, "I believe in You". Derek is honesty the nicest, most genuine person I've ever met. My grandma is a HUGE Derek Hough fan and he was cool enough to surprise her with a FaceTime call when we were on set. Also, I met Janet Jackson as well. What struck me about Janet was that she was just very quiet, very kind and took time to interact with me and the other kids who were shooting a video for her.
Which tips would you recommend to your colleagues in your industry to help them to thrive and not "burn out"?
Have a social life. Get out and hang with friends. Don't stress on who is working and who isn't. Focus on your career only and do the best you can.
You are a person of great influence. If you could start a movement that would bring the most amount of good to the most amount of people, what would that be? You never know what your idea can trigger. 🙂
I just like when people are happy. I've never understood bullying. Not sure why people bully others. Just doesn't make sense. Stay in your lane and do your thing and if no one is bothering you, there shouldn't be a problem. So I'm planning get more involved with anti-bullying efforts. I'm young, so trying to find something I am passionate about takes time and anti-bullying has quickly become a focus of mine. At some point I would also like to get involved in raising money for ALS research. My grandma (my mom's mom) was a big supporter of mine and she passed away after a five-year battle with ALS. She was my biggest fan. She died the month before I auditioned for Bloc Talent Agency and I believe she is up in heaven watching me now.
What are your "5 things I wish someone told me when I first started" and why. Please share a story or example for each.
Don't dance so much if you want to be an actor. That would be my first tip of you are a dancer looking to come to LA to be an actor. My first two years I spent far too much time dancing and not as much time focusing on the acting/singing side.
Get an acting reel if you don't have anything on video. It took me well over a year before I got a reel and it only helps to have things like a reel as soon as possible.
Don't agent hop, but at the same time don't wait long to switch agents if you feel that that agent isn't working for you. I had an agent, who I will leave nameless, that didn't send me out on an audition for almost a year and as soon as I switched agents the auditions started coming in. It's your career — take control.
Be versatile. Try to be a threat in as many areas as possible. When you come to LA, there are a ton of kids that can sing, act, and dance, or play a musical instrument. The best of the best are here, so add to our skill set either before you leave or as soon as you get here.
Don't work for free for too long. Know your worth.
Can you please give us your favorite "Life Lesson Quote"? Can you share how that was relevant to you in your life?
This is a tough one, but I would have to say, "Do live to work or work to live?". Some people will probably answer this question differently, but it really makes you think about what you want in life and how your career goals need to balance with your personal life.
None of us are able to achieve success without some help along the way. Is there a particular person who you are grateful towards who helped get you to where you are? Can you share a story about that?
This is an easy one. I know it's not one person, but it's my parents. When Bloc wanted to sign me, my parents didn't have to take that extra step and move from Roseville to Los Angeles. My dad has his own business in Sacramento, all of our family is in Roseville, so it was a big decision for my parents to make the move to LA and sacrifice to much to give me a chance at a career in the entertainment industry. I'll never forget it, and turns out that they love living in LA and we've made it work. Without the move, there is no career for me.
Some of the biggest names in Business, VC funding, Sports, and Entertainment read this column. Is there a person in the world, or in the US whom you would love to have a private breakfast or lunch with, and why? He or she might see this. 🙂
I only get one?! LOL! For me it starts with Justin Timberlake. He is the one who I look up to and want to model my career after. There is nothing he can't do, and on top of that he seems like a cool guy — a real person, humble and funny. LeBron James would be the other. I'm a HUGE sports fan I LeBron is the guy that I look up to, make time to watch play on TV, and would be cool to chill with.
How can our readers follow you on social media?
My handle for Instagram and Twitter is connorfinnerty_, and I encourage everyone to follow me on YouTube as well. Just search up "Connor Finnerty". I do a vlog called "Connorville" and I post dance videos and challenges.
Thank you so much for joining us. This was very inspirational!
Thank you for having me!
---
Actor Connor Finnerty on why you should try to "be a threat in as many areas as possible" was originally published in Authority Magazine on Medium, where people are continuing the conversation by highlighting and responding to this story.