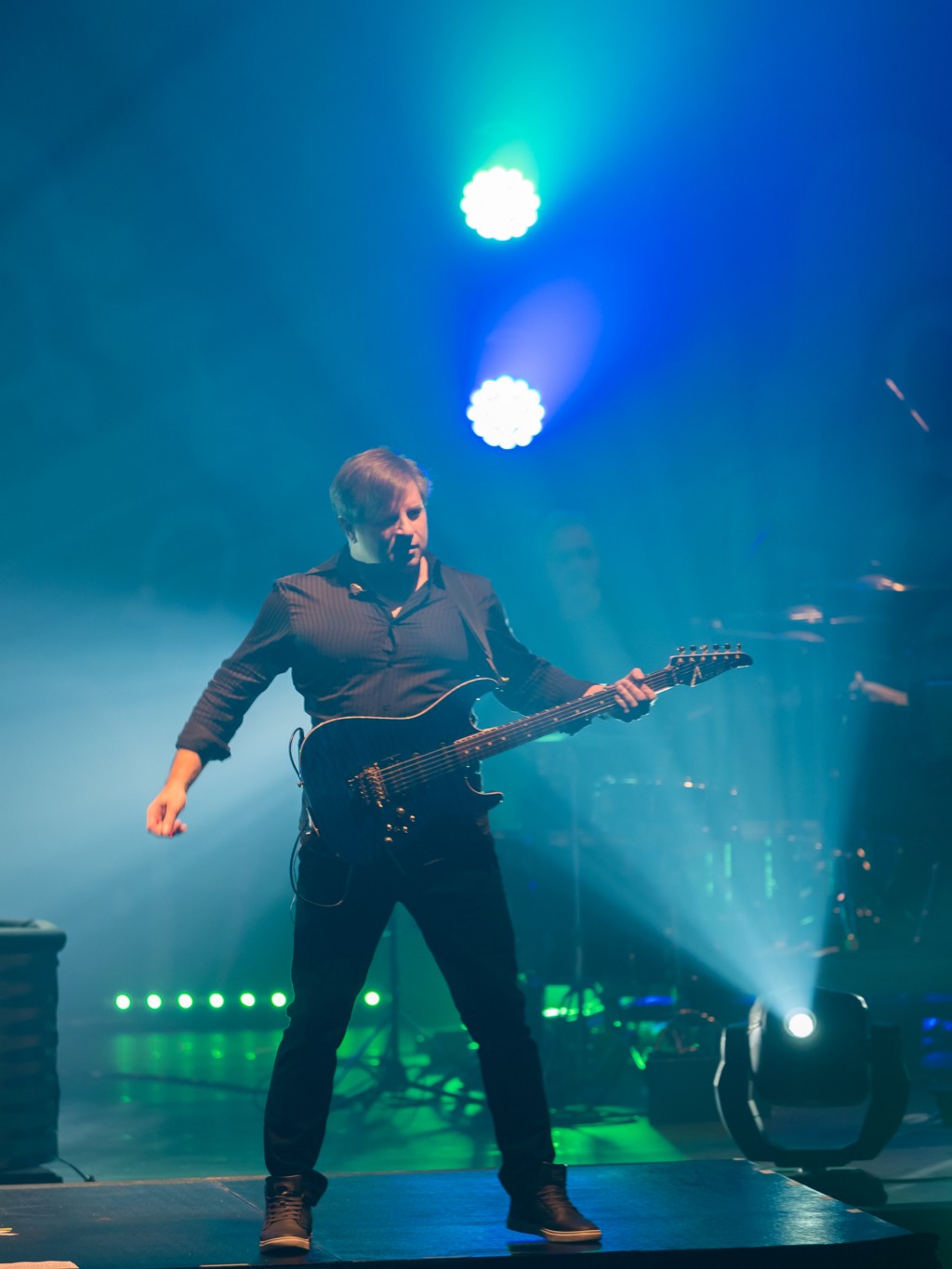 Guitarist Brady Novotny: "I am a strong believer that if you really want to help the world be a…
Guitarist Brady Novotny: "I am a strong believer that if you really want to help the world be a better place, then you need to know the name of the person you are helping"
…Another great question. If I could really influence a movement it would have to be focused on helping others who may not have been as fortunate as others. I know there are many good charities out there that many supports, but I think if we would take the time to get to know people in need personally, it would really help change the world. I am a strong believer that if you really want to help the world be a better place, then you need to know the name of the person you are helping. I think sometimes it's much easier to just give money, and not get your hands dirty. Again, to really help someone you need to know their name. Maybe I should write a song about that…hmmm
I had the pleasure to interview Brady Novotny . Brady is a Christian Guitar Virtuoso as well as a Licensed Therapist.
Thank you so much for joining us! Can you tell us a story about what brought you to this specific career path?
It's funny the twists and turns that life throws at you. I was quite engaged in the music world in my early 20's. I ended up having some vocal nodes and had to take a break. That break turned into a marriage, a successful business career, and the opportunity to support my children in all their endeavors. These are all things that are very important to me, and I would not trade them for anything. That said, there was not much time for a full-time music career. When my vocals healed up, I continued to play a bit and always wrote my thoughts down. These thoughts have now turned into the songs you can hear on my albums. When the kids graduated and started their careers, I got a little more involved in music. Actually, the first live show was on a bet with my son on who could draw the largest crowd. Guess who won? Ha-ha. That little coffee house show helped me realize how much I loved music, playing, writing and recording.
Can you share the most interesting story that occurred to you in the course of your music career?
We were in the process of recording the Find A Way album. The title song is a story about the day my father passed away and the lessons I learned that day. At the end of the song, I just started playing my father's favorite song, and the purely acoustic version played that day in the studio is the outro of that tune. Pretty special thing that just happened on its own. I think sometimes music is magic, and that is clearly one of those times.
What are some of the most interesting or exciting projects you are working on now?
With the release of Crossing Willow Creek, I am really excited about getting this project out there. The mantra for this project is "stepping out of the old into the new". These tunes had been recorded in 2013 on a purely acoustic project names Changes. During practice sessions for a live show, we started playing around with these tunes, playing with different sounds and feels. I really like the way Crossing Willow Creek has turned out, taking a much different spin on songs that I have always considered pure acoustic songs. "where everything old becomes new again". I also did a couple of my favorite cover songs on Crossing Willow Creek. Jimmie Spheeris's Loves in Vain, and Dan Fogelberg's Icarus Ascending. We had a good time working these songs out and I am proud to have done my small tribute to these artists who were taken from us entirely too soon.
Who are some of the most interesting people you have interacted with? What was that like? Do you have any stories?
This question made me laugh. People who know me, know I have stories and lots of them. Each of my songs is really a story turned to music. One song in particular on Crossing Willow Creek is a story about a couple of people I knew long ago. The song Yuppie Blues describes how someone can climb to the top of the hill, and then fall so fast if things get out of control. It's about how cocaine use can really take you out and did to these friends of mine. I am particularly proud of the last lines in that song. "My skill's aren't what they were back in the good old days. I can't seem to find and place that makes me want to stay. So I guess I'll hit the road and sing about that time. This Yuppie took a fated fall on the very fine WHITE LINE."
Which people in history inspire you the most? Why?
This is an easy question. The answer is my father. He was one of 8 children born in the dust bowl of Oklahoma during the great depression. He quit school in the 8th grade to help feed his family after his father passed. He joined the 82nd Airborne in WWII, received a purple heart, and was in a German POW camp for many months with a broken leg. Dad always said he was a fugitive from the law of averages because he survived all that. He came home, had a family, built a highly successful business career all with an 8th grade education. He always told me 'If you want something bad enough, and your willing to put in the blood sweat tears and toil, you can always Find A Way." His words and stories inspire me every day and every time I pick up a pen and a guitar.
How have you used your success to bring goodness to the world?
With my business career, the chances I have to actually play live are pretty few. That said, I do love to play at shows that benefit folks and programs that may not get as much support as they need. Whether that is a youth organization building some new resources to help the kids, or someone who has had a tough turn in their lives and needs some help. If I can use that benefit type of show to bring people out to hear about the needs, get them some additional support and have some fun playing music at the same time, then everyone wins.
You are a person of great influence. If you could start a movement that would bring the most amount of good to the most amount of people, what would that be? You never know what your idea can trigger. 🙂
Another great question. If I could really influence a movement it would have to be focused on helping others who may not have been as fortunate as others. I know there are many good charities out there that many supports, but I think if we would take the time to get to know people in need personally, it would really help change the world. I am a strong believer that if you really want to help the world be a better place, then you need to know the name of the person you are helping. I think sometimes it's much easier to just give money, and not get your hands dirty. Again, to really help someone you need to know their name. Maybe I should write a song about that…hmmm
Which tips would you recommend to your colleagues in your industry to help them to thrive and not "burn out"?
Do what you love, and love what you do. It's easy to burn out when your grinding out a tour, playing the same set night after night. I think it's really important to take time for yourself and just be for a while every day. Life really throws a lot at us, but in order to handle that, we need to be good with who we are and where we are in our lives. Take some time, look at the stars and the clouds, daydream, listen to the quiet, enjoy the sounds of the day, these are all things I try to do every day and helps me stay charged up. I can really tell when I miss doing these things. My friends can tell as well, they say I lose my cherub like demeanor. LOL
What are your "5 things I wish someone told me when I first started" and why. Please share a story or example for each.
a. Learn what others are doing, but don't copy it. It's great to learn others tunes and their techniques but the value of music is to create, not replicate. Be who you are, and the rest will take care of itself.
b. Connect with the Audience. There is no better feeling that looking into the eyes of folks listening to you play and seeing that they are with you, they are getting what you're saying, and it is touching them in some way.
c. Dig deep into the lyrics. Cool licks are great but do not make a great song. Have something to say, and a story to tell, and then create the music to highlight the lyric. That is what makes a great song in my opinion.
d. Don't make performing harder than it is. If you are not fully prepared, performing live is hard work and makes connecting with the audience impossible. You should be playing on auto pilot. You should not have to focus on your hands on the guitar, they should know where they need to be and what to do on pure practice and memory. When that happens, you can really focus on delivering the lyric and reaching the audience. All that said, I have been told that I give my left-hand dirty looks at times when he does not do what he should do… lol
e. If you forget the lyrics, don't freak out. It happens to everyone at one time or another. I am not a fan of having lyrics in front of me on paper or an iPad. I think you should know the lyrics inside out and upside down, so you can emphasize the story of the song. If your struggling to remember the words, it's pretty hard to deliver them with much conviction. And if you do forget, just make stuff up, vowels are your friends, ha-ha
I have been blessed with the opportunity to interview and be in touch with some of the biggest names in Business, VC funding, Sports, and Entertainment. Is there a person in the world, or in the US whom you would love to have a private breakfast or lunch with, and why? He or she just might see this, especially if we tag them 🙂
Probably not a shock to anyone who knows me, but I would really enjoy sitting down and having a discussion with Dan Fogelberg. It would be fascinating for me to actually work with him on a song or a project. I could learn so much on so many levels. To try and understand his process, how he wordsmiths his lyrics, how he marries the lyric and the music would be very special. That would be a great evening for me. Maybe someday we will meet in the "Nexus" and get that opportunity.
That said, I can imagine Steven Stills has some great stories to tell and would be a very interesting day. I am a big Don Henley fan and would enjoy an intellectual discussion with him on several subjects, and maybe play a little music just for fun.
How can our readers follow you on social media?
My Website — www.billabernathy.com
Facebook — https://www.facebook.com/billabernathymusic/
Twitter — https://twitter.com/bill_abernathy
---
Guitarist Brady Novotny: "I am a strong believer that if you really want to help the world be a… was originally published in Authority Magazine on Medium, where people are continuing the conversation by highlighting and responding to this story.