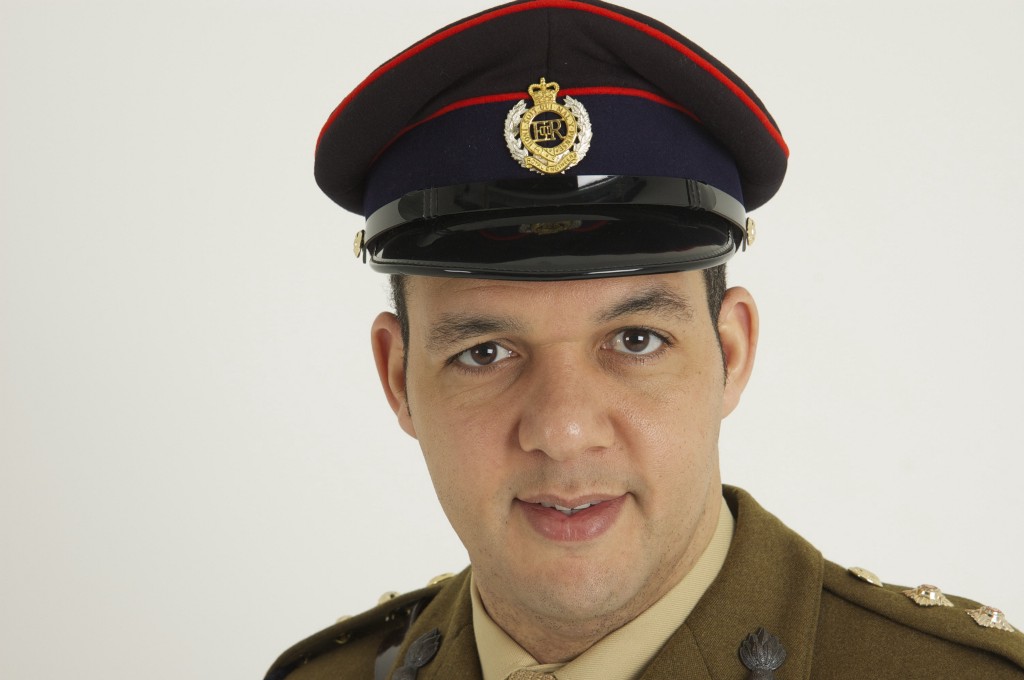 Heroes Among Us: "Maintain a sense of humour" With Justin Paul, former Royal Engineers Bomb…
Heroes Among Us: "Maintain a sense of humour" With Justin Paul, former Royal Engineers Bomb Disposal Officer & Marketing Director at Zeetta Networks
Maintain a sense of humour — At one of my lowest points in training we'd come back from a 72 hour exercise where we'd not slept and were so filthy from digging trenches that they wouldn't let us back into the building until they'd fire-hosed us clean. For some reason we fell about laughing (and shivering). Humour made it bearable.
As a part of my series about "Life and Leadership Lessons Learned In The Military", I had the pleasure of interviewing Justin Paul. Justin is a former Royal Engineers Bomb Disposal Officer, now Marketing Director at Zeetta Networks, a technology innovation company with their HQ based in Bristol. Justin studied Geology at Royal Holloway College (University of London) before being commissioned into the Royal Engineers. He served in the British Army for nearly 6 years in Germany, the UK, and Ghana. He had two operational tours in Northern Ireland, the first as a combat engineer, and the second as a Bomb Disposal Officer running the High-Risk Search Troop. He finished his military career running a training team in Ghana in 1996. Since then he has worked in telecommunications in global consultancy, product management, and marketing roles, bringing new technology and innovation to market. He is currently Marketing Director at Zeetta Networks, a business innovating software-defined networking (SDN) and Network Slicing.
Thank you so much for doing this with us! Can you tell us a bit about your childhood "backstory"?
I was brought up by my grandparents in the UK, both of whom served during the World War Two. My grandmother worked in the Women's Royal Air Force (WRAF) as a wireless operator. She seemed to have been involved in some interesting work intercepting enemy communications, and spoke fluent German. My grandfather was a soldier. He was evacuated, injured, from Dunkirk in 1940 and took part in the D-Day Invasion as part of the newly formed Royal Electrical and Mechanical Engineers (REME). I grew up hearing their stories about the war, but never thought I'd join the Army myself.
And what are you doing today? Can you share a story that exemplifies the unique work that you are doing?
For the past twenty years I've worked in technology marketing. Usually I've been involved in bringing new cutting edge technology to market, and more often than not explaining the business benefits of "cool technology".
I currently work for Zeetta Networks as one of the few "non-technical" people in the company. My job is to explain the business benefits of our Software to our customers. I'm a storyteller. I explain why you need technology, like our software-defined network controller (SDN-C), which is a complex name for something that allows you to control how you connect to a network and manage your experience. The industry has a lot of jargon, and my job is simply to explain "what it does", "why it's needed" and "how it makes things better" rather than the full technological details.
Can you tell us a bit about your military background?
I was sponsored through university by the Royal Engineers. Once I'd completed my Geology degree I went to the Royal Military Academy at Sandhurst for the eight month standard-graduate course, followed by another eight months of engineer training at the Royal School of Military Engineering.
I finished training and joined my squadron in Germany six weeks before we deployed to Northern Ireland. As a very young and inexperienced troop-commander this was an amazing experience.
At the end of my first two-year tour, I was offered the opportunity to do something different. I was posted to the Royal Engineers Bomb Disposal Regiment, and went back to training to be a Bomb Disposal Officer. I loved the training and came third in my course. Bomb Disposal was really exciting, but what I loved most was the very relaxed, non-hierarchical structure, which was unlike anything I'd experienced in the Army to date.
After a few months at the regiment I was told I would be going to Northern Ireland to run the High-Risk Search Troop, looking for improvised-explosive devices and terrorist arms caches. I commanded a team of 60 soldiers with six-months pre-deployment training, followed by six months in Northern Ireland at the very start of the 1995 cease-fire.
Towards the end of my six years in the military I had the rare opportunity to go to Ghana, West Africa, to run a training team for the Ghana Armed Forces. My last four months in the Army were the most fun and most rewarding of my career. Our small team taught the Ghana Armed Forces engineers about mine clearance, water-supply, and bridge building as they prepared for a number of UN Peacekeeping Missions. Two weeks after returning from Ghana my short-service commission was over and I left the Army to become a civilian.
Can you share the most interesting story that you experienced during your military career? What "take away" did you learn from that story?
On my first tour of Northern Ireland we were rebuilding the checkpoints and patrol bases near the border, knocking down the old bases and rebuilding them. During one of the demolitions one of our plant operator mechanics, or digger drivers in civilian terms, managed to dig up a badly marked 11,000 volt power cable. Once we had the power off we had to get the driver out of the cab. The cabs are insulated. The driver refused to believe the power was off and wouldn't get out of the cab. I had to physically walk up to the cab and climb up to prove that the power was off.
What I took away from this is that sometimes you just have to take the lead and show people that you're prepared to take risks, and then they'll follow you.
I'm interested in fleshing out what a hero is. Did you experience or hear about a story of heroism, during your military experience? Can you share that story with us? Feel free to be as elaborate as you'd like.
Once a year in the Bomb Disposal Regiment we used to hold a dinner for the "old boys": the original surviving members of the Regiment that formed during the London Blitz. They were a wonderful, dignified group of modest heroes. One year one of the members of the regiment returned from having defused a World War Two bomb that had been dug up on a building site. The gentleman next to me quietly said "I defused twenty of those a week during the Blitz" before going on to explain that he was the only one of his training intake to have survived the war.
Based on that story, how would you define what a "hero" is? Can you explain?
I've often thought that there are different types of heroism. Soldiers under fire can do the most heroic things on the spur of the moment. I like to think of that as "hot-blooded heroism" and it's what most people think of about military heroes.
I look at the Bomb Disposal Officers (BDOs) from the Second World War. Typically they would wait a number of hours while their soldiers dug down to an unexploded bomb. They'd then have to climb down a ladder into a pit. Sit astride the bomb and very carefully drill into the fuse with a hand drill to defuse it. Many of the fuses were fitted with anti-handling devices which killed a huge number of BDOs before the correct countermeasures were understood. I like to think of this as "cold-blooded heroism" with a very long time to contemplate what you had to do, and how many people had died doing the same thing. BDOs continued to work and die for many years after the end of the war defusing bombs and clearing mines.
Does a person need to be facing a life and death situation to do something heroic or to be called a hero?
No. I think moral courage is just as important, although you're less likely to get medals for doing the "right thing". Personal integrity and the willingness to stand up for something you think is right in the face of peer pressure is also "heroic".
Based on your military experience, can you share with our readers 5 Leadership or Life Lessons that you learned from your experience"? (Please share a story or example for each.)
Most great military leaders seem to have five leadership points. I think for me, this is what I took away from six years in the Army:
Maintain a sense of humour — At one of my lowest points in training we'd come back from a 72 hour exercise where we'd not slept and were so filthy from digging trenches that they wouldn't let us back into the building until they'd fire-hosed us clean. For some reason we fell about laughing (and shivering). Humour made it bearable.
Be genuine — Soldiers can always spot a phoney. They get to know you very well and they respect officers who genuinely look after their interests.
Plan — As an engineer officer complex planning was key. When we prepared to go to Bosnia to build the longest military bridge since the Rhine crossing in 1945, we planned and planned and rehearsed to make sure we got things right.
Think on your feet — Despite the detail and effort of planning things never go according to plan. Be prepared to adapt or even walk away from your plan. We never got to build our bridge in Bosnia. The night I flew to Bosnia the remainder of the motorway bridge we were planning to span was blown up making the gap impossible to bridge. Weeks of planning and rehearsal down the drain because the situation changed.
Lead by example — Always be prepared to go first and even if you're not the best, show you are willing to step forward and try.
Do you think your in the military helped prepare you for business? Can you explain?
For a long time after I left the Army people kept on telling me how different civilian life was, and how difficult it was to adapt. I didn't find that. My first job after the army was running a telecoms production line for Nokia. I realised that although my workforce was very different, all male to mainly female, the skills you need to lead are the same. You get to know the people you work with, what motivates them and you set a good example.
What I learned most in the Army was about people and how to get the best out of them, and in civilian life as a manager, it's still about getting to know the people you work with and how to get the best out of them. Only the style and approach need to change.
As you know, some people are scarred for life by their experience in the military. How did you struggle after your deployment was over? What have you done to adjust and thrive in civilian life that others may want to emulate?
I loved the Army and was very sad to leave. I made friends for life and had great experiences. The biggest adjustment for me was to stop listening to people telling me how different civilian life was to the military. The military taught me to be ultimately flexible and comfortable with change. The transition from military to civilian life is just one more change.
Are you working on any exciting new projects now? How do you think that will help people?
I've recently joined the innovative Zeetta Networks, which has developed amazing technology over the past three years, but has needed to educate the marketplace about how the technology can benefit people, and this is where my job comes in. My job is to tell the story about how our Network Controller and Network Slicing technology can be used to benefit such diverse businesses as construction companies, sports arenas, music festivals, and humanitarian aid organisations.
One of my skills is analysing technology and explaining it in simple, understandable terms. The Army taught me to think and analyse problems very effectively. I can see how our network control software deployed in a refugee camp can improve communication, support logistics and enhance security that can certainly improve, if not save, lives.
What advice would you give to other leaders to help their team to thrive?
Get to know your team. Get to understand them and their motivations and remember management is about achieving things through your team. If the team succeeds, people will know you're a good manager. If you publicly recognise the team's individual contributions people will know you're a good manager.
What advice would you give to other leaders about the best way to manage a large team?
With a large team you have to accept that you have to trust the team. Your role is to provide clear instructions on the strategy and objectives, and demonstrate that you trust the team to deliver. Trust goes a long way.
None of us are able to achieve success without some help along the way. Is there a particular person who you are grateful towards who helped get you to where you are? Can you share a story about that?
My first Squadron Commander, Chris Sexton, was a huge inspiration to me. He understood that people make mistakes, gave good feedback, and expected that you didn't make the same mistake twice. His quiet, insightful and considerate style created one of the most effective organisations I've ever experienced.
How have you used your success to bring goodness to the world?
I'm not sure this qualifies as goodness! I had a role working for the Scottish Government running innovation programmes. As part of that, I kicked off the process to get the Hebridean Island of Coll mobile phone coverage for the first time. For a crofting community and the young people on the island it certainly changed lives.
You are a person of great influence. If you could inspire a movement that would bring the most amount of good to the most amount of people, what would that be? You never know what your idea can trigger. 🙂
I have three daughters, and I work in a technology industry that is heavily male dominated. I'd like to inspire more women to want to work in science, technology, engineering or maths (STEM) careers.
Can you please give us your favorite "Life Lesson Quote"? Can you share how that was relevant to you in your life?
Flexibility, and the ability to think on your feet is very important to me. One of my favourite quotes is:
"Don't be flexible, be fluid, because flexible is too rigid."
The ability to analyse and plan is important, but often things happen that are so far out of your control that any planned contingency, or flexibility, can't bring the plan back on track. Be fluid, be prepared to screw that plan up and either start again or just work on instinct.
Some of the biggest names in Business, VC funding, Sports, and Entertainment read this column. Is there a person in the world, or in the US with whom you would love to have a private breakfast or lunch with, and why? He or she might just see this if we tag them 🙂
I'd love to have breakfast with Commander Chris Hadfield, the Canadian Astronaut (@Cmdr_Hadfield on Twitter!). He's done so much to make science accessible, and I'd like to get his advice on how my youngest daughter could become an astronaut.
Thank you so much for these amazing insights. This was truly uplifting.
---
Heroes Among Us: "Maintain a sense of humour" With Justin Paul, former Royal Engineers Bomb… was originally published in Authority Magazine on Medium, where people are continuing the conversation by highlighting and responding to this story.