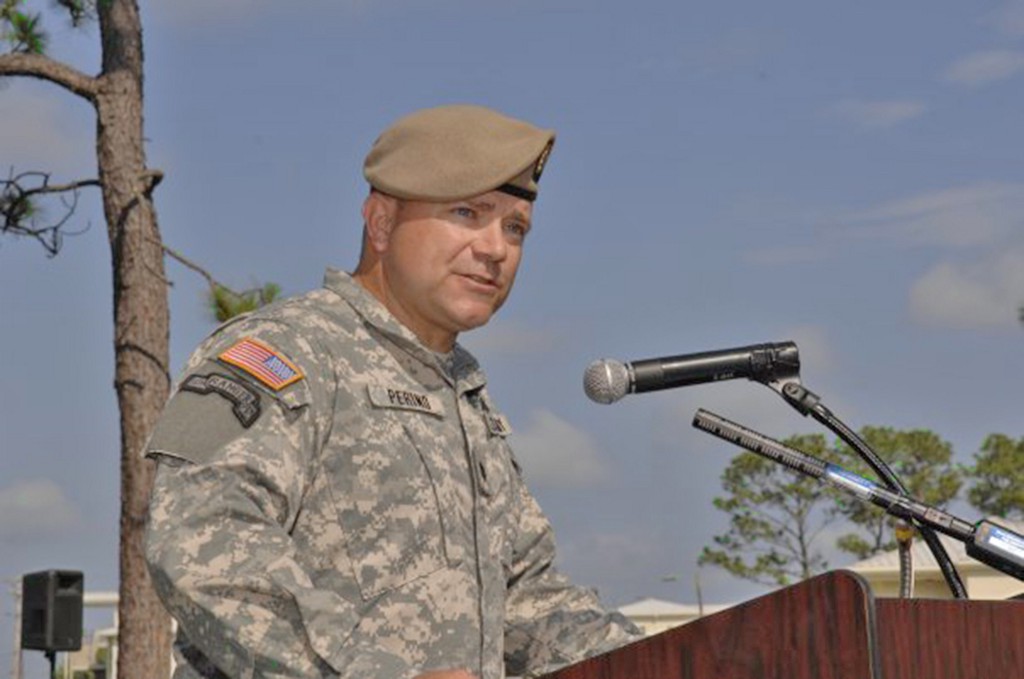 Heroes Among Us: "You have to be genuine and honestly care about your team and not just…
Heroes Among Us: "You have to be genuine and honestly care about your team and not just accomplishing your team's goals", With Larry Perino, Retired U.S. Army Colonel and Navy Federal Credit Union Executive
…It is no different than what I was taught as a young officer: You have to be genuine and honestly care about your team and not just accomplishing your team's goals. Set high standards and hold everyone accountable to meeting them, including yourself. Never pass up an opportunity to set the example. Loyalty is a two way street. You have to create a culture of mutual trust and respect.
As a part of my series about "Life and Leadership Lessons Learned In The Military", I had the pleasure of interviewing Larry Perino, Colonel U.S. Army (retired) from Navy Federal Credit Union. Larry Perino is the manager for Business Program Development for Navy Federal Credit Union. In his capacity, Larry is responsible for the overall budget and for vendor management of over 22 different vendors supporting the credit union's commercial lending group. More importantly, Larry is responsible for Business Services' membership and lending origination system (LOS), nCino. Prior to Navy Federal, Larry was a U.S. Army officer for almost twenty-five years, serving at multiple levels from tactical to strategic. During his career, Larry served in key positions within multi-national, joint, conventional, training, and special operations commands. Larry's experiences range from conventional to special operations, with operational assignments at all levels, from tactical to strategic. Larry spent the formative years of his career in both conventional infantry and special operations units, serving overseas in Korea and over seven years as a member of the 75th Ranger Regiment. In 1993, while serving with the Ranger Regiment, Larry deployed to Somalia as part of Task Force Ranger. His unit's actions during this deployment were depicted in the book/movie "Black Hawk Down." As a field grade officer, Larry served in numerous command and staff assignments, including: Operations Officer of a Stryker Infantry Battalion in Iraq; Special Operations Planner at U.S. Northern Command; Commander, 6th Ranger Training Battalion; Chief of Staff, Asymmetric Warfare Group; Director, Force Management, ISAF Joint Command (Afghanistan); and Strategy/Leadership Instructor, Air War College. Colonel (Ret) Perino retired from active duty in January 2015 and lives in the Pensacola, Florida area. He holds a Bachelor of Science degree from the United States Military Academy, a Master of Business Administration degree from American Military University, and a master's degree in strategic studies from the Air War College. He is a certified National Credit Union Compliance Officer (NCCO) and a certified Project Management Professional (PMP).
Thank you so much for doing this with us Larry! Can you tell us a bit about your childhood "backstory"?
I grew up in a small copper mining town in eastern Arizona called Globe as the youngest of eight kids. My parents were hard working people. My mother was a registered nurse and my father, a former Marine and WWII veteran, was an electrical contractor who owned his own business. From a young age, I wanted to serve my country as a soldier, but also wanted to attend college. I was pretty fortunate to achieve both goals. I was accepted into the United States Military Academy in West Point, NY. While at West Point, I majored in computer science and played rugby. During my senior year, we played in the College Rugby National Championship Game. I graduated in 1990 and was commissioned in the Army as a second lieutenant. That was my career for over two decades.
And what are you doing today? Can you share a story that exemplifies the unique work that you are doing?
I currently work for Navy Federal Credit Union as the manager of business program development in Business Services. Our primary responsibility is to manage Business Services' nCino program. nCino is a cloud-based bank operating system that Business Services uses for business membership and loan originations. nCino is the credit union's first foray in cloud banking, and this has been really exciting for me personally. We went live in September 2018 and on track for the complete build out by this summer.
Though not without challenges, our move to cloud banking has been a positive experience as we really work together as project teams across multiple business units (not just IT and Business Services). We have forged a great relationship with nCino and continue to leverage that relationship to provide better service to our members. This could not have happened without the tremendous effort and countless hours of work put in by the entire project team.
Can you tell us a bit about your military background?
I was commissioned as an Infantry lieutenant right out of the United States Military Academy. I spent the better part of my career in infantry units, most of it with the 75th Ranger Regiment, but my career was pretty varied. I served several times in Major Commands, mostly as a strategic planner or in-charge of a group of planners. I also have experience working as a trainer — all the way from training ranger students in the swamps of Florida to teaching senior officers from all services graduate-level courses at the Air Force War College. My career also has taken me to six different continents for deployments or training, to include 30 months in three separate hostile fire zones.
Can you share the most interesting story that you experienced during your military career? What "take away" did you learn from that story?
It is hard to distill a 25-year career and identify just one interesting story or takeaway. I've had the honor to serve in some fantastic military organizations led by incredible leaders. I have served with and for some amazing people across all of the services (both U.S. and Allies). Along the way, I have made some lifelong friendships that were forged in times of extreme stress and hardship. In general though, I discovered you really know how competent your leaders are, who your true friends are, and who you can depend on during times of adversity.
I'm interested in fleshing out what a hero is. Did you experience or hear about a story of heroism, during your military experience? Can you share that story with us? Feel free to be as elaborate as you'd like.
I was surrounded by heroes during my 25 years in the Army. They came from all walks of life, all services — US military, allies, or even foreign nationals. The common thread among them is that they are truly willing to sacrifice everything, including their own lives, to either protect others or a cause greater than them.
The actions of Master Sergeant Gary Gordan and Randy Shughart on October 3, 1993 in Mogadishu, Somalia absolutely fit the definition of a hero. In 1993, I was a platoon leader in B Company, 3d Battalion, 75th Ranger Regiment. We were part of Task Force Ranger deployed to Mogadishu. Somalia. Our actions were depicted in the book "Black Hawk Down: A Story of Modern War by Mark Bowden and the movie, "Black Hawk Down." On that day when we were moving to and securing a downed helicopter in the middle of the city. A second helicopter was shot down (ironically the same helicopter that inserted my group). With no ground forces available to secure the second crash site, Gordon and Shughart, serving as airborne snipers on another Blackhawk, volunteered to secure the site, as they could see large crowds of Somalis approaching the crashed helicopter. Despite being denied twice by the mission commander, who said that it was too dangerous for the snipers to protect the aircrew from the ground, both Shughart and Gordan persisted. After the third request, the mission commander relented and both snipers were inserted a short distance from the downed helicopter. Once on the ground, Gordon and Shughart, armed with only their personal weapons and sidearms, fought their way to the crash site. By this time, more Somalis were arriving who were intent on either capturing or killing the American servicemen. When they reached Super Six Four, Gordon and Shughart extracted the pilot, Chief Warrant Officer Mike Durant, Bill Cleveland, Ray Frank, and Tommy Field from the aircraft, and established defensive positions. Despite having inflicted heavy casualties on the Somalis, the two Delta snipers were outnumbered. For their actions, Shughart and Gordan were posthumously awarded the Medal of Honor.
Based on that story, how would you define what a "hero" is? Can you explain?
To me, a hero is someone who is willing to risk everything and shows immense courage in the face of daunting odds. I was always taught that it is easy to lead in the sunshine when things are going your way. But it is when the odds are stacked against you that you have the mettle to push past the fear and risk everything for a greater cause.
Does a person need to be facing a life and death situation to do something heroic or to be called a hero?
No, but the qualities that define heroism (i.e. courage, selflessness, humility, patience, and caring) have to shine through. Having the courage to face a situation where the odds are stacked against you, when valuable things are at stake, is heroic. Even more so, because it is the right thing to do and not for personal gain or recognition.
Based on your military experience, can you share with our readers 5 Leadership or Life Lessons that you learned from your experience"? (Please share a story or example for each.)
1. Never walk away from a problem. If you do, you just set a new standard.
2. Pure intention is more important than perfect action.
3. A leader is always on parade. You have to be authentic to your superiors, peers, and yourself to be successful.
4. Just because you are the leader, never assume that you are the smartest person in the room.
5. Focus on results and do not confuse activity with accomplishment. Results matter more than the process (as long as the approach was legal, moral, and ethical).
Ok, I do have a sixth one:
6. Never confuse your proximity on the battlefield with your importance to the mission. Everyone counts and has something to contribute.
Do you think your military helped prepare you for business? Can you explain?
I believe it has. In my career, I learned about leadership at multiple levels — from small teams, large organizations and even peer groups. But the biggest skill that I learned in almost 25 years in the Army is how to organize and find solutions to difficult problems.
As you know, some people are scarred for life by their experience in the military. How did you struggle after your deployment was over? What have you done to adjust and thrive in civilian life that others may want to emulate?
I find myself fortunate. I have not been faced with the same circumstances when returning from deployments that all too many of our servicemen or women have experienced. Personally, I was able to get through my deployments by focusing on the men and women that I was in charge to lead. I had something to focus on besides myself. But everyone is different. That is what worked for me.
To be honest, taking off the uniform when I retired and figuring out what I wanted to do for a second career was a bit of a struggle for me. Would I be able to find a career that was as fulfilling as being in the Army? How can I translate two decades of service as an infantryman into definable and marketable skills? All those thoughts rattled around my head through the whole retirement process.
I was able to get through that by continuing to recognize that the majority of those needs were going to be filled with my family and the additional time that I would now have to focus on it. I realized that the leadership and organizational skills taught to me by some of the greatest leaders in the world are transferable in any industry. I also focused my job search on finding an organization that had a mission that I could really get behind. I wanted to find a job that valued their employees and invested in them. I feel that I have found just that at Navy Federal.
Are you working on any exciting new projects now? How do you think that will help people?
I started out at Navy Federal as a project manager. One of my first projects was the implementation of nCino. I moved from managing the project for the business to being responsible for the program. While we're still building out the capabilities of this system, I've enjoyed being a part of this project. Once the system is fully implemented, it will give a tremendous boost to our commercial lending capability. It will allow Business Services to work faster and more efficiently. Most importantly, this speed and efficiency translates into better service to our members.
What advice would you give to other leaders to help their team to thrive?
It is no different than what I was taught as a young officer: You have to be genuine and honestly care about your team and not just accomplishing your team's goals. Set high standards and hold everyone accountable to meeting them, including yourself. Never pass up an opportunity to set the example. Loyalty is a two way street. You have to create a culture of mutual trust and respect.
What advice would you give to other leaders about the best way to manage a large team?
You have to empower your team. Provide clear guidance and the support that they need to accomplish their goals. A big component of empowerment is trust. You have to trust that the team members understand your intent and understand your intent enough to translate that down to the lowest level. Leaders have to be visible to their teams. Not only that, Leaders have to be passionate about what they are doing. Passion is easily translatable all the way down.
None of us are able to achieve success without some help along the way. Is there a particular person who you are grateful towards who helped get you to where you are? Can you share a story about that?
This is another tough question because I was lucky to have been surrounded by quality leaders my whole career. I am grateful for senior non-commissioned officers. I can point directly at every one of them and explain how they helped me along the way.
With that said, one person that I feel that pushed me along the most was one of my Rangers, Corporal James E. Smith. He was killed in action on October 3, 1993. He was a great young Ranger, leader. We were both around the same age at the time and were right next to each other on the street when he was fatally wounded. His passing has had a profound impact on my life. Immediately after the battle, when I finally had the chance to reflect on the events, I made a promise to make his passing matter. I felt like I needed to push myself and try to make whatever unit I was in better. I felt that because of his sacrifice, it was my duty to make those around me better and allow those in my charge to reach their full potential. To this day, It is still difficult to for me to talk about Corporal Smith, but his is always there in my mind.
Can you please give us your favorite "Life Lesson Quote"? Can you share how that was relevant to you in your life?
I am a big fan of Theodore Roosevelt's famous speech "The Man in the Arena." During this speech he said: "It is not the critic who counts; not the man who points out how the strong man stumbles. Or where the doer of deeds could have done them better. The credit belongs to the man who is actually in the arena, whose face is marred by dust and sweat and blood." I find immense relevance in this quote. It reminds me that complaining does nothing. If you want to accomplish something, you have to be prepared to roll up your sleeves and work for it.
Thank you so much for these amazing insights. This was truly uplifting.
---
Heroes Among Us: "You have to be genuine and honestly care about your team and not just… was originally published in Authority Magazine on Medium, where people are continuing the conversation by highlighting and responding to this story.