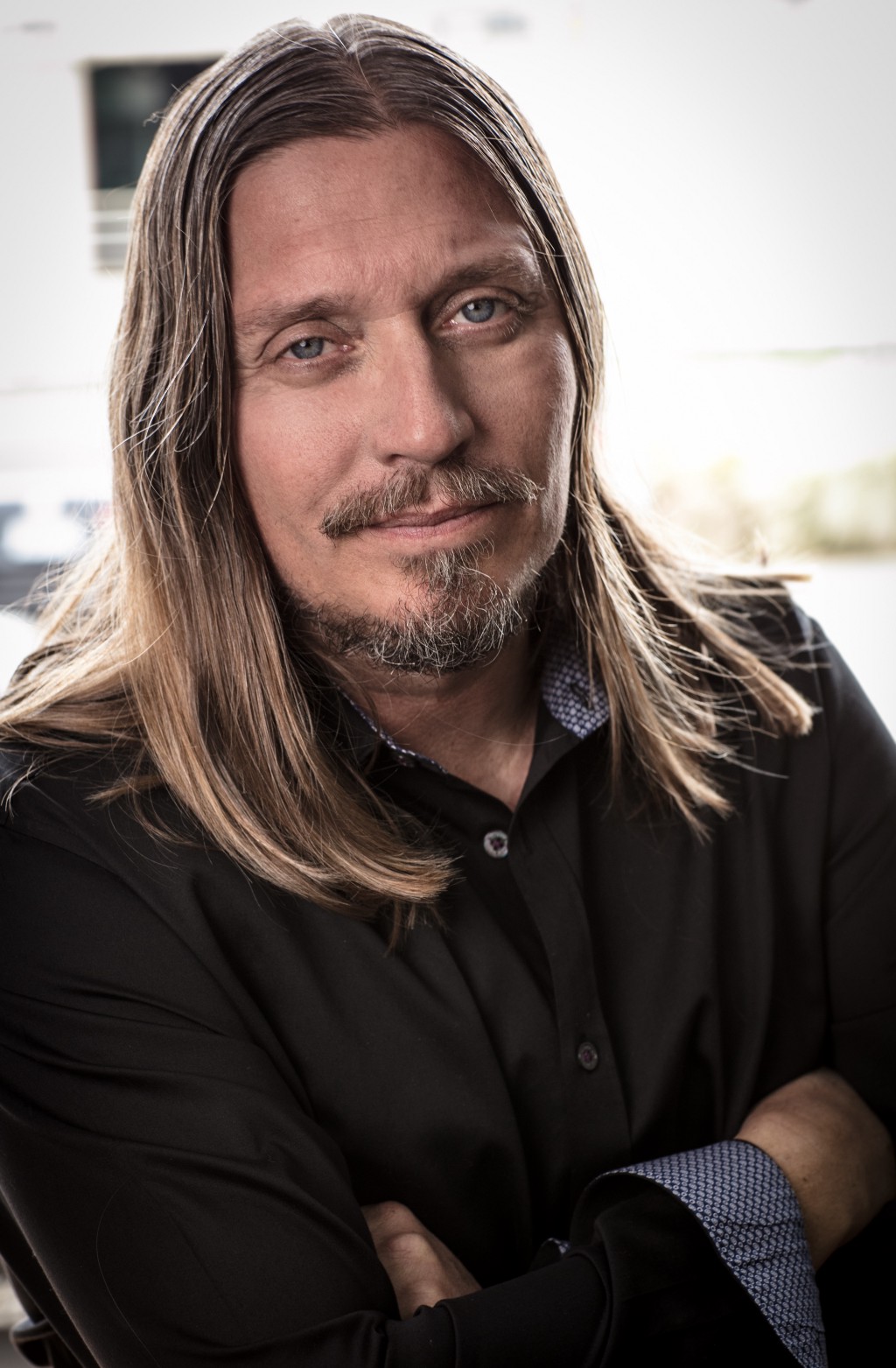 Heroes Among Us: "One of the most important things to identify about yourself as a leader is your…
Heroes Among Us: "One of the most important things to identify about yourself as a leader is your weakness", with Cullen Raichart and Marco Dehry
One of the most important things to identify about yourself as a leader is your weakness. Find someone who's proficient in that area and delegate. This way you will have a balanced leadership team. Secondly, I would say listen to your employees. They are on the front lines every day. If they say there is a problem listen and help them find a solution. The principle role of leadership is removing obstacles so the team can operate at peak efficiency.
I had the pleasure to interview Cullen Raichart — Founder & CEO at GreenBroz, Inc.
Thank you so much for doing this with us! Can you tell us a bit about your childhood "backstory"?
My parents owned a printing shop, so I saw early on what running a business was all about. At a time when the shop was ready to grow to the next level, my dad took a chance and bought a highly touted, very expensive piece of equipment that unfortunately never quite worked right. This created a chain of events that led to the shop filing for bankruptcy. I remember so clearly how devastating this was for my family. Basically, my dad paid way too much for something that never ended up doing what it was supposed to do. This really hit me hard and informs the values behind my company today. I feel strongly that when a business invests in our equipment, they should get high-quality, thoroughly tested, top-of-the-line machinery. First and foremost, the equipment needs to work perfectly, and secondly equipment cost should not jeopardize a company's success.
And what are you doing today? Can you share a story that exemplifies the unique work that you are doing?
Currently we are working hard to innovate and push the technology forward. What's unique about our company is the dedication to product development. We spend hours working on the details, because we know that if any part, no matter how small is not properly designed it can affect efficiency or function of the final product. A product must function correctly or why bother making it. Efficiency and quality are the top tenets of the company, and two things I'm unwilling to make compromises on.
We have a number of new machines on deck for release this year, including the Model M, which will launch next month and the industrial size grinder that's designed to make the perfect grind for pre-rolls on deck for Q3, and the Continuous Rosin Press slated for Q4 rollout. In the first quarter of 2020 we will be releasing the most impressive invention the industry has seen in a long time, Our Model Z, fully automated machine with data collection integration. Our full end-to-end automated processing system will be available next year. This system will absolutely revolutionize how cannabis is processed, combining medical-grade machinery with features that gently handle flower to maintain the highest quality.
Can you tell us a bit about your military background?
I spent 5 years (1988–1993) in the Navy in the first Gulf War, stationed on the USS Abraham Lincoln and the USS Carl Vinson aircraft carriers. I spent most of my time working on avionics, radio, and radar communication systems.
Can you share the most interesting story that you experienced during your military career? What "take away" did you learn from that story?
To see the huge oil fires burning in Kuwait was an experience. I had never seen anything on fire of that magnitude before. All you could see during the day was grey haze and at night the sky was covered with an eerie, orange glow. I was never in combat, but I was part of the team that brought that conflict to an end. It's important to realize that no matter how small your role is, every member of the team is invaluable in completing the mission. It takes teamwork to make the dream work.
I'm interested in fleshing out what a hero is. Did you experience or hear about a story of heroism, during your military experience? Can you share that story with us? Feel free to be as elaborate as you'd like.
The guys I met over there who were putting out the fires were real heroes. They were faced with an impossible situation and they just forged ahead and took care of it.
Based on that story, how would you define what a "hero" is? Can you explain?
The guys I met in port in Dubai who were working the oil fires were real heroes. These fires were so massive and so hot that there was not even a protocol for this kind of thing. There was no template to follow on how to even begin to put them out. These firemen came from all over the world and formed a team to deal with the problem. The solution was ingenious. They ended up putting a giant metal shield on a front loader, just to be able to get close enough and then detonated dynamite to create an air pocket that was big enough to let a crew come in and cap the oil well. These guys were civilians in a war zone dealing with these massive fires. They were just doing it because it had to be done and that was the job they signed up for. I think, heroes are the people who do what needs to be done. They just step up and decide to be part of the solution. This was a huge environmental disaster, and these guys were just focused on solving the problem. They were all humble too. They just had that "Just doing my job" attitude.
Does a person need to be facing a life and death situation to do something heroic or to be called a hero?
No. I don't think so. I think a hero is somebody who does the hard thing because it's the right thing. Often heroes are people who have that ability to sacrifice for the greater good, and they don't consider it anything more than what must be done.
Based on your military experience, can you share with our readers 5 Leadership or Life Lessons that you learned from your experience"? (Please share a story or example for each.)
Know the value of structure.
In the military you really learn the value of organization and structure. You learn how to be super cognizant of spending your time efficiently and you learn the value of hard work. When I was first setting up GreenBroz, Inc. it really helped to have that sense of how to set up organizational systems to function efficiently and test them early on to make sure they worked. This saved me a ton of time in the beginning. I would say also being accustomed to working hard every day was a plus. It didn't come as such a shock to me to be working around the clock. I was used to that kind of work ethic.
Things run better when you're connected.
I learned how to treat and value employees, peers and my superiors. I worked for one commander who knew all 300 people who worked under him. He would remember your wife's name and he knew the details of how things were going for you. He gave you the sense that you were really valuable to him personally. I have taken this approach in my business, having daily check- ins with my staff to hear about any problems at work, but also to make sure I know everyone on a human level. We are proud to have sent some of our warehouse workers to college and we are a tight-knit team. I believe this inclusive management style has contributed to the company's success.
Respect your equipment.
Managing and respecting your equipment is essential. We run a tight ship. All our tools are clean, maintained properly and accounted for. I remember guys talking about how they had so much tool loss in the Vietnam era. Guys would just throw tools overboard because they were too lazy to clean them and put them away. When I worked on the aircraft carriers we had a system that included signing tools in and out, and each tool had an identifying tag. This helped account for every tool and avoided any issues. At GreenBroz we use the same accountability system, and we implement maintenance schedules on all our large machines. Going back to my childhood, there is nothing worse than a piece of equipment that's not working.
Never forget you have a lot to learn.
In the military you are always training. You're always really focused on keeping the skills you have fresh, but you're also always learning new skills. Whether it's learning a new system or how to use a new, updated piece of equipment, you're always pushing. The technology is always moving in one direction, and one direction only, and that's full steam ahead. So, you must keep up. You must be ahead of it. You must be aware of the direction the technology is going, and the best way for your company to take full advantage of it.
Safety first, always.
When you're working on an aircraft carrier there are hundreds of different ways you can get yourself hurt every day. You always have to be cognizant not only for your own safety, but also that of your fellow service members. I think about this in the way I manage our production facility. I want maximum efficiency, but never at the expense of maximum safety. You must learn to think ahead in terms of what could happen if something went wrong. You must to get proficient at doing risk assessment. Serving in the military really teaches you this. I use the lessons I learned from serving in the Navy every day in the way I manage my production facility.
Do you think your experience in the military helped prepare you for business? Can you explain?
Yes, absolutely. First and foremost, I think you have to buy into the mission. In the military I learned that if you're commander is a person you respect and you believe in the mission, then everything flows smoothly. There's a kind of synergy that develops where each person is doing the task they are specialized in, but it all gets kind of put together seamlessly as a whole. This is how I run my business. We are specialists to a degree, but we are cogs in the same wheel. It doesn't turn if each member of the team is not engaged.
I always look for opportunities to let people grow in their positions. If I see someone who's really excelling, I want to create the space to see what's possible. Sometimes in the military I felt like this was not always done. I would see potential in people that was not always being tapped. I felt like it was a missed opportunity. I never want to miss the opportunity to see someone fulfill their potential on a personal level or in terms of seeing how far the people on my team can go.
As you know, some people are scarred for life by their experience in the military. How did you struggle after your deployment was over? What have you done to adjust and thrive in civilian life that others may want to emulate?
I think for me, I was not really scarred. I enjoyed the challenge. I was combat deployed, but as a sailor was never under direct fire, but some of the guys I worked with experienced much worse things than I did. It's been hard to hear their stories and watch them struggle. For me, the hardest thing was the boredom, and the whole do what you're told thing. You have no freedom. I'm more of a "why?" kind of guy. I like to take things apart, figure out how they work. I want to solve problems. That was really the worst thing for me. I ended up being one of the lucky ones. I don't have the same scars as some of my friends do.
While there is a lot to be said for structure, when structure is the focus you lose agility. The military cannot afford to develop people who don't fit their system. I did feel frustrated by the structure of the military and not being given any latitude to solve a problem creatively. So now, that's what I to do. I want to give my team that freedom to explore creative solutions to problems. To me that's where the future and the fun lies, not to mention the potential discovery of unknown talents.
Are you working on any exciting new projects now? How do you think that will help people?
We're really revolutionizing the future of automated harvesting technology with some of the new equipment were launching later this year and next. It's an exciting time to be involved in the industry. There are a lot of veterans out there who have started businesses growing and producing CBD-based products to benefit other vets. We make sure these companies get a steep discount as well as financing if they need it. These guys are making products that are absolute lifesavers for vets living with a whole host of issues. Supporting this effort is really important to me.
We will be expanding with a new location in Nevada this year, which will feature our fully assembled end-to-end processing system. This will give people a look into what a fully automated process looks like on an industrial scale. To my knowledge we are the only company pushing that direction.
What advice would you give to other leaders to help their team to thrive?
One of the most important things to identify about yourself as a leader is your weakness. Find someone who's proficient in that area and delegate. This way you will have a balanced leadership team. Secondly, I would say listen to your employees. They are on the front lines every day. If they say there is a problem listen and help them find a solution. The principle role of leadership is removing obstacles so the team can operate at peak efficiency.
What advice would you give to other leaders about the best way to manage a large team?
Getting engaged with your team and really listening to their ideas and to their concerns is key. That's how you identify the potholes in the road up ahead. That's how you figure out who's good at what and how you can solve problems and create opportunities as a team. This goes back to my experience in the military. If you don't connect with every member of your team and stay engaged, it just might get you killed. So, for me this way of thinking runs deep.
None of us are able to achieve success without some help along the way. Is there a particular person who you are grateful towards who helped get you to where you are? Can you share a story about that?
Mr. Robinson, a private investor stepped up and decided to invest after watching me give a pitch, and I'll be forever grateful for that. His investment is what really started us off. We could not have built this multi-million dollar, international business without that initial investment. Without money behind it, a good idea is well, just a good idea. A good idea with money behind it has potential.
How have you used your success to bring goodness to the world?
I'd like to think I have a small hand in helping businesses stay viable. The efficiency our machines provide at a competitive price point, helps companies have a chance at staying ahead of the narrow margins that exist in the cannabis industry today. I am also proud to be a part of an industry that helps so many with serious medical issues. We can't forget that this plant is medicine.
The cannabis industry is a supportive community of people. We are proud to be a part of that community. So, when the fires in Northern California destroyed so many people's livelihoods we wanted to help in any way we could. We heard that some of our customers had lost everything, so together with Lise Bernard, our Sales Director and Marco Jimenez, our Marketing Director we decided to load up a bunch of machines and made the 18 hour drive up the coast. The success we have achieved allowed us to be able to help our customers in a way that we probably couldn't have done if we hadn't grown to the point that we have. Having a successful, thriving business allows me to now support a community effort that I couldn't have supported previously. That's a great feeling.
You are a person of great influence. If you could inspire a movement that would bring the most amount of good to the most amount of people, what would that be? You never know what your idea can trigger. 🙂
I'd like to see a movement toward higher wages in the labor sectors of companies that manufacture goods. Often, these workers have the least ability and opportunity for upward mobility, so it's important to take good care of these workers and pay a living wage. Your labor force essentially builds your company. Without them you have nothing. I think the reality of that is often overlooked. These are the employees who make your products. You need to assign the proper value to them.
Can you please give us your favorite "Life Lesson Quote"? Can you share how that was relevant to you in your life?
For me, it would be "Shortcuts draw blood". We are constantly saying this at our production facility. Yes, we want efficiency, but we never want it at the expense of safety. We are all about creating processes that are efficient, safe, and can be maintained at a high standard in the long term.
Some of the biggest names in Business, VC funding, Sports, and Entertainment read this column. Is there a person in the world, or in the US with whom you would love to have a private breakfast or lunch with, and why? He or she might just see this if we tag them 🙂
Warren Buffett would be interesting to have lunch with. He comes from a different generation, and he is unimaginably successful. It would be interesting to hear his story. I would love to know how his philosophies on business have changed over the years, and just how his processes for decision making work.
---
Heroes Among Us: "One of the most important things to identify about yourself as a leader is your… was originally published in Authority Magazine on Medium, where people are continuing the conversation by highlighting and responding to this story.