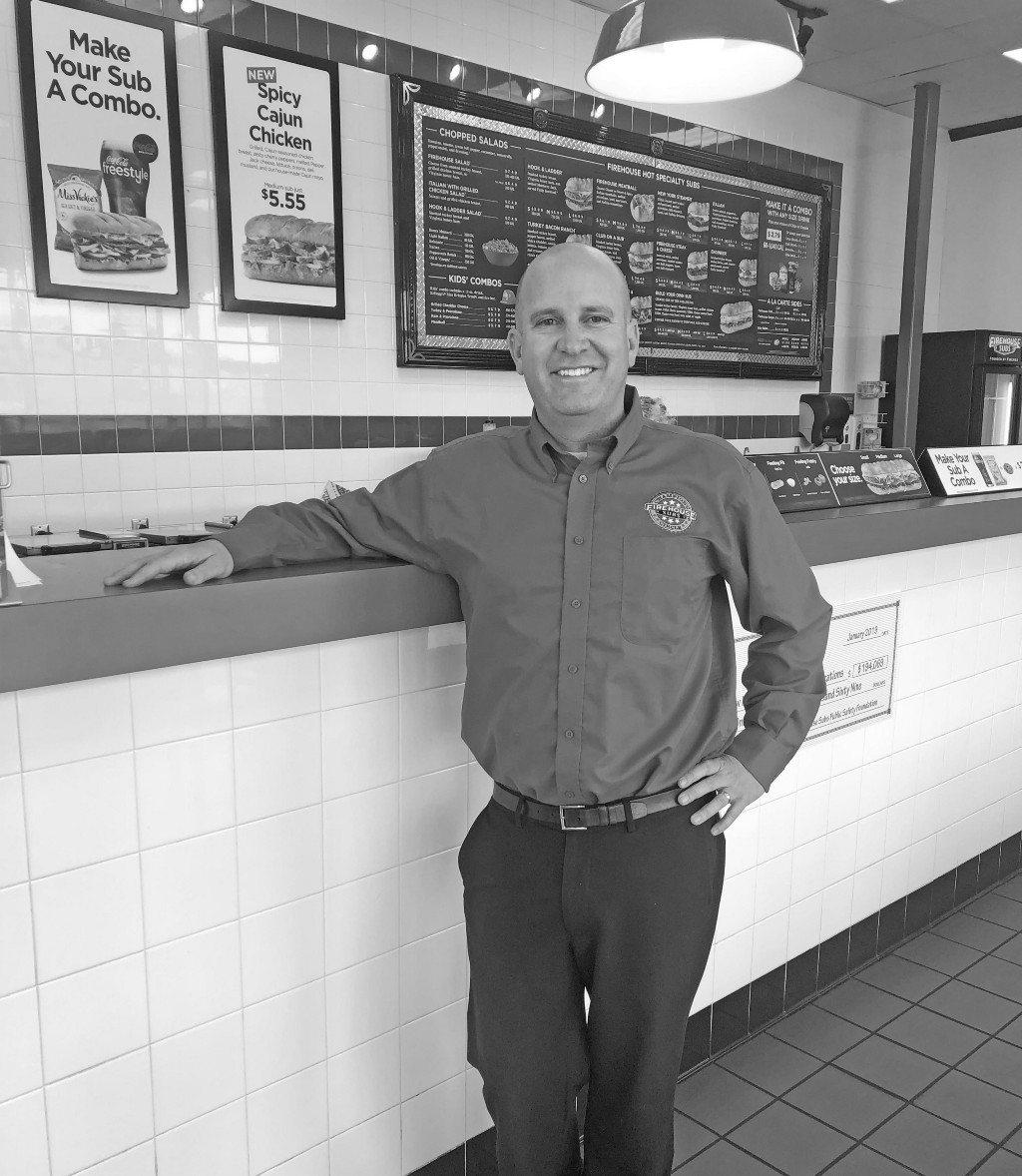 Heroes Among Us: "Get to know something about each member of the team.",
Heroes Among Us: "Get to know something about each member of the team.", with Lucas Conner and Marco Dehry
Get to know something about each member of the team. When you have a large team it gets harder to know each member of the team. I make it a point to get to know the team members. I ask them about themselves and their families and their interests. I try to find a common ground so that way I can use those commonalities to break down the barriers that come from me being the boss. I may not be able to see them all the time, but when I do I like to think back on what was shared that we had in common and the I bring that up again. This helps me to manage a large team as if it were still a small one.
As a part of my series about "Life and Leadership Lessons Learned In The Military", I had the pleasure of interviewing Lucas Conner. Firehouse Subs Franchisee Lucas Conner began his military career in 2000, spending 10 years learning how to be a leader before jumping into the restaurant industry with Firehouse Subs. Between his military career and growing up with a father who franchised Church's Chicken restaurants, Lucas had plenty of role models to embark on this new adventure. Lucas now operates five Firehouse Subs locations in Albuquerque and Santa Fe, New Mexico. He married his wife Stephanie in 2012, and together they have three children: Logan, Holly and Cameron.
Thank you so much for doing this with us! Can you tell us a bit about your childhood "backstory"?
– I was born and raised in El Paso, TX. My father and stepmother franchised with Church's Chicken while I was growing up. I did not live with them but on my visits I would work, eat, and play in the restaurants they owned. Shortly after I graduated high school in El Paso, I entered into the US Army and left to "Be all I could be" in the world.
And what are you doing today? Can you share a story that exemplifies the unique work that you are doing?
– Currently I am part of a team that owns and operates 9 restaurants in New Mexico. These restaurants have allowed me to create bonds and relationships with many people within the Albuquerque, Santa Fe, Farmington, and Gallup communities. When I think about all of those connections, the most unique one I had was when we coordinated a Firehouse Subs Public Safety Foundation grant worth $35,000 to the Santa Fe Police Department. This grant bought 25 AED devices for the department to have for their patrol cars. Oftentimes, the police are the first on scene to calls where people are in cardiac arrest. These AED devices allow them to take action without having to wait for EMS to arrive. In just the 2nd day of the officers receiving the devices, they saved a woman's life at a Home Depot in Santa Fe. I was literally working the lunch shift when the Santa Fe Police officer walked into the restaurant to tell me what just happened to him at the Home Depot. It was around Christmas and we were all just happy to know that the woman he saved was able to spend the holiday with her family because of a donation that we all were a small part of. We have also donated these lifesaving devices to Albuquerque Police Department, Bernalillo County Sheriff, Rio Rancho Police Department, and Farmington Police Department. To date we have coordinated over $194,000 worth of donations of life saving equipment to the New Mexico first responders.
Can you tell us a bit about your military background?
– I served in the US Army from 2000–2010 as an enlisted Soldier. My training focused on the repair and operation of electronic communications equipment. While stationed in Germany I was deployed to Operation Iraqi Freedom in 2003. On March 20, 2003, while being attached to 3rd Infantry Division, I was part of the military force that entered into Iraq on the first day of the war. My unit primarily spent time at the Baghdad International Airport (BIAP) providing communication support to units within the 3rd ID. During this time I was providing communication support to many of the first Soldiers arriving into Baghdad. Upon returning from deployment I was assigned to the 15th Signal Brigade at Ft Gordon, Georgia where I worked as an Instructor, training Soldiers their military occupational specialty of Microwave Systems Operations/ Maintainer. While with this unit I was named the 15th Signal Brigade Non-Commissioned Officer of the year for 2006. In 2007, I was stationed as an Army Recruiter in Santa Fe, NM. While on recruiting duty I was awarded the Gold Army Recruiter Ring for exceptional recruiting efforts. During my tenure, the Santa Fe Recruiting Station transformed from one of the poorest performing recruiting stations in the Southwest to one of the top performing stations in the region. In 2010, I exited service as a Sergeant First Class (E7) with an Honorable Discharge.
Can you share the most interesting story that you experienced during your military career? What "take away" did you learn from that story?
– On one of my first days in the Army, the Drill Sergeant approached my platoon and asked for volunteers to do a "police call". At the time I had never heard that expression used before so I assumed it would be a great thing to volunteer for calling the police on people. I noticed I was only one of a few people that quickly raised my hand. The Drill Sergeant pulled us off to the side and marched us over to an area of the barracks. He handed us some trash bags and told us to pick up every single piece of trash we saw. I still remember thinking that as soon we completed picking up the trash he would take us to make those calls to the police. I didn't figure out what "police call" meant until I asked another Soldier about what a police call was.
My "take away" from this story was that I needed to learn the Army lingo fast, before I found myself volunteering to clean the latrines next time.
Many times restaurants and businesses have their own "lingo" that take time to learn. Next time you eat at a Firehouse Subs listen carefully and you might just here some that sound like "rescue!" and "10–12". When I'm training new team members I remember that story and try to focus on how important it is to take the time to train the little things and not assume somebody should already know them.
I'm interested in fleshing out what a hero is. Did you experience or hear about a story of heroism, during your military experience? Can you share that story with us? Feel free to be as elaborate as you'd like.
– I've never met a Soldier that looks as themselves as a hero. Although I do know of a Hero that looked at himself as a failure. I first met this young man when he came into my recruiting station to join the US Army. He was well-liked by all the recruiters and we were happy that he joined and proud that he became an excellent Soldier. This same young man lost most of his lower extremities from an enemy Improvised Explosive Device detonating near him while serving in Afghanistan. I found out this happened by watching the local news channel and was devastated to learn of injuries. I reached out to him and we stayed in touch. Then one day out of the blue he asked me for a job. I was shocked, because of his injuries he uses prosthetics to be able to stand and walk, and I knew that these braces caused him pain to use. When I asked him why he wanted to work at Firehouse Subs he said it was for his son. He told me that his son always sees him sitting around at not being able to do much. He felt like this made him a failure as a father and he wanted to show his son that he could get up and go to work like everyone else. I gave him the job and he showed me what a Hero was.
Based on that story, how would you define what a "hero" is? Can you explain?
– I believe a hero is someone that places the benefit of another ahead of themselves. And with that thought in mind; I believe we all are heroes to somebody.
Does a person need to be facing a life and death situation to do something heroic or to be called a hero?
– Life and death situations are truly rare for a person to be a part of. I see heroism in almost all aspects of life that do not involve such an extraordinary scenario. As an example I have witnessed employees that are single parents, raising kids, working full time, going to school, all just to provide better opportunities for their children than they had growing up. That is pretty heroic if you ask me.
Based on your military experience, can you share with our readers 5 Leadership or Life Lessons that you learned from your experience"? (Please share a story or example for each.)
– Always learn, ask questions, and seek guidance from your others. They can help you from having to clean up a mess later on.
– Image matters. When wearing a uniform where it with pride. It does not matter if it's a military uniform or a restaurant uniform. In my experience the Soldiers and team members I have worked with that can achieve the proper uniform standards of an organization almost always outperform their peers that can't.
– When in charge, take charge. The biggest failure a leader can experience is not leading. It doesn't always matter if your decisions or leadership is correct. It matters more that you make the decisions and choose to lead.
– A sign of an effective leader is how well the team performs when that person is not there. In the military, this holds true in the case of a battlefield death or injury. When a leader of a unit falls out of the ranks, the team still needs to be able to complete that mission. In the case of a restaurant, I would observe this as if the General Manager is away on time off or training, the restaurant team stills needs to be able to handle the day-to-day operations. Basically this all boils down to training your replacement in every organization and at every level. You can't move up the ladder if you never train anyone on how to do your job.
– When training or teaching others always explain the "why". Why are things the way they are? Don't just train the task, train the task and then explain why that task is performed a certain way and what happens when it's not performed that certain way. People are much more likely to remember the purpose of the training if you take the time to explain "why". I have young kids and they are fortunate enough to still be able to ask "why" things are a certain way without feeling embarrassed. As people become adults we tend to hide the things we don't know and pretend we already know the "why." Don't wait for someone to ask you "why"; just incorporate it into the way you train.
Do you think your background in the military helped prepare you for business? Can you explain?
– Military service was the main instrument into shaping me into who I am today. During the years of service, I was required to perform under stress in a team environment. Attention to detail and time management are life skills that are valuable to owning a business. Recruiting taught me how to hire and retain employees. The lessons learned from the military's leadership translates directly into the business environment. As a Veteran I have been able to take my skills and successfully use them in the franchise environment. The organizational structure of franchising is similar to the military. When things get tough or I have a question that I need help with, I am able to rely on the franchise team and its structure to get the help needed to achieve success.
As you know, some people are scarred for life by their experience in the military. How did you struggle after your deployment was over? What have you done to adjust and thrive in civilian life that others may want to emulate?
– Returning from war was a blur to me. The up-tempo of the Army didn't really give me the chance to process the experience. I was focused on completing the mission at hand; whether that was training Soldiers or recruiting them. We were still at war and all that mattered was doing my best to help the team. It wasn't until I separated from the military that I began to struggle with that past. I still struggle. I miss those that are not here. It is strange to lose such a huge part of your identity all at once and yet still be stuck with the memories of your experiences. I literally traded places with a Soldier that was killed in the first week of the war. We traded orders to our units. He took mine and I took his. Had I not made that switch there's a good chance I would not be here to answer this question. The best way I choose to deal with this is by making something of myself and enjoying my family and friends. I refuse to be given this life that others have lost and make waste of it. I owe it to them.
Are you working on any exciting new projects now? How do you think that will help people?
-I have three wonderful and amazing projects in the works. They are my children Logan (5), Holly (3), and Cameron (6months). I love fatherhood and feel that these are the three most important people for me to help in my life.
What advice would you give to other leaders to help their team to thrive?
–When in charge take charge. Your team is looking at you to be confident. They rely on you to take that role seriously.
What advice would you give to other leaders about the best way to manage a large team?
– I don't think I have any advice on the "best" way to manage a large team. I feel like I have much to learn and definitely don't pretend to know what's best for others. For me I like to get to know something about each member of the team. When you have a large team it gets harder to know each member of the team. I make it a point to get to know the team members. I ask them about themselves and their families and their interests. I try to find a common ground so that way I can use those commonalities to break down the barriers that come from me being the boss. I may not be able to see them all the time, but when I do I like to think back on what was shared that we had in common and the I bring that up again. This helps me to manage a large team as if it were still a small one.
None of us are able to achieve success without some help along the way. Is there a particular person who you are grateful towards who helped get you to where you are? Can you share a story about that?
My Dad is the reason I am achieving success in the restaurant business.
He told me, "Son, when you have been selling chicken for as long as I have, you learn the restaurant business is not about how up or down your sales are, it's about the people and the relationships you make with them along the way." He is absolutely right. Restaurants are a people business. You serve people and you surround yourself with a team of people to make that happen. Focus on the people and food will sell itself.
How have you used your success to bring goodness to the world?
– Who knows really? I like to think that in some small ways I may brighten a person's day with some great customer service. Or maybe I might have sparked something in a team member that they use to better themselves. Either way I know I represent organizations that undoubtedly are having an impact in the goodness of the world and that's good enough for me.
You are a person of great influence. If you could inspire a movement that would bring the most amount of good to the most amount of people, what would that be? You never know what your idea can trigger. 🙂
– I believe the movement that can inspire the most amount of good for the world has already been started. Climate change is real. Every summer I'm breathing in smoke from all the fires from our drying forests. We are seeing wars and refugees due in part to climate change already. If I could influence anything it would be that we could all start working to lower our carbon emissions, pollution, and trash. I have a newborn son and I worry about what Earth will be like for him or his children. It is alarming to envision a world that may be vastly different than the one you and I got to experience.
Can you please give us your favorite "Life Lesson Quote"? Can you share how that was relevant to you in your life?
Ecclesiastes 1:9
What has been will be again,
what has been done will be done again;
there is nothing new under the sun.
Life, business, family, society….. These are all hard things for people to deal with at times. There are ups and downs. But this verse calms me during those trials. It helps me to realize that we are all in this together.
Some of the biggest names in Business, VC funding, Sports, and Entertainment read this column. Is there a person in the world, or in the US with whom you would love to have a private breakfast or lunch with, and why? He or she might just see this if we tag them 🙂
-I'd like to meet with Joe Rogan. I enjoy his podcast and if I were to meet with someone influential in my life I would probably be nervous and not know what to talk about. But not with Joe, that guy can talk for hours about everything and nothing all at once. I figure at least one of us needs to do the talking.
Thank you so much for these amazing insights. This was truly uplifting.
Next Steps
Please read this document that addresses the most frequently asked questions: http://bit.ly/AuthorityMagazineFAQ
When you send this back, please include 3–4 high quality pictures of you that we can include in the article. They should be at least 1100 pixels wide.
Please make sure to proofread it carefully. We are unable to make changes after its live.
Please upload the completed interview, bio and pictures in this upload form HERE. Please do not email it to the writer as there is a good chance it will get missed. The approximate posting date will be listed there. Links to the live articles will be shared there as well.
---
Heroes Among Us: "Get to know something about each member of the team.", was originally published in Authority Magazine on Medium, where people are continuing the conversation by highlighting and responding to this story.