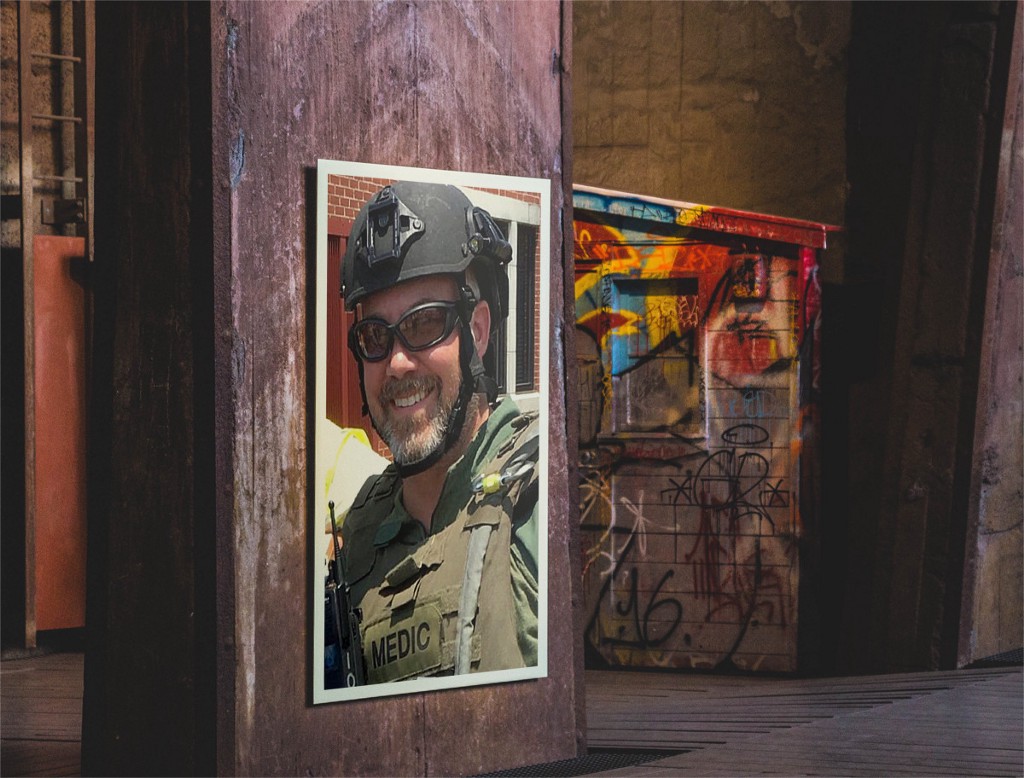 Life and Leadership Lessons I Learned from My Military Experience: "Be a leader not a boss."
Life and Leadership Lessons I Learned from My Military Experience: "Be a leader not a boss." with Dr. Perry Walton and Marco Dehry
Be a leader not a boss. I've worked with both! Leaders are there with you as part of the team, communicating, taking feedback, and being a part of the greater purpose. Bosses tend to tell others what to do and communicate their way and not take feedback well. So, to thrive as a leader I think you have to earn the respect of your team and continue to keep the focus on the overall goal on a daily basis.
I had the pleasure of interviewing Dr. Perry Walton of citizenAID. Perry is a board certified, practicing Emergency Medicine Physician, and citizenAID's Associate Medical Director. He is a former flight medic in the U.S. Army, and an active member of two SWAT teams. Through his experiences he has seen first hand how important leadership and basic trauma care can be for improving outcomes in times of disaster.
Thank you so much for doing this with us! Can you tell us a bit about your childhood "backstory"?
I grew up in Enid, OK with my twin brother spending my youth playing sports and learning a lot about hard work through summers helping my dad with harvest season each year. Those long, hot, grueling summers were what catapulted me toward wanting to do something more with my life. When I was around 8 years old, I watched someone get hit by a car and felt completely helpless. That was a pivotal moment in my life. I knew from that day forward I would do everything I could to be prepared to handle anything I came across.
After high school I moved to Lindsborg, KS where my twin brother and I played football for Bethany College. During my first year at Bethany, I got my EMT license and through spending time in the medical field, I made the decision to pursue a career in medicine. After graduating from college with a Bachelor of Science degree, I spent my first year out working as an admissions counselor for my alma mater. I immediately began to miss the excitement I had experienced as an EMT, so I decided to join the military in hopes of becoming a flight medic as I had a passion for medicine but also a desire to serve my country.
Shortly into my military stint and with the encouragement of many family, friends and mentors, I decided to apply for medical school and become an Emergency Medicine Physician. I was accepted at Kansas City University of Medicine and Biosciences where I completed my medical education between 2002 and 2006. I then did an Emergency Medicine residency at Medical College of Georgia, beginning work as a full time Emergency Medicine Physician in 2009.
And what are you doing today? Can you share a story that exemplifies the unique work that you are doing?
I am an Emergency Medicine Physician. Given my military background I am also an active member of two local SWAT teams. Over the past few years I have taken a very active interest in getting every day citizens training and equipment to be able to keep themselves and others alive should an active violent event or accident occur. I initially worked with my state's trauma system to help train bleeding control techniques to police officers, and through a state program, we were able to give every officer in the state a bleeding control kit.
In 2017 there was a big uptick in school shootings, and I had two daughters in school. I wanted to find a way to get lifesaving training and equipment to teachers to keep our kids safe should an active violent event occur. In my search for the best way to do this I met Bob Otter who is the founder of citizenAID North America. He had just developed a program for regular citizens to be able to keep themselves and others safe should they be involved in an active violent event or unintentional accident. This program is taken from the military's Combat Life Saver Program and is contextualized for civilian use.
Given my background I vetted the program, and it is exactly what I feel everyday citizens, teachers, businessmen and women, moms and dads need. I have worked hand in hand with citizenAID, and we currently have training and equipment in school districts, houses of worship, businesses, airports and an NFL stadium. One of our big goals is to train 1 million K-12 teachers for free with our give back program. Over the past few months we have trained over 10,000 educators for free.
Can you tell us a bit about your military background?
Following college graduation, I worked as an admissions counselor for my alma mater. I had always wanted to be a flight medic with plans to go to medical school. I spoke to a military recruiter, and he told me I should join as an officer since I had a college degree. I wanted to be in direct patient care so told him I would rather enlist.
I joined the Army National Guard and was in basic training on September 11. In fact, my platoon photo is dated Sept. 11, 2001. After finishing Basic Training, I did my AIT (Advanced Individual Training) as a flight medic and got my first medical school interview while I was doing that training. I ended up missing my AIT graduation for that medical school interview. After finishing AIT, I joined my National Guard unit and began to do all the extra training that was required to be up to speed. I was accepted into medical school the next year and skipped one day of class each week of my first semester to keep my flight hours where they needed to be.
I learned about a program the Air National Guard had where medical students could get directly commissioned to an officer and would be able to spend their drill time studying and working with flight surgeons. I started all the paperwork to transfer to a local Air National Guard unit but during Christmas break of my first year of medical school, my Army National Guard unit got a deployment order, so my paperwork was stopped. A few weeks later, after several discussions with the commanders of both units, it was decided that the move to the Air National Guard and staying in school was best for everyone. I got direct commissioned and spent the remainder of my service in the Air National Guard.
Can you share the most interesting story that you experienced during your military career? What "take away" did you learn from that story?
We were flying cross country in a 6-helicopter staggered formation. I was the medic in the second helicopter. About an hour into the flight things were going smooth when we heard a distress call from the lead helicopter. They had an engine failure and were going down. We immediately started helping find a landing spot for them and talked them down to a farmer's field in the middle of nowhere. The pilot did an amazing job, and no one was injured.
Given our mission, the remaining five helicopters continued on without ever touching down because there were no injuries. As I had been the number two helicopter, our helicopter became the lead and continued on with the mission. I have several takeaways from that:
1) Train as if your life depends on it. As a crew and especially our pilots were constantly training for what to do in an emergency like an engine failure and when it happened everyone did exactly what they were supposed to and no one was hurt.
2) Have an emergency plan. We had already briefed what we would do should anyone in our formation have an in-flight emergency. Looking back, we had done that briefing hundreds of times, but when something really did happen there was no questioning what role everyone had and it happened flawlessly.
3) Know your role and the roles of those around you. If only the lead pilot knew where we were going and which route to take, we would have all been lost when they went down. This holds true in every aspect of my life. Communication is key and successful outcomes depend on it.
I'm interested in fleshing out what a hero is. Did you experience or hear about a story of heroism, during your military experience? Can you share that story with us? Feel free to be as elaborate as you'd like.
I think all our soldiers that are putting their lives on the line for our freedom are heroes. In addition to our soldiers, I'd say the families that stay back home keep things going are heroes. Being in the military, either as a member or dependent requires sacrifices. Same holds true for our first responders. They are on the front lines of chaos every single day.
Based on that story, how would you define what a "hero" is? Can you explain?
I think a hero is a person who is putting the needs of others above their own needs. Selfless sacrifice.
Does a person need to be facing a life and death situation to do something heroic or to be called a hero?
No, I don't think so. I believe there are heroes all around us. As an ER doctor, I see it all — including single moms who are working two jobs to ensure they can provide for their children. To me, this is an act of heroism just as much as someone who puts their life on the line to save others in danger. I believe a true hero is someone who self-sacrifices and puts their own needs aside for the betterment or safety of others. Some do that in a more dramatic fashion and may end up making the ultimate sacrifice — to those we are forever grateful. There are multiple people who have sacrificed to help better the lives of those around them and even though its not as dramatic it certainly does not take away from the great work they are doing. I strongly believe there is a hero in most of us, that is part of my passion about the citizenAID program. citizenAID empowers the Hero to come out of the average person when needed most and make a difference in ways they never knew they could.
Based on your military experience, can you share with our readers 5 Leadership or Life Lessons that you learned from your experience"? (Please share a story or example for each.)
1) Create a positive culture — I was very fortunate to be in a unit and have a commander that created an environment for every soldier to succeed in. Once you are able to build a culture of success everyone buys in and wants to be a part of the greater good. Even if a job was difficult there was an attitude of getting the job done together that was contagious.
2) Communication is key — I think this holds true with almost every relationship in life — personal or professional. Despite all the acronyms in the military they do a great job of clearly communicating missions, expectations, and roles. I think many businesses could benefit from doing this.
3) Helping other grow/succeed — Being the best at whatever skill or job you have is awesome, but what are you doing to make sure the people you work with are getting to that level as well? This goes back to creating a culture of success and people working for the greater good and not just personal advancement.
4) You are capable of way more than you think — I remember being in basic training and we had gotten into trouble for something. We got taken outside and dropped to start pushing (push-ups). We had been getting smoked all day and were all exhausted and most people couldn't do more than 10 pushups without dropping to the ground. Our Drill Sergeant told us if we would all get through 100 without anyone dropping, we would get a break. Amazingly we all made it. It was that time I realized we are all capable of so much more than we think our bodies are capable of.
5) Teamwork — You can accomplish so much more if you work as a cohesive unit. A group of individuals who don't work together trying to accomplish a task makes for chaos, confusion, and conflict. The military did a great job of helping everyone realize that some jobs can not be done by an individual and if you can work together with others (despite your differences) you can and will succeed.
Do you think your experience in the military helped prepare you for business? Can you explain?
Absolutely. I think one thing the military does very well is helping people realize the importance of teamwork. The military also doed a great job of helping you realize you can accomplish so much more than you ever thought possible, whether that's physically, mentally, on a project, etc.
As you know, some people are scarred for life by their experience in the military. Did you struggle after your deployment was over? What have you done to adjust and thrive in civilian life that others may want to emulate?
I didn't get the chance to deploy. My unit got activated while I was in medical school, but I transferred to another unit and didn't get to go with my team. To this day it is a regret I have. I have many friends who did deploy — some did struggle and others not as much. My struggle has been in not getting to go with my team that I had been training with for years to do the job the military trained me for.
To give back, I have been very involved in training local law enforcement and now through the citizenAID project, I am working to get training to every person in America on how to keep themselves and others alive. I think any way a veteran can find to use their skills to help others is therapeutic. One of the things that I feel is lacking in the regular civilian world (and most businesses) is that sense of belonging to something greater than yourself.
Are you working on any exciting new projects now? How do you think that will help people?
I am. About a year ago I started working with citizenAID North America. We are a company with a goal of educating, empowering, and equipping every person with the knowledge and skills to be able to keep themselves and others alive in an active violent event, unintentional accident, or natural disaster. We have a mission to train 1 million US educators for free through our give back program. For businesses this is a win-win-win. If a business purchases training for their employees, they will have an entire staff who knows how to keep themselves and others alive (win). Through our give back program, we will give them a matching number of trainings that they can give to the school district of their choice, thus training teachers how to keep themselves and our kids safe (win). We've been able to train over 10,000 US educators for free over the past several months.
What advice would you give to other leaders to help their team to thrive?
Be a leader not a boss. I've worked with both! Leaders are there with you as part of the team, communicating, taking feedback, and being a part of the greater purpose. Bosses tend to tell others what to do and communicate their way and not take feedback well. So, to thrive as a leader I think you have to earn the respect of your team and continue to keep the focus on the overall goal on a daily basis.
What advice would you give to other leaders about the best way to manage a large team?
Communicate your mission, create an environment that breeds success (everyone buys in), coach those below you and have them coach those below them. If everyone is being coached up your entire organization will be more successful.
None of us are able to achieve success without some help along the way. Is there a particular person who you are grateful towards who helped get you to where you are? Can you share a story about that?
I'd say my grandmother. My twin brother and I had a fairly rough childhood and my grandma was the constant in the storm. She was always encouraging us to be the best we could be and would always say, "you can be anything you want to be." I guess that turned out to be great advice — I'm a doctor and my twin brother is an attorney. We just went to visit her a few months ago. She's 102 and living in an assisted living facility. She raced us down the hall and we went back to her room and had a dance party! It will be a memory I will cherish for the rest of my life.
How have you used your success to bring goodness to the world?
As an Emergency Medicine physician, I get the opportunity to see people at the worst times in their lives on a daily basis. It can be easy to become jaded with all the stress and craziness you see, but at least once a shift I feel like I really do get to help someone. Whether it's giving a struggling mom a $20 bill so she can get medicine for her kids or beating the grim reaper to pull someone back from the light to give them another chance at life. The other big thing I'm working on is helping promote citizenAID North America. It is a program that can truly save lives and is so relevant right now.
You are a person of great influence. If you could inspire a movement that would bring the most amount of good to the most amount of people, what would that be? You never know what your idea can trigger. 🙂
From my time in the military I know how lives can be saved from non-medical soldiers being educated and empowered to save lives in times of crisis. Studies have shown about 25% more soldiers are going home than would have prior to the Combat Life Saver program. Having the opportunity to work with citizenAID and create a movement where every citizen in the US is educated, empowered and equipped to save lives is something that could truly bring the most amount of good to the most amount of people!
Can you please give us your favorite "Life Lesson Quote"? Can you share how that was relevant to you in your life?
With great power comes great responsibility. As I progressed in my medical training this was extremely important to realize. As a physician you gain the knowledge and power to truly save lives. It may not always be in a dramatic fashion — it may be getting someone to stop smoking, or change their diet, or it may be bringing them back from death. No matter what the circumstance, it is important to understand the responsibility you have to your patients as a physician.
Some of the biggest names in Business, VC funding, Sports, and Entertainment read this column. Is there a person in the world, or in the US with whom you would love to have a private breakfast or lunch with, and why? He or she might just see this if we tag them 🙂
Blake Mycoskie. Blake is the Founder and, in his words, "Chief Shoe Giver" at Toms Shoes. Blake really started the Buy One/Give One model and when I found citizenAID and saw they were doing the same thing using a match of their lifesaving training to train teachers for free, I loved it. I asked cA Founder Bob Otter if he knew of what Toms was doing, and he said "where do you think I got the idea?!!"
Blake has done so much for so many and not only would I love to hear his story, in his words, I would love to pick his brain as to how we can make the biggest impact possible at citizenAID. Blake has been very outspoken regarding some of the horrific events across the country where lives have been lost. I think he would be proud to know we are using his model to empower the public to save lives before help arrives.
Thank you for joining us!
---
Life and Leadership Lessons I Learned from My Military Experience: "Be a leader not a boss." was originally published in Authority Magazine on Medium, where people are continuing the conversation by highlighting and responding to this story.