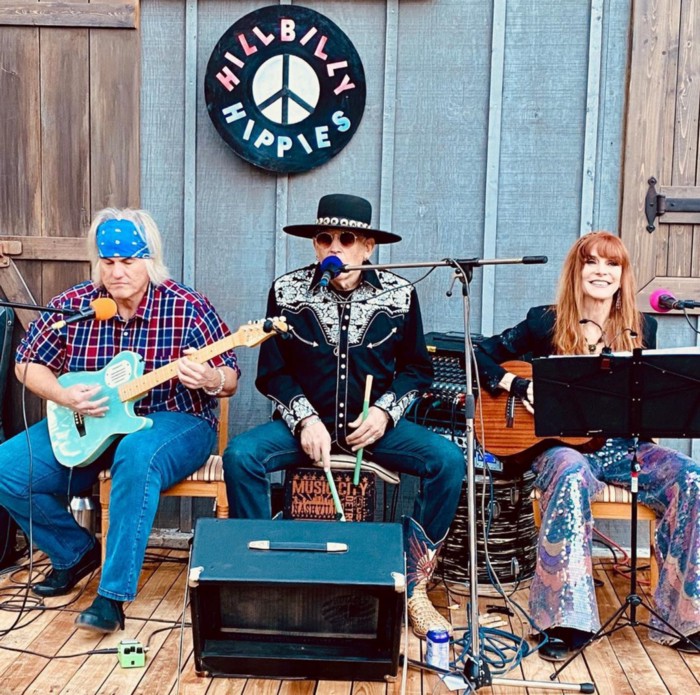 Michael O'Brien | a Member of the Hillbilly Hippies talks about the Beauty of Music | Exclusive with Marco Derhy
As part of my Series "Inspiring Success Stories On Music," I had the pleasure of interviewing Michael O'Brien, a member of the Hillbilly Hippies. Hillbilly Hippies is a three-piece group of experienced artists creating original songs for fun and others' enjoyment. Michael O'Brien, singer-songwriter, created the wildly successful Hollywood legendary rock n roll restaurant, Toi on Sunset. Jackie O'Brien, actor- songwriter-guitarist, has acted in some of Hollywood's biggest films, and Christy Calabro, a lead guitarist, has toured and recorded with Bret Michaels on five albums.
MD: Thank you for joining me today! Can you briefly outline for our readers your life's backstory?
Michael: I grew up in Ohio and started making music in my late teens. Ohio is a very fertile ground for music. Being a highly industrialized area, much like Liverpool, your choices as a young man were to play in a band or work in a factory. After getting a record deal with Warner Brothers, I lived in New York and played the club scene there and in Toronto. I eventually moved to LA with Jackie.
MD: Can you share a story that exemplifies the unique work you are doing
Michael: I have been a singer and a drummer in many rock bands and often with my wife, Jackie, a singer-songwriter. Jackie had never actually been a guitar player, but during the Covid lockdowns, she learned to play, and we would practice nightly and write songs. All of those songs are on our new EP coming out soon. So the Covid quarantine had its benefits. We perform music that combines classic rock, some folk, and some country.
MD: What brought about the Hillbilly Hippies? Can you share with us the background story?
My wife Jackie and I had frequently performed in clubs in LA and in our restaurant in various bands we were a part of until the Covid lockdowns hit. As things got slightly better, we decided to have a porch party at our ranch and invited all our musician friends out of a desperate need to perform and hear live music again. Christy Calabro came to that event and mentioned he would like to play with us in the future. Since the band was formed on the front porch…hence Hillbilly Hippies!
MD: What do you think makes your group stand out from others?
Michael: We have a very original sound.
MD: Can you briefly share what brought you to this specific career path with our readers?
Michael: I always enjoyed listening to music as a kid and singing along to tunes on the radio.
MD: Are there any exciting projects you're currently working on now
Michael: We just released our first single, " Didn't Say Goodbye," on all platforms. And we are just finishing up our mixes on our soon-to-be-released five-song EP "I'll Stand by You."
MD: Like many, you (and your group) were also hit hard due to the COVID-19 pandemic. What vital lessons did you learn?
Michael: Keep creating music, keep moving forward and never give up!
MD: How do you hope to change lives with your influence (as individuals and a group), especially in this post-pandemic era?
Michael: We hope to inspire people with our music and create harmony and unity among people. We envision bringing different extremes together, just like hillbillies and hippies. Someone once said, "Music is what language hopes to be."
MD: Very inspiring, Michael, and please share "The 5 Tips How To Be Successful in the Music Business."
MD: Do you have a principle you live by? If yes, do you care to share with our readers?
Michael: Chant Nam Myoho Renge Kyo and pray for peace.
MD: Which Tips would you recommend to colleagues in your industry to help them thrive and not "burn out"?
Michael: Focus on what you love doing.
MD: Do you have a favorite "life lesson" or quote that profoundly impacted your life? Can you share a story?
Michael: What John Lennon referred to in his song "Beautiful Boy," Life is what happens to you while you're busy making other plans.
MD: What are the secrets to your success? What makes the HillBilly Hippies a successful group?
Michael: We always love playing music together. We always laugh, we always have fun. People seem to be happy after our shows.
MD: What has been the biggest challenge faced by the Hillybilly Hippies group?
Michael: Juggling our schedules.
MD: None of us can achieve success without some help. Is there a particular person who you are grateful, someone who helped get you to where you are? Can you share a story about that?
Michael: I am grateful to all the players in the various bands I've been in and created music with who've helped me grow as a person and a musician.
MD: Some of the biggest businesses, VC funding, Sports, and Entertainment read this column. Is there a person in the world you'd ask for advice or inspiration, alive or dead?
Michael: Paul McCartney! How did you write so many great songs?
MD: Is there a person in the world with whom you would love to have a private breakfast or lunch? If so, why? (He, or she, might see this).
Michael: Daisaku Ikeda, my Buddhist Sensei!
MD: How can our readers follow you on social media or a website?
Michael: We are on Instagram and Facebook. You can listen to our latest release on Ffm. YouTube
Thank you for joining this lovely Q & A, and as always, It's been a pleasure!
Marco Derhy
❖ Marco is the CEO of Derhy Enterprises, a boutique advisory firm. Derhy Enterprises aids with the management and growth of businesses, particularly for public figures. ❖ Marco is known as an Entrepreneur at heart, building a Los Angeles-based private-label fashion company (in his early 20's shortly after his Military Service) into a dominant industry force with numerous employees and $50M+ annual sales. This success fueled his launch and investments into multiple Sectors, including Film production, Charity gala events, Humanitarian aid, Cryptocurrency, Real Estate, Helth Tech, Content creator, Interviews, Articles, Book Series, and worldwide profiling, inspiring people. ❖ A "Positive" Influencer. Marco has over 19 years of experience in the publishing sector. He has created ample unique series that highlight the empowering lessons learned from the experiences of high-profile entrepreneurs. ❖ Marco has worked with legends like Nelson Mandela, Arnold Schwarzenegger, Mark Wahlberg, Carlos Slim Jr., The Jackson Family, Mr. Sumner Redstone, chairman of Viacom, and Robert Evans," The Godfather, "to name a few. ❖ Marco is Known as a Philanthropist who produced quite a few lucrative fundraising charity events. Working with Dr. Juan Montero II MD for medical supplies for children, including the champ Manny Pacquiao, UNICEF—established a partnership with the Jackson's Family Foundation. He produced a 2-Day mega-event - 1st Day was a Black-Tie @ a Beverly Hills Mansion, and the next day was @ the famous "Neverland," at Michael Jackson's home, with~2,000 global VIP guests. Marco also Produced Michael Jackson's (RIP) First Black-Tie Annual Memorial event at the Beverly Hilton Hotel with 1K Special Guests, along with the Jackson family. He also produced a series of charity events during the Cannes film festivals. ❖ At CityGala, Marco produced their first significant Black-Tie Gala event at the Beverly Hills Vineyard. He also helped raise funds to support A-listers Celeb foundations, The Charlize Theron Africa Outreach Project (CTAOP), LA Youth, Health & Medicine, Domestic Violence support programs, U.S. and Veterans, to name a few. ❖ Marco is an Author and helped coach and create and inspire a mini-movement among writers, with scores of writers worldwide profiling inspiring people to share their positive, empowering, and actionable, inspiring true stories on prominent Platforms. ❖ A regular contributor to Arianna Huffington's, Medium, Buzzfeed, Thrive Global, to name a few. ❖ Marco is producing TV Series programs, Documentaries, and Feature Films. http://www.imdb.com/name/nm0220357/ ❖ Marco published his best selling series #1 Book "Heroes of The Opioid Crisis," and working on new book series. When Not working, he's enjoying ; Family, Friends, Philanthropy (Giving back to the less fortunate), Martial arts, Swimming, Tennis, Meditation, "Torah study," Nature, Hiking, Tennis...... Praying for global peace, Prosperity, love, and Happiness for our global society. Be Good & Do Good ®️ (We are all passengers)